Keto Banana Nut Muffins (Journey2SlimJen) – Official MFP entry
Makes 10 Servings
1 Serving: 202 Calories, 17.6g Fat, 3g Net Carbs, 5.2g Protein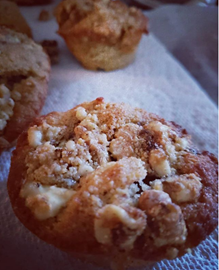 Ingredients
1 Cup almond flour
1/4 cup coconut flour
1/2 Cup powdered erythritol/Swerve
2.5 tablespoons ground flax meal
2 teaspoons baking powder
1 teaspoons ground cinnamon
5 tablespoon butter, melted
3 teaspoons banana extract
1 teaspoon vanilla extract
1/4 cup unsweetened almond milk/Nut milk
1/4 cup sour cream/ or use Greek yogurt (will increase protein)
2 eggs

Topping
3/4 cup chopped walnuts
1 tablespoon butter
1 tablespoon almond flour
1 tablespoon powdered erythritol/swerve
1 tbsp banana choczero syrup

Directions:
1. Preheat oven to 350
2. Spray/line muffin pan (10), to make bread add to loaf pan but divide into 10 equal slices
3. In a large bowl, mix almond flour, erythritol, flax, baking powder and cinnamon.
4. Stir in butter, banana extract, vanilla extract, almond milk, and sour cream.
5. Add eggs to mixture and gently stir until fully combined.
6. Fill muffin tins about 1/2-3/4 full with mixture (you can weigh the batter on a food scale and divide by 10 to get the grams of batter per cup if you want to be precise).
7. Next start on the topping. Add walnuts, butter, erythritol and almond flour to food processor.
8. Pulse a few times until nuts are chopped into small pieces.
9. Sprinkle bits of the mixture evenly over batter and gently press down into the muffin, drizzle the top of each muffin will choczero banana syrup
10. Bake for 20 minutes or until golden and toothpick comes out clean. Let cool for at least 30 minutes, an hour or more if possible.
This lets them firm up. Then put in a ziplock or Tupperware or my favorite stasher bag Keeps them fresher longer!