FTC Disclaimer Required for all Influencers:
I am a content creator and an Amazon Influencer. I am also a partner or affiliate with multiple brands. I partner with brands to gain discounts and giveaways for my audience. The links posted throughout my website I may earn from by you making purchases or utilizing the codes for a discount for yourself.
Thank you for supporting my business! My Privacy Policy is located at the bottom of the main website page, I do not sell any information or collect information personally. If you would like to be added to my Newsletter register under Berry Blasts on the Home Page.
- Jennifer @KetosisMom
Spinach Artichoke Chicken
Makes 6 Servings (freezes well) YouTube How to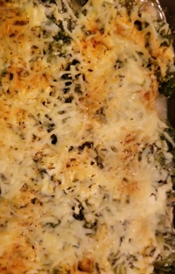 Ingredients
10 oz artichoke hearts frozen and chopped
10 oz fresh chopped spinach
4 oz cream cheese full fat
4 oz mayo full fat
1 cup parmesan separated (1/2 cups)
1 cup mozzarella separated (1/2 cups)
3 cloves garlic minced
2.5lbs chicken tenderloins
2 Tsp of Italian seasoning
Salt and Pepper to Taste
Directions:
Preheat oven to 400F
Cut chicken tenderloins into chunks and put into baking dish. Season with salt, pepper, and Italian seasoning. Then Cover with aluminum foil.
Bake chicken for 15 minutes.
While chicken is baking, in a small bowl mix together the spinach, artichokes, garlic, cream cheese, mayo, 1/2 cup parmesan, and 1/2 cup mozzarella. Take chicken out of the oven after 15 minutes and cover chicken with spinach artichoke topping.
Lower oven to 350F and bake for 20 minutes covered.
After 20 minutes take out of the oven and sprinkle leftover 1/2 cup parmesan and 1/2 cup mozzarella over the top return to the oven uncovered.
Turn oven to Low Broil and let the cheese melt. Enjoy!