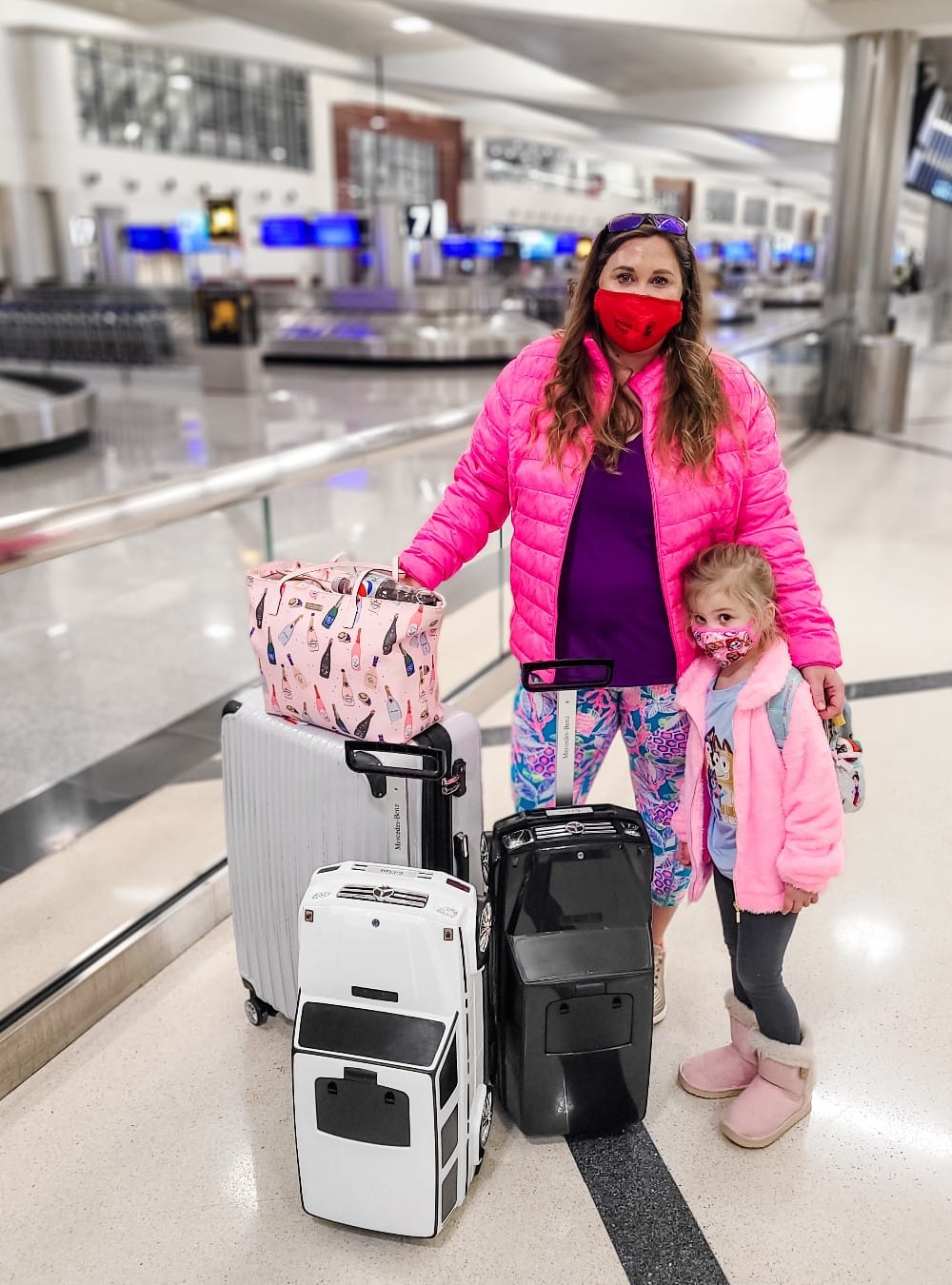 Follow Me on Amazon Follow Me on LTK Follow Me on YouTube
FTC Disclaimer Required for all Influencers:
I am a content creator and an Amazon Influencer. I am also a partner or affiliate with multiple brands. I partner with brands to gain discounts and giveaways for my audience. The links posted throughout my website I may earn from by you making purchases or utilizing the codes for a discount for yourself.
Thank you for supporting my business! My Privacy Policy is located at the bottom of the main website page, I do not sell any information or collect information personally. If you would like to be added to my Newsletter register under Berry Blasts on the Home Page.
- Jennifer @KetosisMom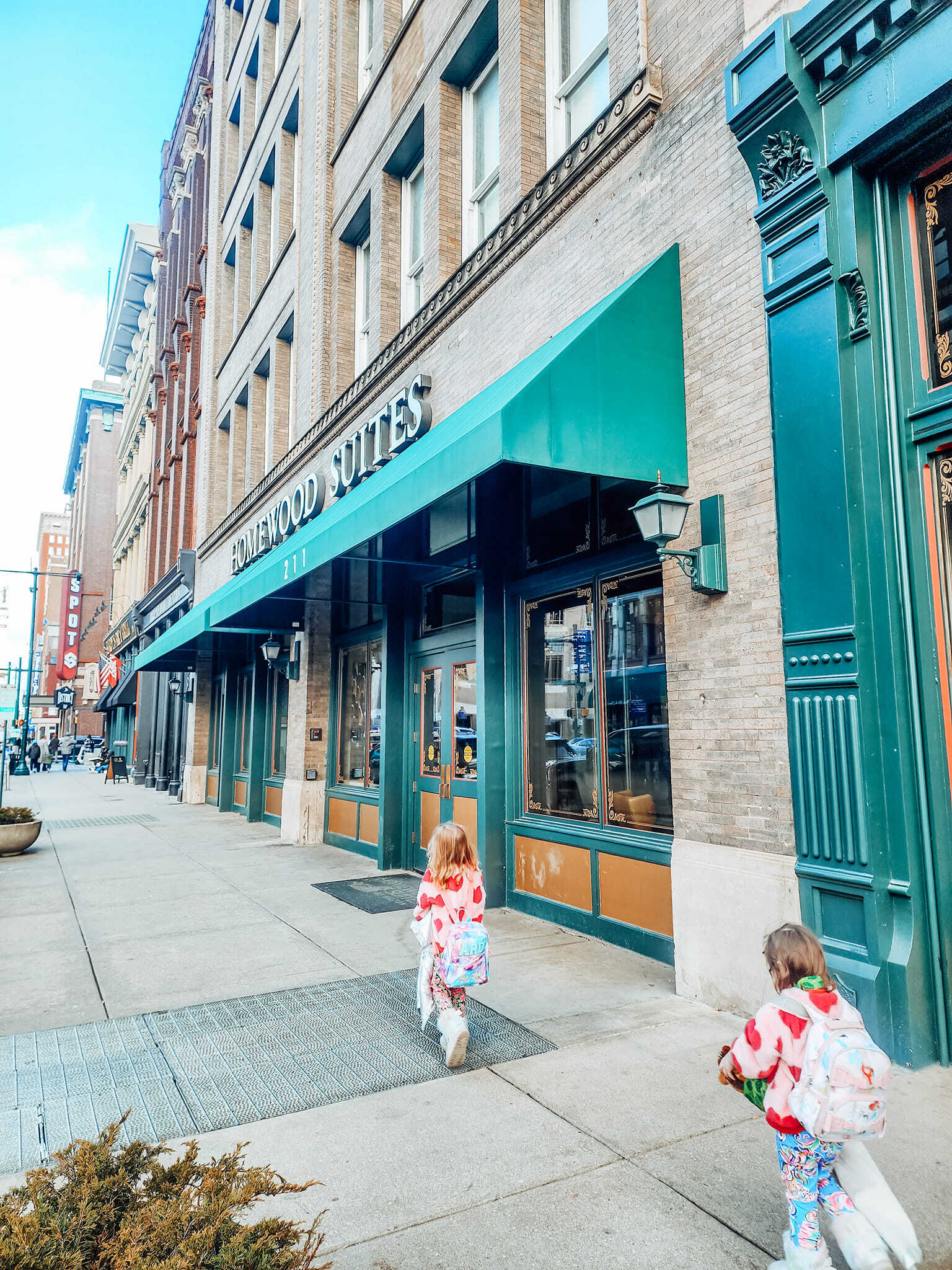 Traveling with kids...You may have an increased heart rate just thinking about this, a headache start coming on, or need an inhaler. UNLESS you have done it a few times, like we have. So just breathe, I have some pointers for you!
We took the long weekend and decided to go and explore a new city. With two kids, under 6. Now, let me go ahead and preface this with the fact that both of my kids have been traveling (long distance) since they were around 8 months old (each). Here you see them walking into the hotel with their own backpacks, because if they want to have something, they need to carry it. While you will see two different bags here, I do recommend getting something easy to clean, and no it does not have to cost a lot!
Tip number one: Allow your kids to bring something calming to them on your trip. Even if the thought of it getting dirty makes you cringe. One of my kids brought a blanket the other brought a squishy.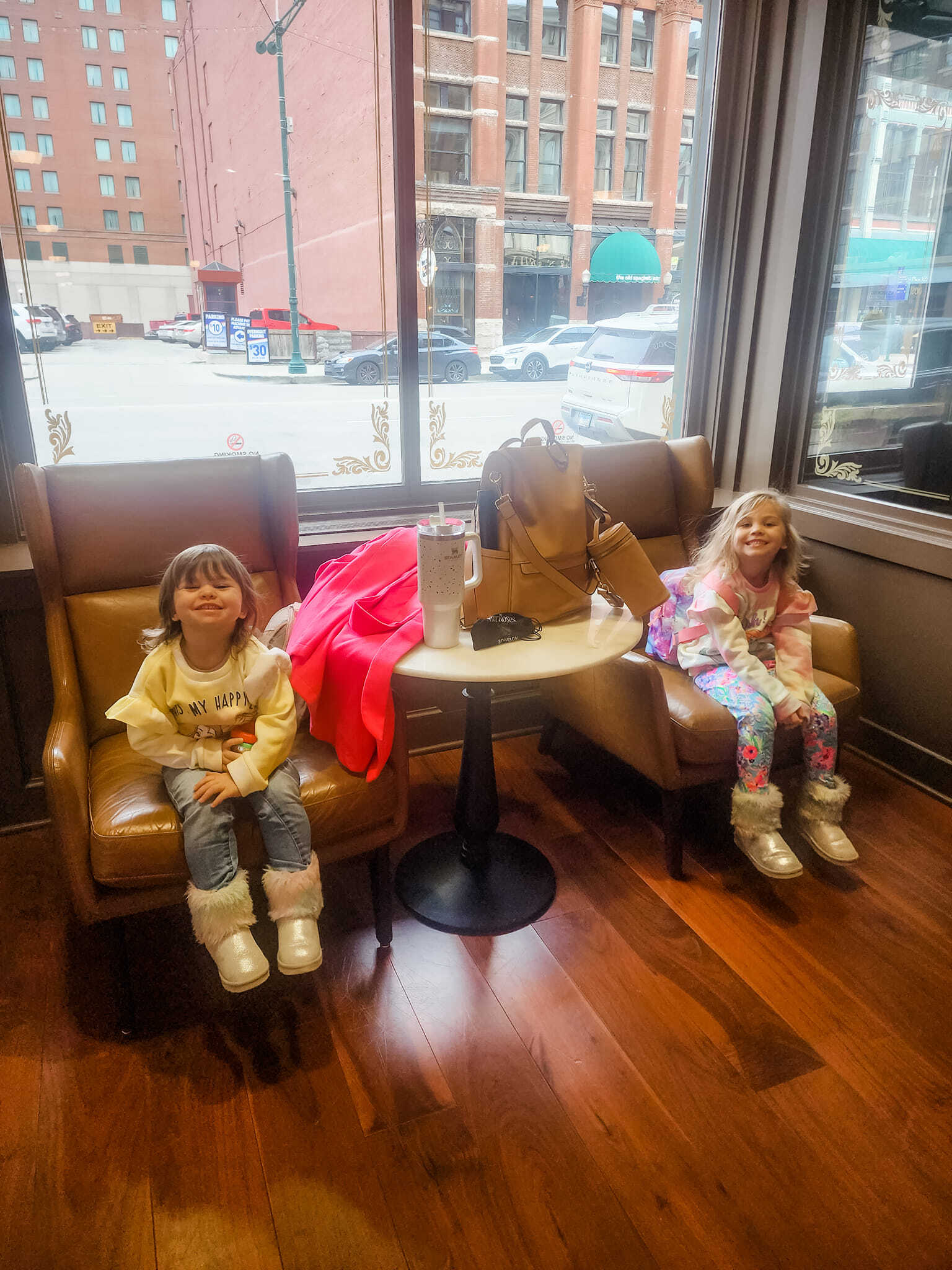 Since we are on the topic of bags, let me just go ahead and tell you that your own bag needs to be able to hold a lot, and be anti theft friendly. I have two great options for this in a backpack that even my husband will carry. We have had MANY and I mean MANY travel bags over the years but these are going to be my favorite to share. They are nice looking, they hold a lot, and they both open on the back meaning that unless someone pulls this bag off your back, they aren't getting into it. I personally have both of these. Pictured above is the Mia & Sophia and I have the budget friendly version on the way to my house now.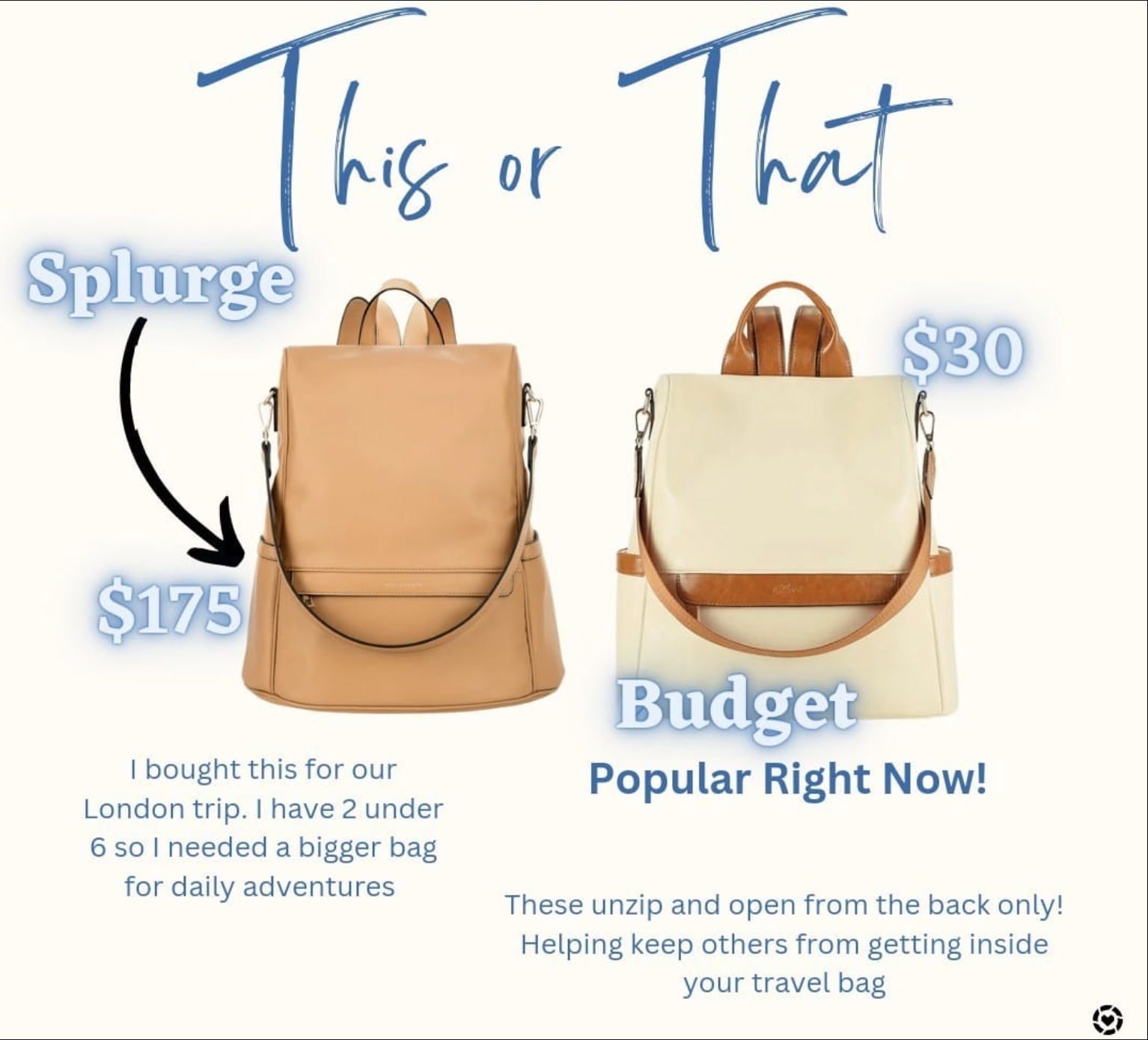 So Tip number two: Make sure your bag is travel friendly and also can be packed COMFORTABLY with extra supplies your kids may need throughout the day, and think about pick pockets as you are selecting your bag. I know its not a great thought, but when you're busy watching your kid, someone else may be busy getting into your bag. Both of these options can hang from a stroller as well.
Now, as far as items to take with you while you travel. I feel like an idea list is going to more accurately summarize this for everyone. Plus, this is also a list that I am continually updating!
Go here, (feel free to tap follow while you're there, it DOES help me a lot!) Traveling with kids idea list.
Tip number three: Have the correct gear and products that WORK!
I will feature some of my TOP of the top items right here though with an explanation for all you parents that this may be your first ever time traveling with kiddos.
So here we go, these are my top travel finds:
This is a portable potty. And I mean portable. It is perfectly flat when it is not in use and pops (or twists) up into the full position. If you're traveling with kids that are potty training or are unable to truly hold it for more than 20 minutes. This is a must have product. You can basically pull over anywhere, pop it up, and let them go. I am not ashamed to say that in a traffic jam I myself had to use this in our car. It comes with bags that line the inside (but you can use any trash bag once those run out). I have even popped this out of my backpack at the airport before when I had to go and both my kids had to go at the same time. That is not a place you can just let toddlers all go to separate bathrooms. One goes on this, one is on the large toilet. Its easy and simple and wipes down with a clorox wipe before going back into out bag. Speaking of airports, get yourself a couple of these bag hangers and LEAVE them attached to all the backpacks. You never want to set bags down on a bathroom floor. I keep one of these in my main purse and my travel bags at all time.
Having luggage that your kids are excited about is a big win. My daughter will push/pull this on her own through any airport. It is also nice at the gate to keep them entertained as they can sit on it and even ride around. It does not lock. That would be my only down side to this. It does fit int he overhead on a plane.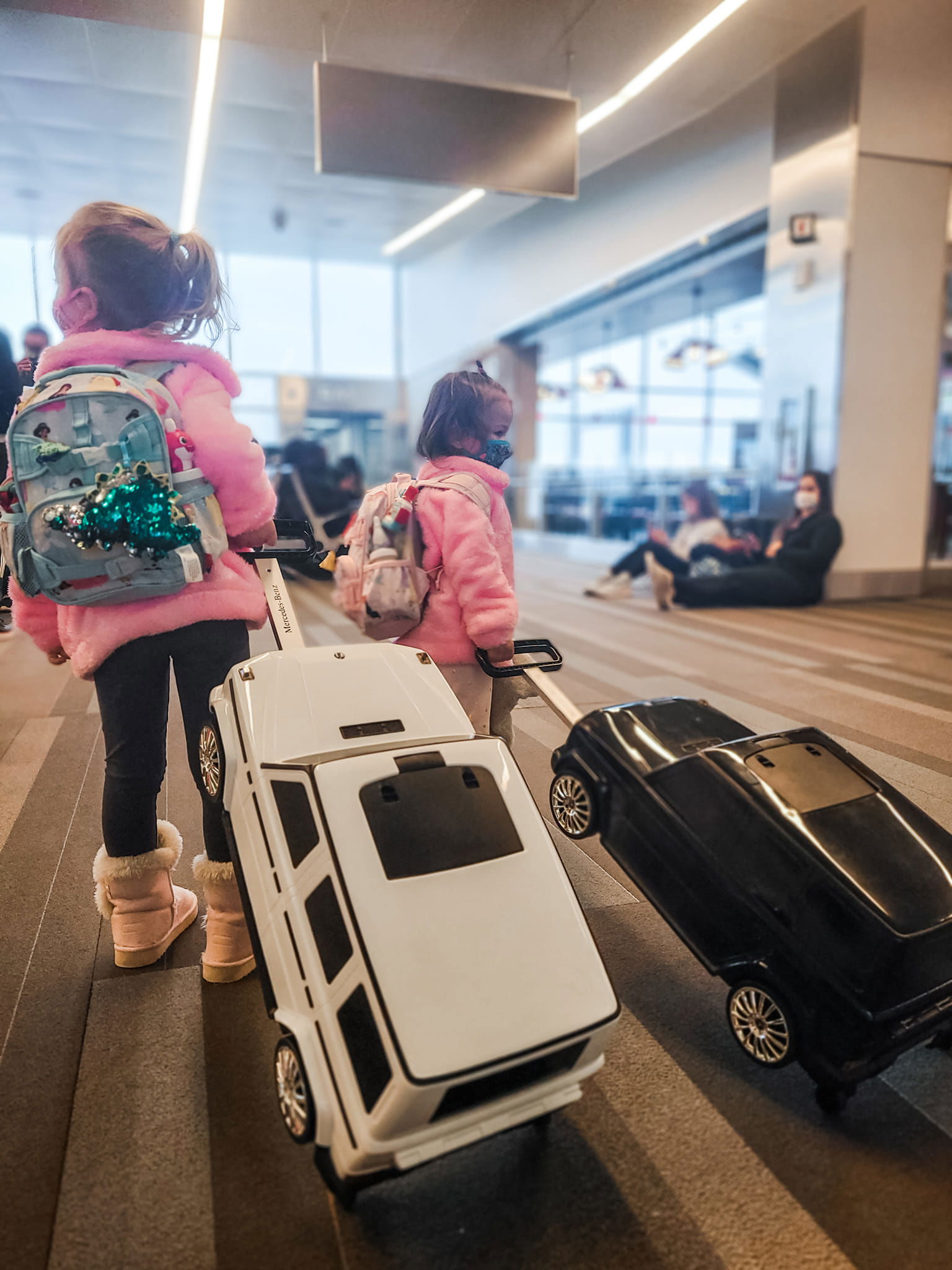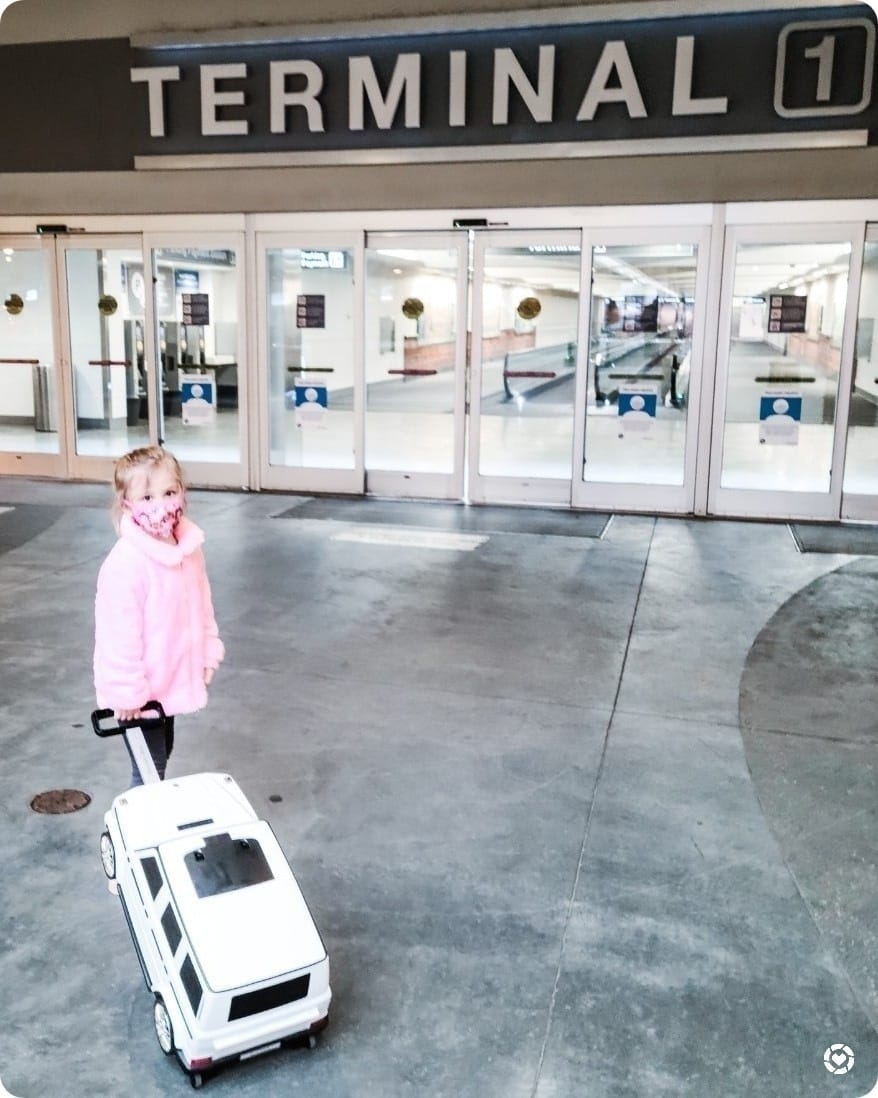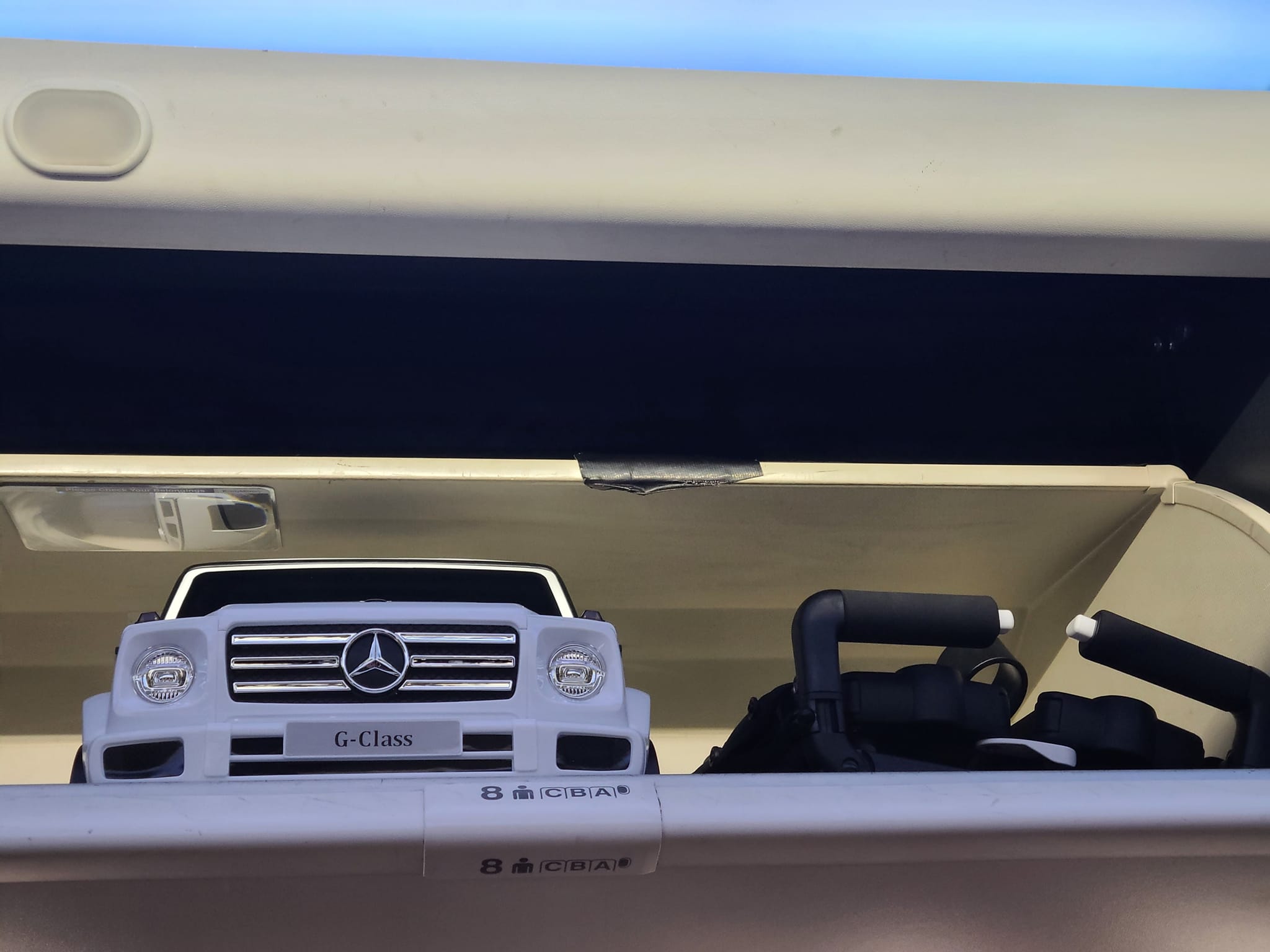 The WayB Pico has saved us I do not even know how much money at this point. Each time we were flying somewhere and renting a car we were also having to rent car seats (unless we wanted to haul those giant monstrosity things through the entire airport with us. I will tell you, the last flight I was on, they also told families they have to be checked now due to carry on items needing to be a certain size. It was an argument with many families there because they were intending on their child sitting in that car seat on the plane. The wayb is TSA certified , but we do not bring them on the plane with us, they ride in a checked luggage bag (two of them fit in a large rolling luggage). We pop them out once we collect the checked bag and get out to the vehicle. It takes us about 5 minutes to install both seats and we are good to GO! Both of my kids have used these since they turned 2. It is made from an airplane grade aluminum alloy and only weighs 8 lbs. They pay for themselves after about 2 long weekend trips.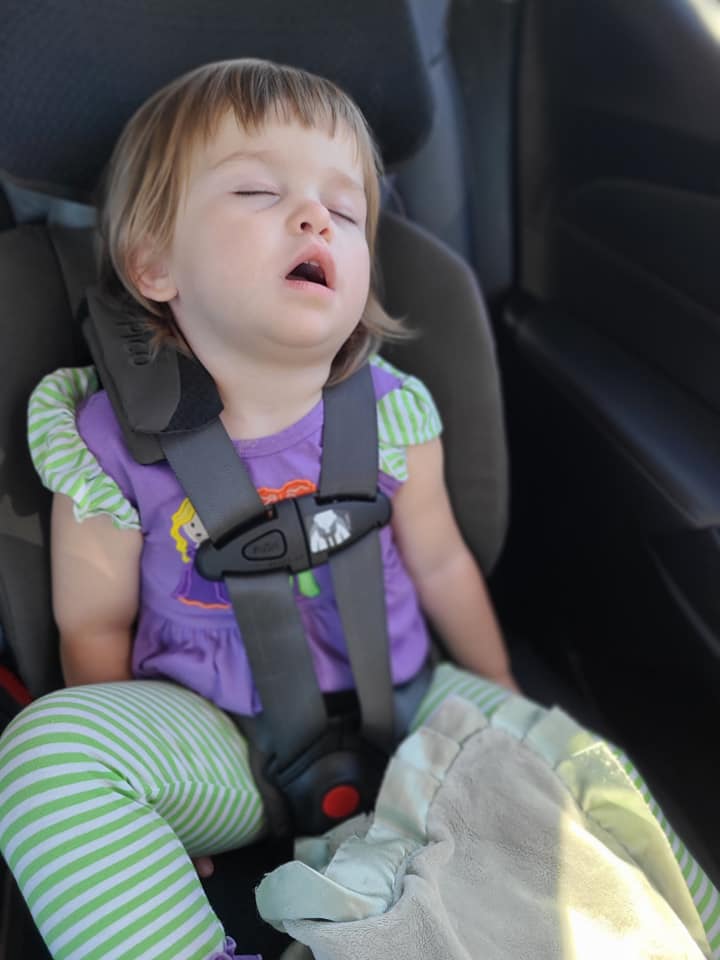 Now this one has been tried and true and we own two of them. The GB Pockit Strollers.
These strollers are also lightweight, weighing about 10 lbs. They fold up into a small square that yes, fits in an overhead as well. You will see this next to the luggage in the photo above. It can also fit under the seat on the plane as well. We have two of these going to London and we tried them out on our Indianapolis trip. Instead of taking out normal wagon, we decided to give the two separate strollers a go since that is our plan when we take both kids to London with us later this year.
I cannot say enough about these strollers. They are amazing. Any child under 55 lbs can ride in these (although I do not recommend it until their head and neck get used to supporting itself, aka no newborns.)
This one may have some of the "no tech" parents cringing a little. We used to be those parents. "Our kids will never have a tablet". I took it back after the first road trip we took. You can upload your own movies and games to the child profile on there or have amazon freetime (now called Amazon Kids+). The great thing about the amazon program is that you can control the amount of time allowed on the tablet, i.e. have it shut off at 6 pm everyday and they cannot get back on it until after 1 pm the next day. You can also control the age range of the content your want your child to have access to. IF you have the Amazon Kids+ on the tablet, there is 0 way your child can ever say they are bored with how much content they have at their fingertips. We has tablets with only movies we have bought on our firestick that we pushed over to our daughter and abc mouse for years. Either way you go, this can e hung on the back of a seat for them to watch in a car or they also have a great case with a stand for them to utilize on a plane.
Now, hotel selection! This is tip number four!
Let me show you our hotel in Indianapolis. I 100% recommend this hotel and would come back and stay here again. Go Here to watch a quick video on this hotel.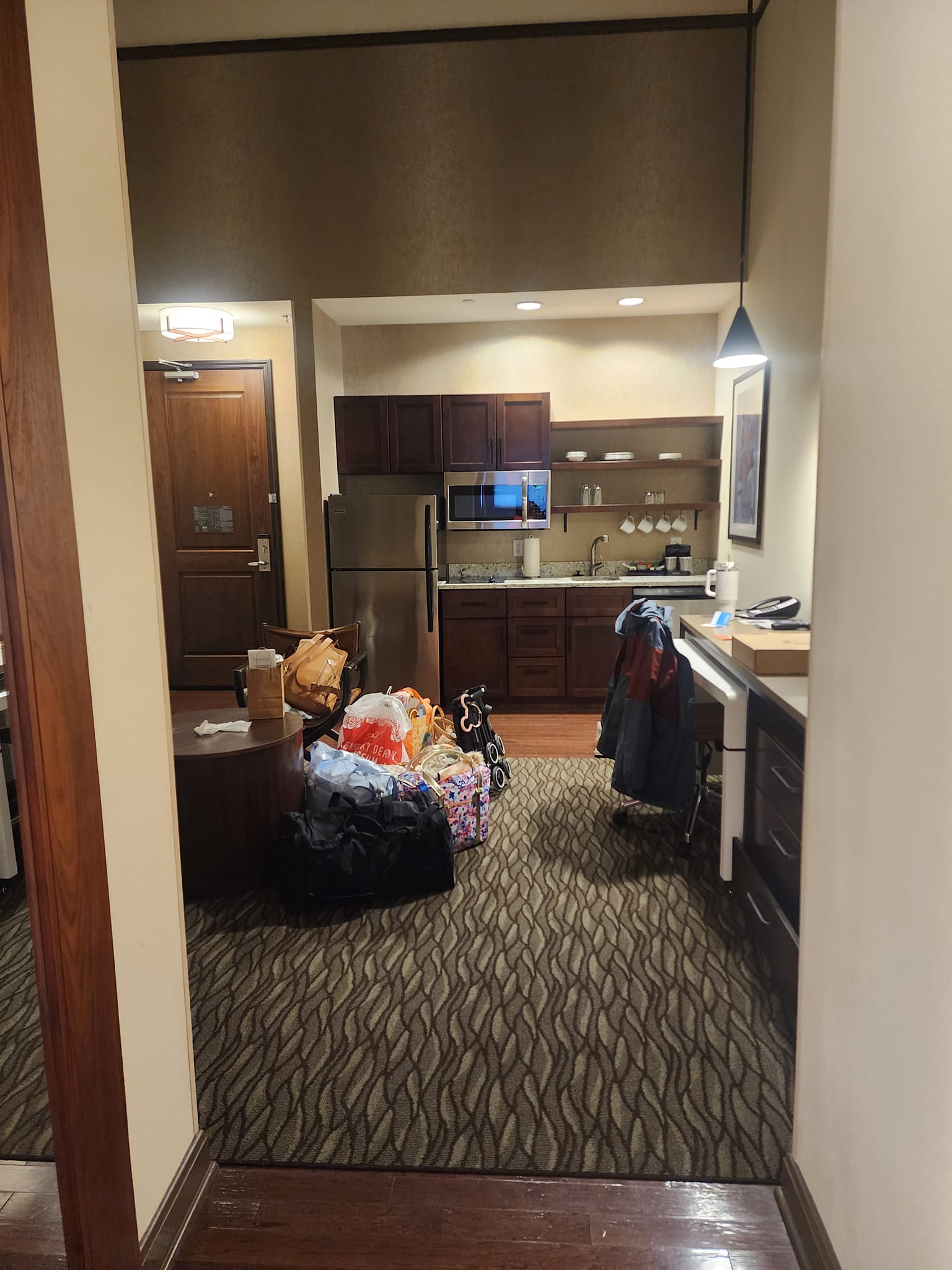 My husband is a Hilton Honors member so we often get hotels for less or using points.
I do recommend enrolling in the Hilton American Express card. I myself just booked a trip for a long weekend using nothing but points as well. Right now I see 130,000 points can be earned by spending $2000 in the first 3 months. Which is nice!
You want to select a hotel that has space in it when you are traveling with kids. This hotel had a large front room area with a kitchen, desk, flat screen tv, tables, and a sectional sofa. Then you went down a small hallway passing the bathroom and a closet to where the beds are in the back (also with another large tv). This allowed my husband and I to stay up watching tv even after the kids went to bed. They also had a free breakfast, and I do not mean you go snag a muffin or a bagel and go back to your room. They had a fully loaded kitchen and served something different each day we were there. A woman named Angela Pickens was making sure everyone had everything they needed, making waffles, refilling all the food (constantly), and making everyone feel at home. It was great! They also had a full workout area with Precor and Peloton equipment. And did I mention they had an indoor pool yet?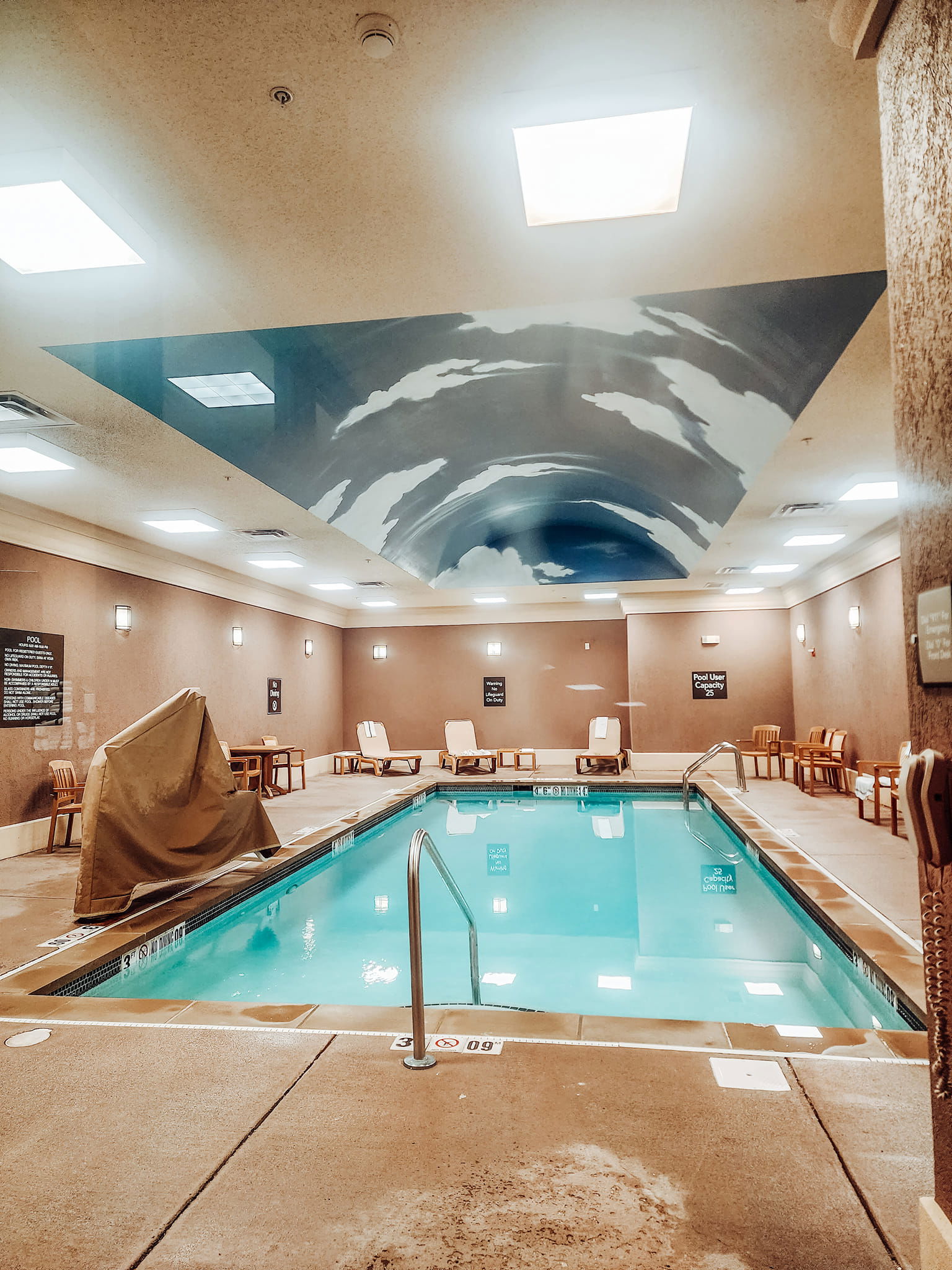 We ended up going across the street to eat at the Spaghetti Factory and also to the mall next door so that we could buy swimsuits in order to swim. In January it was the last thing we were looking at doing while on our trip but it was a pleasant surprise (and fun!).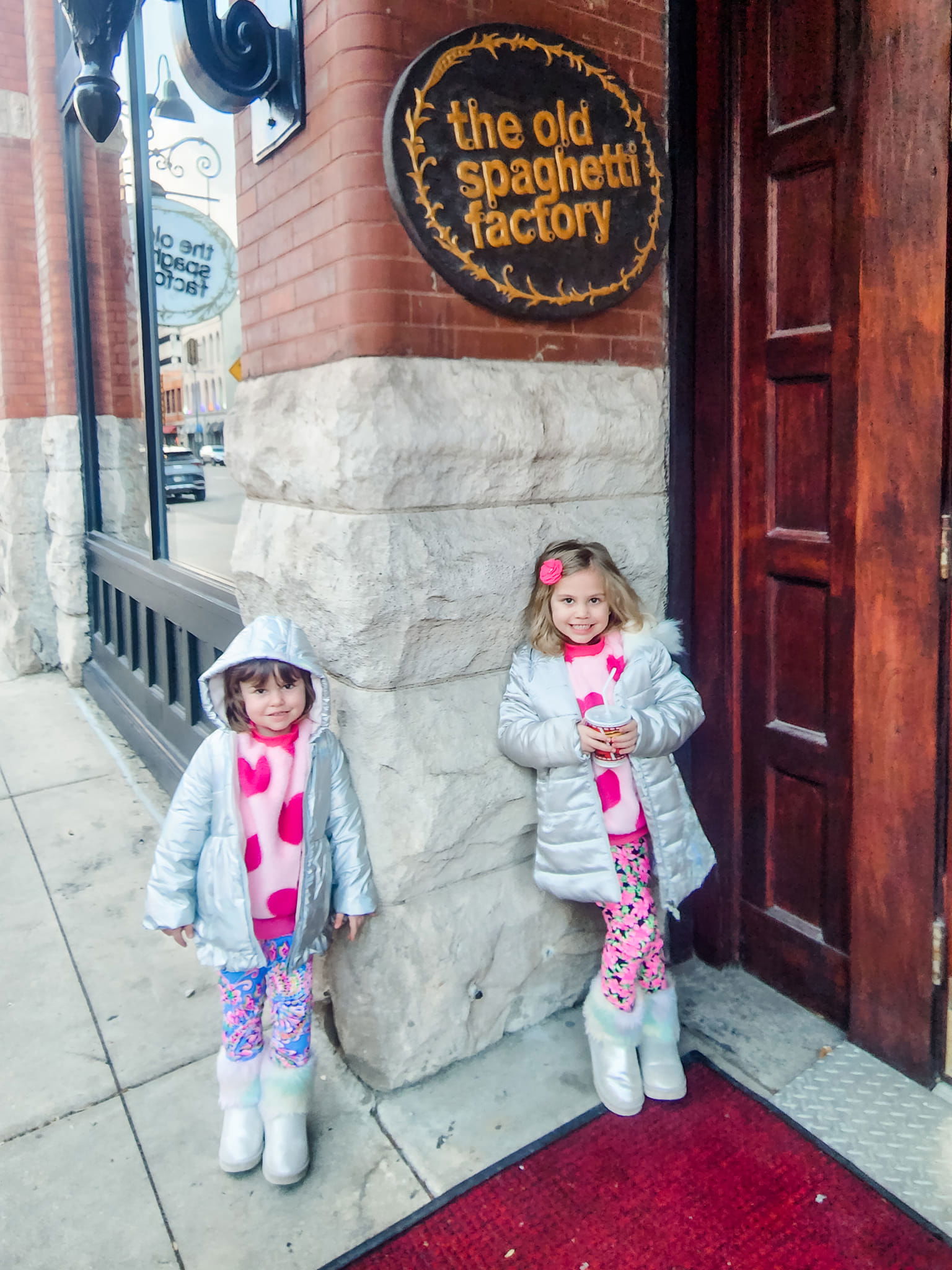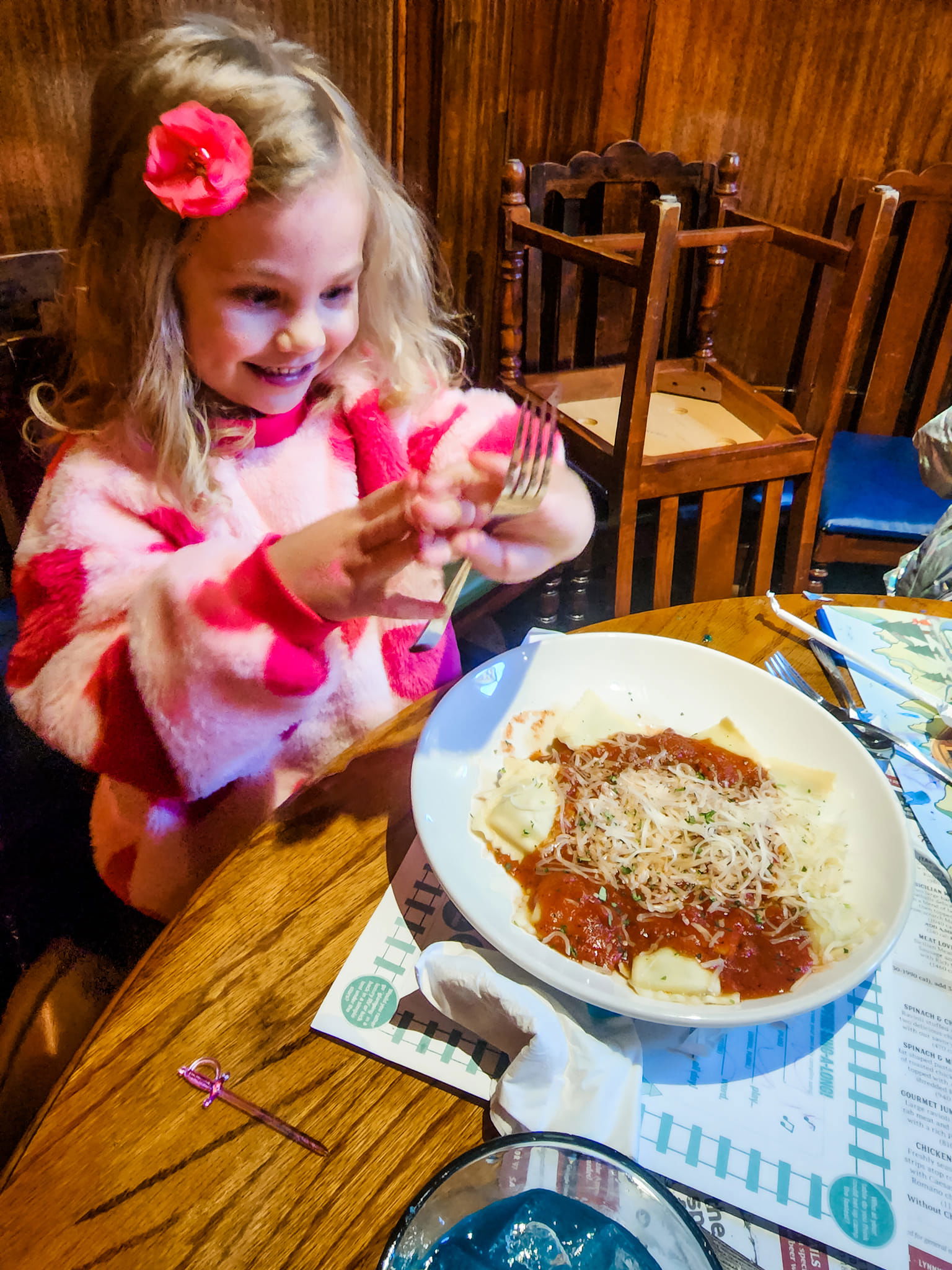 So let me summarize this for you.
1) Have comfort items for your kids. Even if they get dirty, it's ok!
2) Make sure your travel bags are actually travel friendly.
3) Get the right gear to make your life easier and your kids more relaxed. I am constantly updating my idea lists and doing product reviews on my amazon storefront and my LTK.
4) Get a hotel that WORKS for having kids there with you as well. Look at reviews. Looks at REAL customer images. Tripadvisor is my best recommendation for this.
5) Make sure there is food available that is kid friendly, near by . If your hotel has a kitchen, even better! Take leftovers back. They will tell you 30 minutes after leaving the restaurant that they are hungry (again).
6) Grab a rewards card that works for you! My favorite is the Hilton Amex and the Delta Amex
I hope this helps all of you! if you ever have questions reach out. I am more than happy to help. You can find all of my product reviews on my YouTube as well.
Happy and Safe travels to you all!
- Jen @KetosisMom
Big thanks to my two for always being out guinea pigs! Thank you @nest_designs for these fabulous pajamas.