Bone Broth is EVERYWHERE lately. If you have started a Ketogenic or low carb diet and you have not incorporated bone broth into your routine, you may want to consider it. When I first started I was basically told "anytime you get hungry or feel the keto flu, drink a coffee cup of broth". I though this was extremely strange in the beginning, and now it just feels right when I drink these.
Again, I always state this, I am not a medical professional and my blog is a place of my OWN experiences and weightloss journey. As always, consult with your physician before diving into anything new for your specific body.
Before I get into my top favorite bone broths (listed at the bottom of this post and also in my Amazon store), I want to get into some of the benefits behind Bone broths in general. As well as what it actually is. I will state, you CAN make your OWN bone broth, however, most people do not have the time or patience for this. If you do, more power to you!
So to start, What is Bone Broth? It is a highly nutritious stock made by simmering animal bones and connective tissue.
Using and acid, (vinegar or lemon juice), that breaks down the collagen and connective tissue with the bones you are using. The Bones should be 100% grassfed and organic for the highest quality broth. Any marrow or connective tissue of any animal can be used, including feet, beaks, gizzards, spines, legs, hooves, hocks, whole carcasses or fins. But you need to KNOW where your animal parts are coming from, which is what most people have a hard time with when it comes to making their own.
Here is a Bone broth recipe for reference. Note that to make your own can take 24 - 48 hours depending on what you are simmering and how quickly it breaks down.
BOTTOM LINE:

Bone broth is made simmering animal bones and connective tissue. The resulting nutrient-dense liquid is used for soups, sauces and health drinks.
Now to keep this post short and sweet and to the point, which is what I like in life (and posts) here are some of the benefits I have seen when it comes to consuming bone broth. Whether it is in your soup, you simmered your meat in it, or you are drinking a cup of it like cocoa, it actually does not matter how you consume it for the "benefits".
| | | | | |
| --- | --- | --- | --- | --- |
| Gut health; digestion | Helps the body stay in Ketosis | Is filling and controls appetite while also being low in calories | Helps skeletal system & joint health | Anti inflammatory |
| Improves sleep and brain function | Improves skin elasticity, hair & nail growth | Neutralize stomach acids | Reduces stress | Helps build immune system |
All of the above were things I was looking for, so I thought ok, what can this really HURT to give it a whirl? So I did. I personally have never felt better by incorporating this into my routines. And with the Pandemic and flu season approaching, it may be necessary for overall health.
Here were my top 3 favorite bone broth products that I consumed and why.
1) My absolute favorite was from Kettle & Fire (I purchased straight from their website even though these are on Amazon as well, if you purchase direct like I did use my Link and save yourself $10!). If you are not a member of Rakuten, do yourself a favor and grab another $10 for enrolling and get cash back on your order with them directly. First let me say I like and eat the soups from kettle & fire. Yes, they have plain broth as well, but for the price of these ($8.50ish for 2 servings) I want something that feels more like an actual MEAL. Each container has 2 servings in it. They constantly state their product is for the nights you just really do not want to cook or eat other things that you have. For me, bone broth and these soups are for the evenings that I may have went a little overboard during my lunch or with a random snack and I want to stay in ketosis and stay on track with my macros for the day. So far my favorite soups are the broccoli cheddar and mushroom. If you are unsure of what you would like, I recommend grabbing one of the variety packs. These are a super quick and easy way to stay on track with your ketogenic macros. The broccoli cheddar for instance has 320 calories, 27 g of fat, 5 total carbs (2 fiber, so 3 net carbs), and 15 g of protein. These soups include 1 full cup of bone broth within the soup. So this is an instance of bone broth consumption where the bone broth is an ingredient in the overall meal.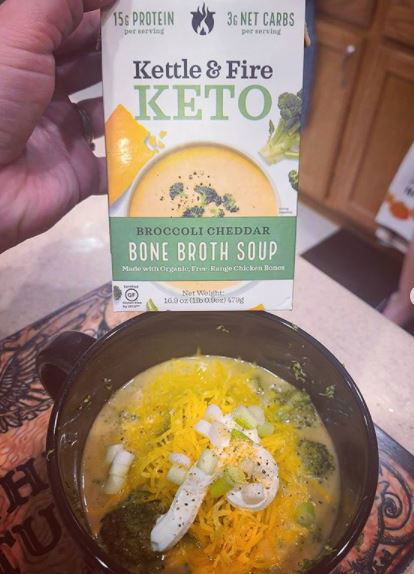 2) My second favorite was the Bare Bones broth, single serve packets. They make these single serve , super easy to travel with, packets in both beef and chicken.
At under $1.50/serving these are also much more budget friendly. Again, if you would like to save 15% by ordering direct from Bare Bones, follow my link, and use code: KETOSISMOM. I have applied to work directly with them seeing as I like to be able to take the product on the go with me, I will update this post if they give me additional off for my followers/readers. The 1 thing I do want to note ketogenic lifestyle followers on with this product is the macros. at just 50 calories, there is 0 fat (but you CAN add MCT to this to change that), 3 total carbs (2 net carbs), and 10 grams of protein. Now, more low carb and ketoers like to eat their protein and not drink it. So weigh your options with this. For me, this tends to be a quick "lunch" than fills me and I eat a handful of pecans with it as well for added fat. If you are looking for something more to thicken your own soups you are making or to simmer meat in, they also have some premade containers that would be good for this.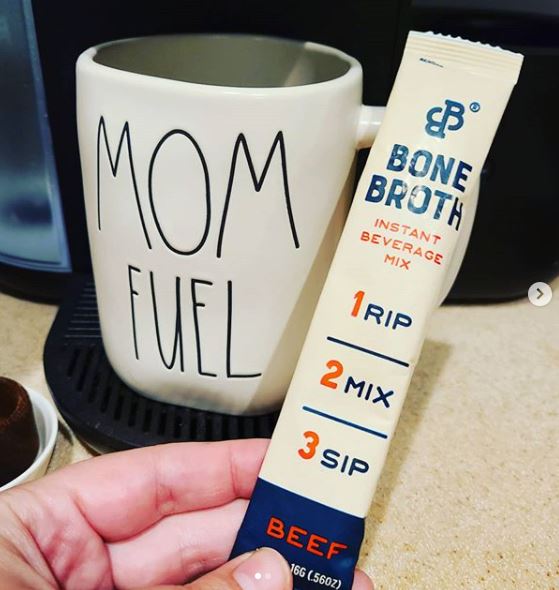 3) Now for my third choice. Note that these can often be found at Costco/BJs/Sams club type membership warehouses, but I actually ordered these on Amazon. I ordered them at the beginning of the pandemic and at the time I thought they were just "stock". The Kitchen Basics Chicken Bone broth, single serves.
You can buy these in packs of 6 or 12 or even in a larger 32 oz container on Amazon. Again these are 50 calories, 0 g fat, 1 carb (which is better than the carb content above), and 10 g of protein. So if you need the fat content for your keto lifestyle add some fat to this. Overall I did find all of these very filling. They also make a beef broth in the Kitchen Basics as well.
Right now these are between $2 and $2.50 ish a serving.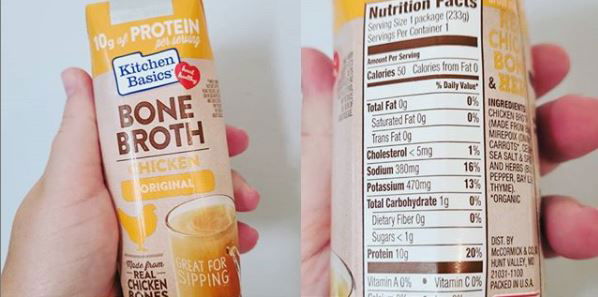 With all of the above being said, some people are going to react to drinking broth daily - or even at all- like my mother does. "Yuck! You can keep it! No thanks!" And that is 100% ok. If you do not need the benefits of bone broth and like to eat all of your macros instead, I will say that Real Good Foods has been a staple in my life for awhile when it comes to frozen and quick serve meals for myself. They have recently come out with a lot of new creations. You can always save more buy ordering online directly, but make sure you get the free shipping because they will charge you $25 for shipping unless you get a bulk order. You can use my code KETOSISMOM for 15% off your entire order, BUT make sure that even with the 15% off you still have enough for the free shipping or your savings will be a wash.
I hope this short and sweet post will help someone along the way into their ketogenic journey or nourishment of their body.
- The Ketosis Mom
FTC Disclaimer Required for all Influencers:
I am a content creator and an Amazon Influencer. I am also a partner or affiliate with multiple brands. I partner with brands to gain discounts and giveaways for my audience. The links posted throughout my website I may earn from by you making purchases or utilizing the codes for a discount for yourself.
Thank you for supporting my business! My Privacy Policy is located at the bottom of the main website page, I do not sell any information or collect information personally. If you would like to be added to my Newsletter register under Berry Blasts on the Home Page.
- Jennifer @KetosisMom