I have to admit this post comes from me watching Iliza Shlesinger on Netflix.
PUMPKIN EVERYTHING!!!!!!!!
Fall is in the air, I am a girl... I love fall and well even Starbucks is bringing back the Pumpkin Spice Latte EARLY in 2018, this year.
As a #KetosisMom or well a Mom in general, I am OFTEN at Target. How many times do you find yourself in Target smelling the sweet smells of Starbucks and get tempted to go over and try to ask the barista (with the worst attitude) "What could you make that is Keto or Low carb?" You normally get a BLANK STARE or sometimes an EYE ROLL which then sets the tone for the rest of your day.
The best advice I can give you. MAKE AND TAKE your OWN! These two items below are DELICIOUS. Trust me!
Both of these recipes are Logged into MyfitnessPal for you already! Just find it & log it, simple! Grab your Pumpkin Spice EVERYTHING to go Mug and beat the Starbucks Carb monster!
- The Ketosis Mom
(Full Recipes at Bottom)
Keto Pumpkin Spice Latte (Journey2SlimJen). YouTube "How To"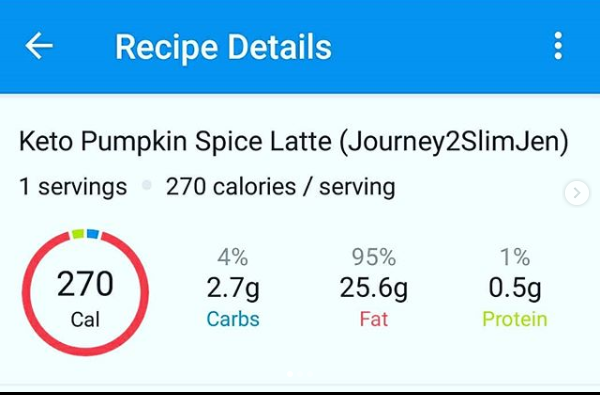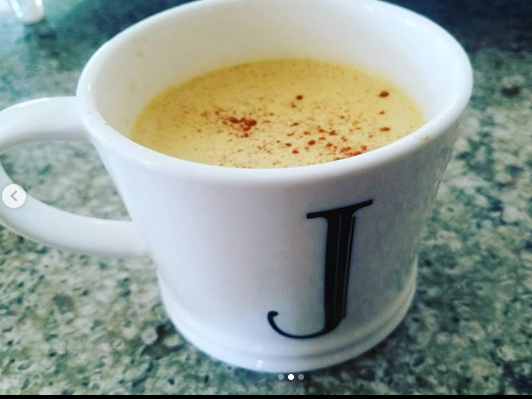 Pumpkin Spice Latte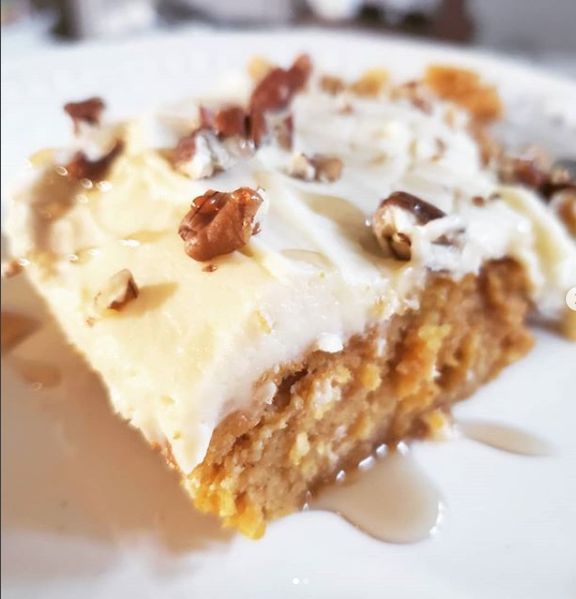 Cream Cheese Pumpkin Square

MFP: Keto Cream Cheese Pumpkin Square (Journey2SlimJen) YouTube "How to"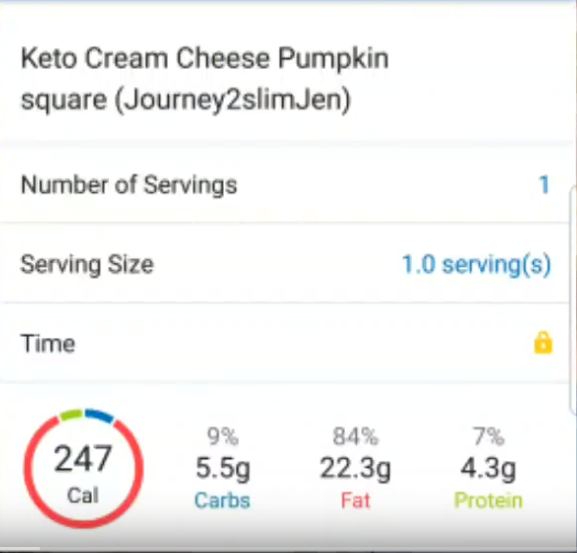 Grocery List for BOTH:
Butter
Cinnamon
FlavorGod Gingerbread Cookie (Optional)
Nutmeg
Cream cheese
Eggs
Pumpkin Puree
Baking Powder
Heavy Cream/Nut milk (heavy cream will also allow you to make whipped cream for the top!)
Coffee ( I use these; Joe Knows, Vermont Maple, Harvest, Bulletproof)
-------------------------------------------------------------------------------------------------------------------------------------------
Keto Cream Cheese Pumpkin Square (Journey2SlimJen)
Makes: 16 Squares
Nutrition per Serving: 247 calories, 22.3 FAT, 5.5 Net Carbs, 4.3 Protein
Ingredients
1 1/2 sticks (6 ounces) butter, melted
4 large eggs
2 teaspoons vanilla extract (no sugar added)
1 cup solid pack pumpkin puree
2 cups superfine blanched almond flour**
1/2 cup coconut flour**
2/3 cup granulated erythritol sweetener**
1/2 teaspoon xanthan gum**
1/8 teaspoon kosher salt
4 teaspoons baking powder
2 teaspoons ground cinnamon
1/4 teaspoon ground nutmeg
1/2 teaspoon ground ginger
1/4 teaspoon ground cloves
To frost the cake:
1 block cream cheese
½ block kerrygold (8 tbsp)
¾ cup Swerve
2 tablespoons chopped pecans or walnuts (optional)
Directions:
Preheat the oven to 350 degrees.
Grease a 8 x 11.5 or larger, sheet pan with butter or coconut oil.
Place the melted butter, eggs, vanilla extract, and pumpkin in a blender and blend until smooth.
Combine the almond flour, coconut flour, sweetener, xanthan gum, salt, baking powder, cinnamon, nutmeg, ginger and cloves in a large bowl and whisk together until blended.
Pour the blended wet ingredients into the dry ingredients, using a rubber spatula to scrape it all out of the blender.
Stir until the batter is mostly smooth.
Transfer the batter to the sheet pan and spread out evenly.
Bake at 350 degrees for 35 minutes, or until a toothpick inserted in the center comes out clean.
Remove from the oven and cool for at least one hour before frosting.
Spread the cream cheese frosting evenly over the cake and sprinkle with nuts if using.
Cut and serve (16 servings loaded into MFP)
Store any leftover cake in an airtight container in the refrigerator for up to 5 days, or in the freezer for up to 3 months
-----------------------------------------------------------------------------------------------------------------------
Keto Pumpkin Spice Latte (Journey2SlimJen)
Makes: 1 Latte
Nutrition: 270 calories, 2 Net carbs, 25.6 fat, 0.5 protein
Ingredients
1 TBSP Pumpkin Puree
1 TBSP Coconut oil
1 tsp Vanilla Extract
1 tsp Cinnamon
1 tsp Nutmeg
1 TBSP Butter
1 pinch sea salt/Himalayan salt
¼ cup Nut milk
6 – 10 oz Coffee
Better Stevia Liquid drops (to taste)
Directions:
Brew coffee and place into nutribullet (or blender)
Heat all ingredients on the stove (do not boil!) you only want them to melt together – stir continuously (approx. 2 mins)
Place mixture into blender and pulse until frothy
Pour into cup and enjoy!
Note: Tastes best when topped with whipped cream!
Whip: 1 cup heavy cream, 1 tsp vanilla extract, and 1- 2 tbsp swerve together and top (Note: this is not included in the MFP entry!)
---
Pumpkin Everything!
Some of my Favorites - Click Photo for direct link
FTC Disclaimer Required for all Influencers:
I am a content creator and an Amazon Influencer. I am also a partner or affiliate with multiple brands. I partner with brands to gain discounts and giveaways for my audience. The links posted throughout my website I may earn from by you making purchases or utilizing the codes for a discount for yourself.
Thank you for supporting my business! My Privacy Policy is located at the bottom of the main website page, I do not sell any information or collect information personally. If you would like to be added to my Newsletter register under Berry Blasts on the Home Page.
- Jennifer @KetosisMom