FTC Disclaimer Required for all Influencers:
I am a content creator and an Amazon Influencer. I am also a partner or affiliate with multiple brands. I partner with brands to gain discounts and giveaways for my audience. The links posted throughout my website I may earn from by you making purchases or utilizing the codes for a discount for yourself.
Thank you for supporting my business! My Privacy Policy is located at the bottom of the main website page, I do not sell any information or collect information personally. If you would like to be added to my Newsletter register under Berry Blasts on the Home Page.
- Jennifer @KetosisMom
Zucchini Boats (faux Potato Skins)
Makes: 16 individual servings (one zucchini makes 8)
Per Serving: 64 calories, 1 NET carb, 6 fat, 2 protein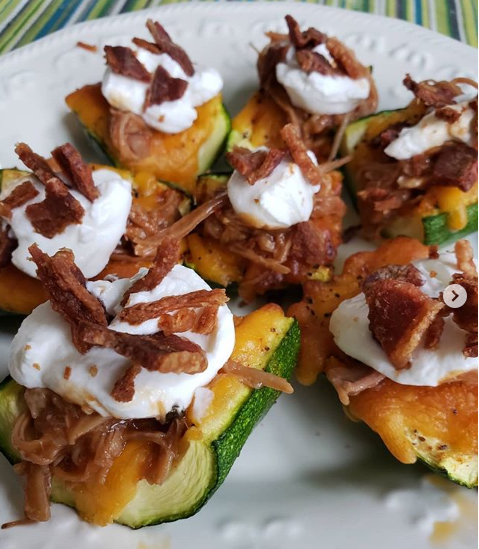 Ingredients
2 Zucchini (fresh)
Sour cream
Cream cheese
Shredded Cheese
Bacon (crumbled)
Optional: jalapeno slices, minced garlic
Chives
Coconut Oil/Olive Oil
Directions:
Wash Zucchini and cut lengthwise into 2 sides (this will make 16 "servings" – so if you want to just make ½ - making 8 to see if you like them first – cut everything in half)
Scoop out the insides of both sides (throw out)
Cut each side into 4 pieces (about 2 inches long each)
Cover with olive oil/coconut oil and Bake at 425 for about 10 minutes
Slightly Melt 4 oz cream cheese – stir in 2 tbsp sour cream, 1/2 cup shredded cheese, and if you use garlic and minced jalapeno mix this in as well.
Remove Zucchini from the oven and top all slices with mixture.
Place back in the oven for about 5 to 6 more minutes (or until everything looks just melty enough)
Removed from the oven and top with a dollop of sour cream and the crumbled bacon. If you have chives, slice into small circles and sprinkle over the top of all pieces.
ENJOY!