FTC Disclaimer Required for all Influencers:
I am a content creator and an Amazon Influencer. I am also a partner or affiliate with multiple brands. I partner with brands to gain discounts and giveaways for my audience. The links posted throughout my website I may earn from by you making purchases or utilizing the codes for a discount for yourself.
Thank you for supporting my business! My Privacy Policy is located at the bottom of the main website page, I do not sell any information or collect information personally. If you would like to be added to my Newsletter register under Berry Blasts on the Home Page.
- Jennifer @KetosisMom
Strawberry Cheesecake FAT BOMB
Makes 17
Calories: 50, 1 NET Carb, 7 FAT, 1 protein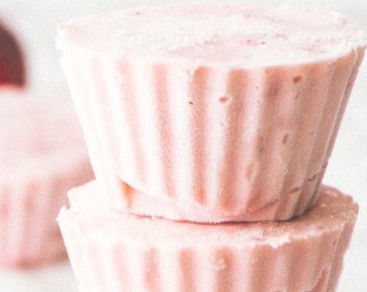 Ingredients
8 oz cream cheese
6 tbsp butter
2 tbsp sweetener I used Swerve
1 pinch salt
3 oz strawberries fresh (or blueberries/blackberries)
Directions
Blend room temperature cream cheese, butter, sweetener and salt in a food processor until smooth.
Add chopped strawberries and pulse to combine. (you can add any fruit you like!)
Portion into a mini muffin tin, or muffin wrappers – I generally use a chocolate candy mold or ice cube tray for mine
Freeze until firm.