FTC Disclaimer Required for all Influencers:
I am a content creator and an Amazon Influencer. I am also a partner or affiliate with multiple brands. I partner with brands to gain discounts and giveaways for my audience. The links posted throughout my website I may earn from by you making purchases or utilizing the codes for a discount for yourself.
Thank you for supporting my business! My Privacy Policy is located at the bottom of the main website page, I do not sell any information or collect information personally. If you would like to be added to my Newsletter register under Berry Blasts on the Home Page.
- Jennifer @KetosisMom
Baked Spicy Sweet Salmon
Makes 1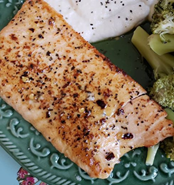 Ingredients
1 tsp Red pepper flakes
1 tbsp butter
Choczero Maple Syrup (you can remove this if you do not have it)
Salt & pepper
Salmon Steak (4 oz)
Directions
S& P salmon. Place Salmon skin side down in olive oil/coconut oil on stove top, brown both sides
Place in oven topped with Butter and bake approx. 15 mins at 350
Check for desired "done"ness
Mix melted butter, red pepper flakes, and choczero maple syrup (1 tsp each) together and top salmon with mixture once ready
Enjoy!