Baked Spicy Sweet Salmon
Makes 1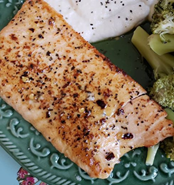 Ingredients
1 tsp Red pepper flakes
1 tbsp butter
Choczero Maple Syrup (you can remove this if you do not have it)
Salt & pepper
Salmon Steak (4 oz)
Directions
S& P salmon. Place Salmon skin side down in olive oil/coconut oil on stove top, brown both sides
Place in oven topped with Butter and bake approx. 15 mins at 350
Check for desired "done"ness
Mix melted butter, red pepper flakes, and choczero maple syrup (1 tsp each) together and top salmon with mixture once ready
Enjoy!