FTC Disclaimer Required for all Influencers:
I am a content creator and an Amazon Influencer. I am also a partner or affiliate with multiple brands. I partner with brands to gain discounts and giveaways for my audience. The links posted throughout my website I may earn from by you making purchases or utilizing the codes for a discount for yourself.
Thank you for supporting my business! My Privacy Policy is located at the bottom of the main website page, I do not sell any information or collect information personally. If you would like to be added to my Newsletter register under Berry Blasts on the Home Page.
- Jennifer @KetosisMom
Keto Cinnamon Rolls
Makes: 8 rolls
Nutrition: 397 calories, 35 g FAT, 4.8 NET carbs, 15 g Protein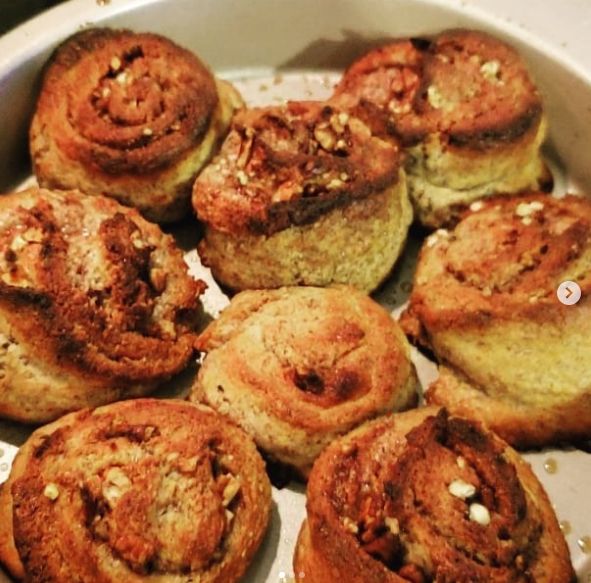 Ingredients:
Pastry:
1.5 cup shredded mozzarella cheese
2 oz cream cheese
1 large egg
1.25 cup almond flour
2 tbsp Ground Flax seed Meal
1 tsp Vanilla Extract
1/2 tsp baking powder
pinch of salt
1/2 cup swerve or sukrin gold
Filling:
5 Tbsp of Swerve or Sukrin Gold
1 Tbsp Cinnamon
2 Tbsp of ChocZero Caramel Syrup (Optional)
½ Cup Pecan pieces
Frosting:
4 Tbsp of Cream Cheese
3 Tbsp of Melted and Cooled Butter
¼- ½ Cup of Powdered Swerve (depending on how sweet you personally prefer!)
1 tsp of Vanilla Extract
Directions:
1) Melt 1.5 cups mozzarella and 2 oz of cream cheese in the microwave. Once melted mix in 1 egg until well blended.
2) In a separate bowl mix 1.25 cup almond flour, 2 tbsp flax meal, 1 tsp vanilla extract, 1/2 tsp baking powder, and 1/2 cup swerve or sukrin gold.
3) slowly mix the dry ingredients into the wet until it forms a dough
4) spray 2 pieces of parchment paper with olive oil. Spread the dough in between the two pieces of paper until it forms a thin large square (if you need to see this click the link above and watch me make this on YouTube)
5) once a square is made - mix 5 tbsp swerve, 1 tbsp cinnamon, choczero syrup, and pecan pieces together and then spread evenly over the large square of dough
6) Once the filling is spread evenly, begin to roll the dough using the bottom parchment paper over (roll with one hand, pull the paper out and away from the dough with the other hand). You will create a long "log" or pinwheel
7) take the log you made inside the parchment paper and put int he freezer
8) Preheat the oven to 400 degrees. Leave the log in the freezer until the over is fully preheated
9) Once heated. Remove the log and cut into 8 slices (grease your knife to do this!)
10) Take all 8 pieces and place into a round baking pan (spray/grease the pan)
11) Bake at 400, for 20 mins - check your rolls around 15 mins - you want them golden brown but not burning
12) remove from the oven and let cool completely
13) Prepare the topping: 3 tbsp melted butter (cooled), 4 oz cream cheese, 1/2 cup or less of swerve - use as much or as little to your individual taste. Mix with a blender all of these ingredients until smooth.
14) Top rolls and enjoy!
- If you are freezing these, go ahead and top them with frosting. Then reheat them, approx 20 seconds. The cream cheese will stay cold and the roll slightly warm!
Eat within same week of cooking if you refrigerate these! They will keep approx 2 days sitting out.
Toddler Friendly!