FTC Disclaimer Required for all Influencers:
I am a content creator and an Amazon Influencer. I am also a partner or affiliate with multiple brands. I partner with brands to gain discounts and giveaways for my audience. The links posted throughout my website I may earn from by you making purchases or utilizing the codes for a discount for yourself.
Thank you for supporting my business! My Privacy Policy is located at the bottom of the main website page, I do not sell any information or collect information personally. If you would like to be added to my Newsletter register under Berry Blasts on the Home Page.
- Jennifer @KetosisMom
Keto Egg Burrito Muffin
(makes 2)
Click here for the YouTube how to
Each= 225 calories, 20.4 fat,2.4 carbs, 9.3 protein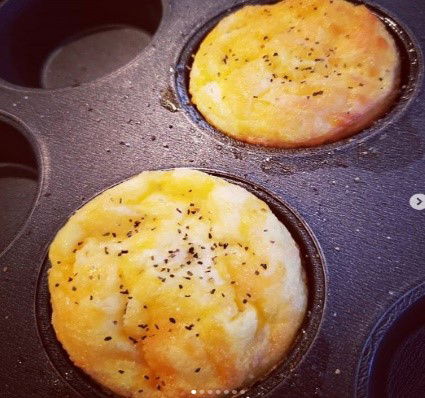 Recipe:
1) Take 1 sausage patty and cut into small pieces, spray 2 muffin pan bottoms with coconut oil and place the sausage pieces evenly into the bottom of the muffin cup
2) cut up vidalia onion and bell pepper...a very small amount is all that is needed! Less than 1/10 of each..Divide both evenly as well into the muffin pan
3) top both cups with shredded cheddar cheese until it covers all the ingredients in the cup (total used is about 1/4 a cup)
4)Mix 1 serving MCT oil, 1 tbsp heavy cream, and 1 egg together and pour evenly into both cups ...do not overfill
5) Salt & Pepper or top with @flavorgodspices (i.e. chipotle)
6) Bake 20-22 mins on 350!