Avocado Egg "Bird Nest" Bowl
Makes 4 Servings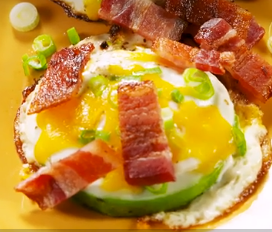 INGREDIENTS
1 avocados
1 tbsp.
butter, divided
1 large egg
Kosher salt
Freshly ground black pepper
1/4 c. shredded cheddar
1 slice cooked bacon, crumbled (optional – if you want more protein in another meal remove this)
green onions, sliced
DIRECTIONS
Cut avocado in half and remove pit. But each half into 2 (lengthwise). Making what looks like "O"s. Hollow out middles with a paring knife.
In a large, nonstick skillet over medium-low heat, melt 1 tablespoon butter. Place avocado slices into skillet and crack an egg into the center. Season with salt and pepper.
Cover skillet and cook until egg is cooked to your desired doneness, about 5 minutes for a just runny egg. Sprinkle cheese on top of each slice, cover with lid again and cook until the cheese is melted, a minute more.
Repeat with remaining ingredients. Garnish with bacon and green onions.
ENJOY!