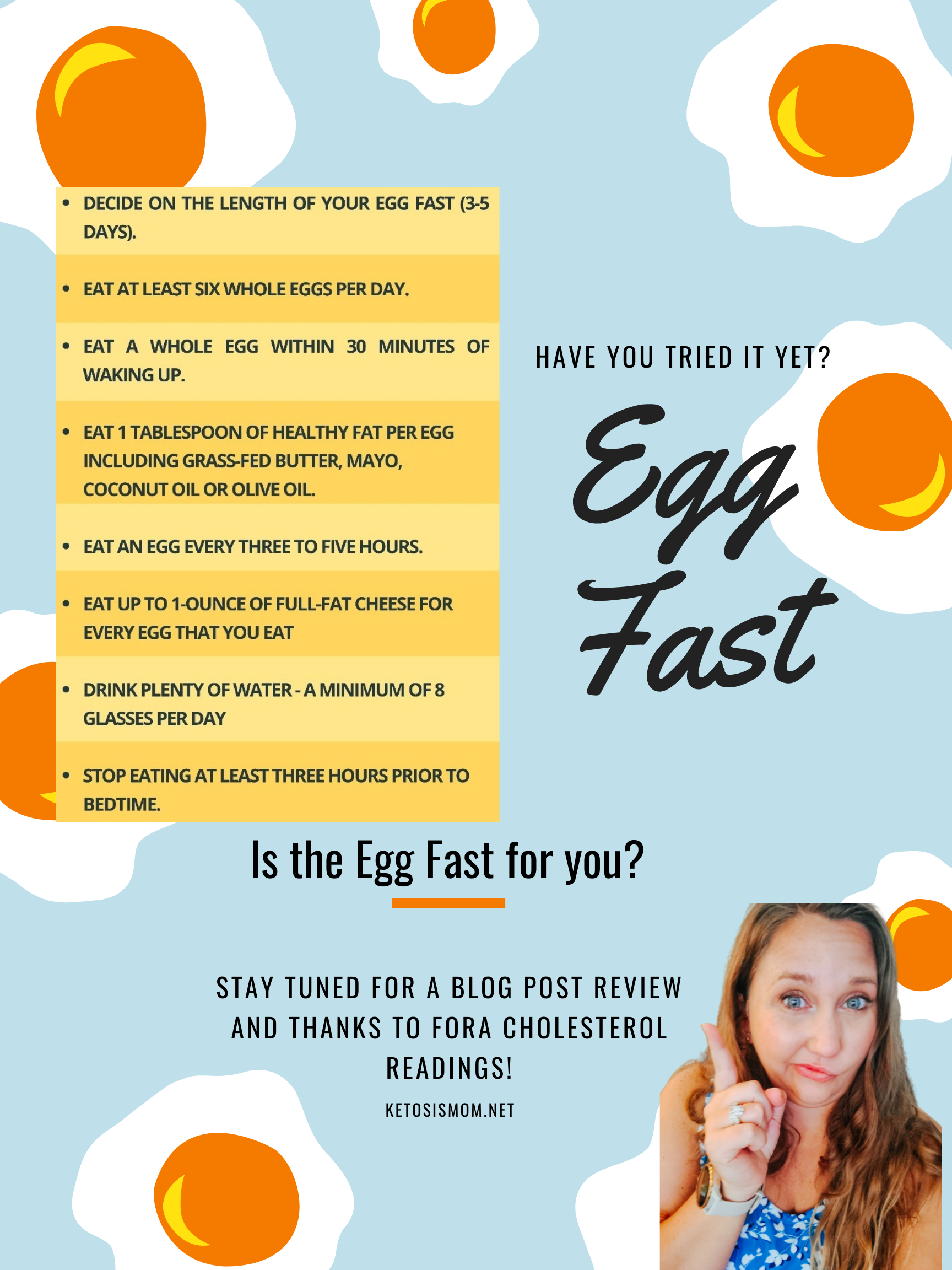 Let me start, as always, I am not a medical professional and these blog posts are my own experiences with the Ketogenic diet.
I don't know about all of you but I have seen people posting about different kinds of fasts for MONTHS! Evidently everyone is trying to get in swimsuit season shape - "quick"!
Fasting is in my opinion hit or miss for people. Some people really benefit from it and see great results, while others it can actually slow your metabolism down even more. That has actually been my experience. I felt more tired, and I retained weight and water more when I was fasting. I know that with my body I perform better when I eat, and when I eat every so many hours (typically 3 hrs). So the "Egg fast" was the first "fast" that I decided to give a try. Why? You actually EAT. And are supposed to eat every 3 hours (if possible). Now that being said, I will go ahead and tell you all (spoiler alert) I was not able to eat every 3 hours. I had to take kids to school and get shopping and Live videos etc. done and I got busy. BUT, I was not "Hungry" like I am with intermittent fasting. I wanted to first see if this would make me lose any weight when I have been following Keto for awhile anyway. Could this get me past a "plateau" I have been on for awhile? Then I wanted to see how this made me feel - i.e. less bloated?
So here were my results over my 5 day Keto Egg fast. Note that I used the Fora6 blood monitor to test my fasting glucose, blood ketones, and cholesterol throughout this fast. Results for that are also below. I was very surprised by my results and even took a day to run control testing to be sure I was getting accurate readings. Why was I surprised? Well... my Glucose stayed high, my ketones went up and down, and my cholesterol stayed about the same (which is much lower than the last time I was tested at my Doctor).
I do want to reiterate that even if you eat the exact same thing as me... it WILL effect us differently. I cannot say this enough to people. Also, if you decide to do this make SURE you have electrolytes to combat keto flu symptoms or you will be sorry! My day 1 I had to overcompensate electrolytes due to headaches and dizziness. (Ultima or Perfect Keto are my top choices) You can also combat the symptoms with bone broth. This is what I used this week making egg drop soup.
| | | | | | |
| --- | --- | --- | --- | --- | --- |
| | Day 1 | Day 2 | Day 3 | Day 4 | Day 5 |
| 9:00 AM | fora6 blood test: G: 120, K: 0.6, C:189 | fora6 blood test: G: 105, K: 0.4, C: 195 | fora6 blood test: G: 107, K: 0.3, C: 195 | fora6 blood test: No test - QC controls ran | fora6 blood test: G: 108, K: 0.6 , C: 195 |
| 10:00 AM | 2 scrambled eggs in butter and cream, Ultima 16 oz water | 16 oz Ice Water | 16 oz Hint water | 16 oz Hint Water | 16 oz Hint Water |
| 11:00 AM | HEADACHE | 2 butter fried eggs, BPC with cream, MCT, and nutpod 10 oz | 2 butter scrambled eggs +16 oz Lemon Ultima water | 1 butter scrambled eggs + BPC Cream, MCT, Nutpod 10 oz | BPC cream, MCT 10 oz |
| 12:00 PM | BPC, cream, MCT oil | | | 16 oz Ultima Lemon Water | 16 oz Ultima water |
| 1:00 PM | | 7 hard salami + ultima 16 oz water | | | |
| 2:00 PM | HUNGER | 3 deviled eggs topped with 1 bacon strip | | | |
| 3:00 PM | 3 egg salad + 16 oz hint water | 16 oz Hint Water | 1 egg drop soup | | 4 egg salad + 16 oz Ultima water |
| 4:00 PM | | Blueberry Hot Tea 10 oz | 16 oz Hint water | 2 egg drop soup | |
| 5:00 PM | | 16 oz Ultima water | Cheese Stick | Dr Zevia (NEEDED a "soda") Cheese Stick | 16 oz Hint Water Cheese Stick |
| 6:00 PM | 1 burger patty + 1 fried egg in butter. Primal kitchen ketchup, mayo, mustard | Keto Egg drop soup with Brat topped with cheese, mustard and Primal Kitchen ketchup | 16 oz Hint water | Burger patty with guac, ranch, BBQ sauce, cheese and 1 tomato slice | Hibachi Steak + Shrimp (Meat only) |
| 7:00 PM | 16 oz Hint water | | 8 Oz Ribeye cooked in butter and bacon fat | 10 oz hot tea | 10 oz Hot tea |
| 8:00 PM | Hot tea 10 oz | Hot tea 10 oz | 2 egg salad + 0 oz Hot Tea | 16 oz Hint Water | |
| 9:00 PM | | | | | |
| 10:00 PM | 6 oz water + Goody Powder for HEADACHE Perfect Keto electrolyte capsule | | | | |
| TOTAL WATER: | 84 oz | 94 oz | 74 oz | 68 oz | 68 oz |
| | No food after 630 pm | No food after 630 pm | No food after 800 pm (late day, errands and mid day no eating) | No food after 630 pm | No food after 630 pm |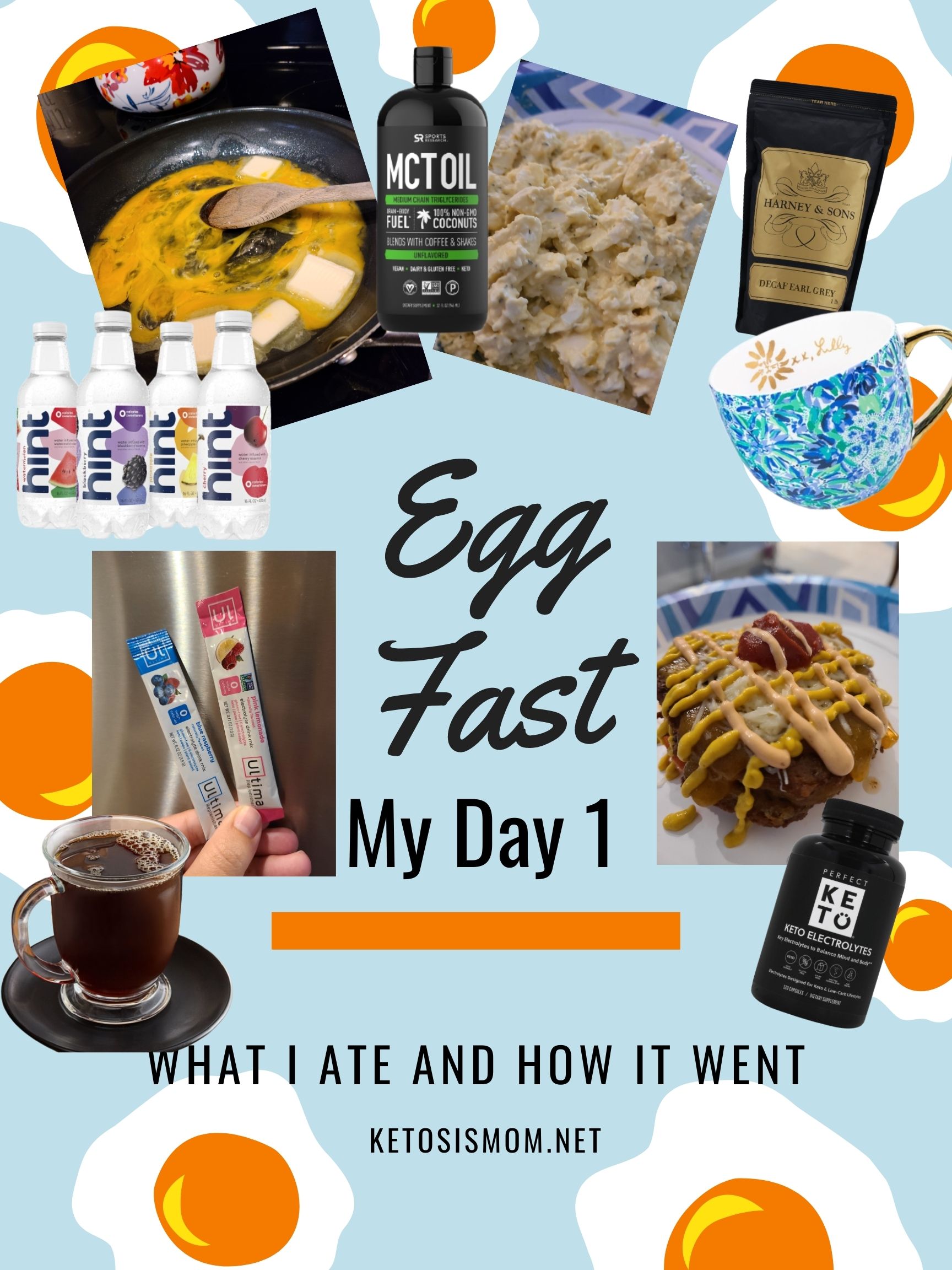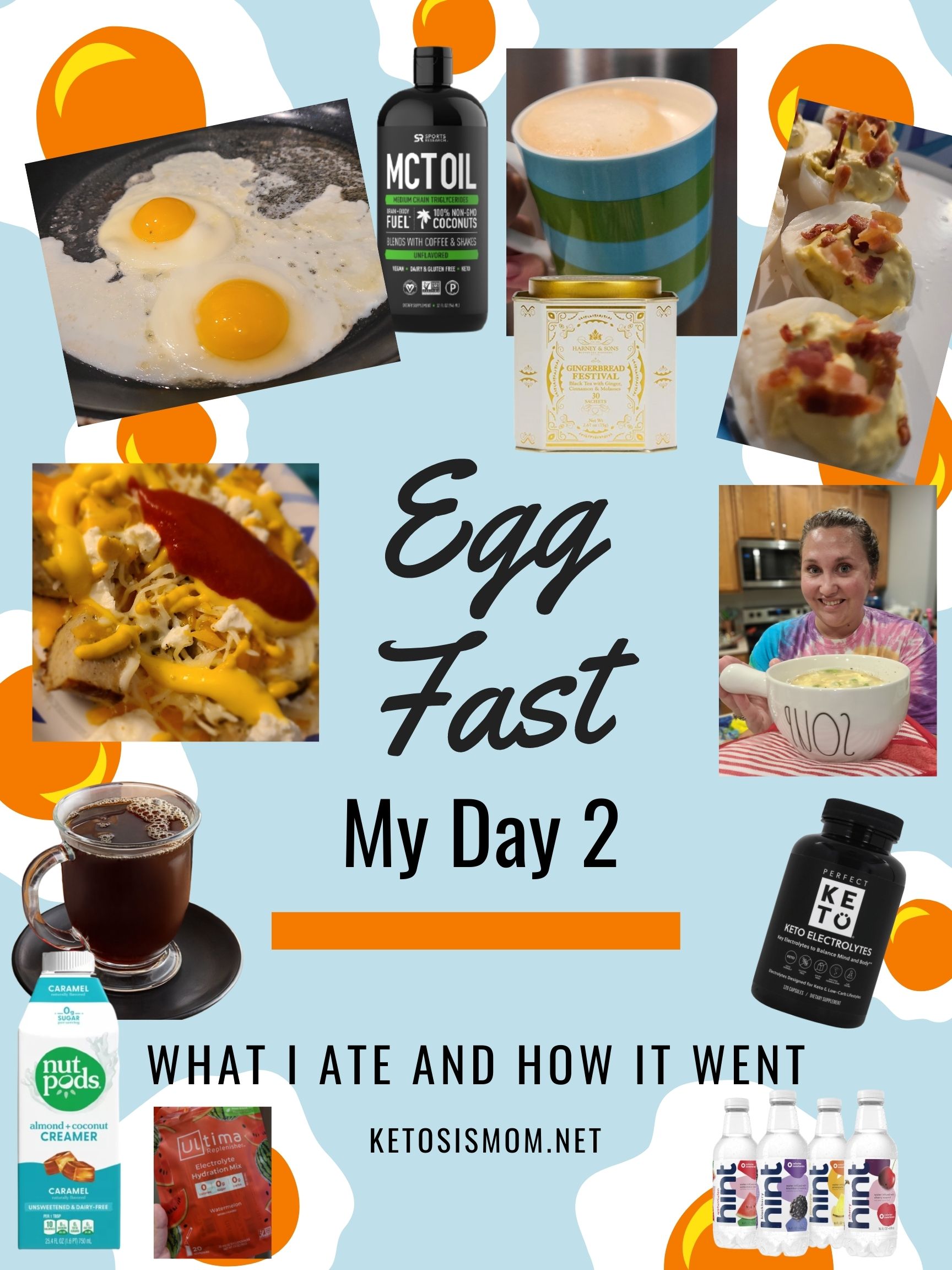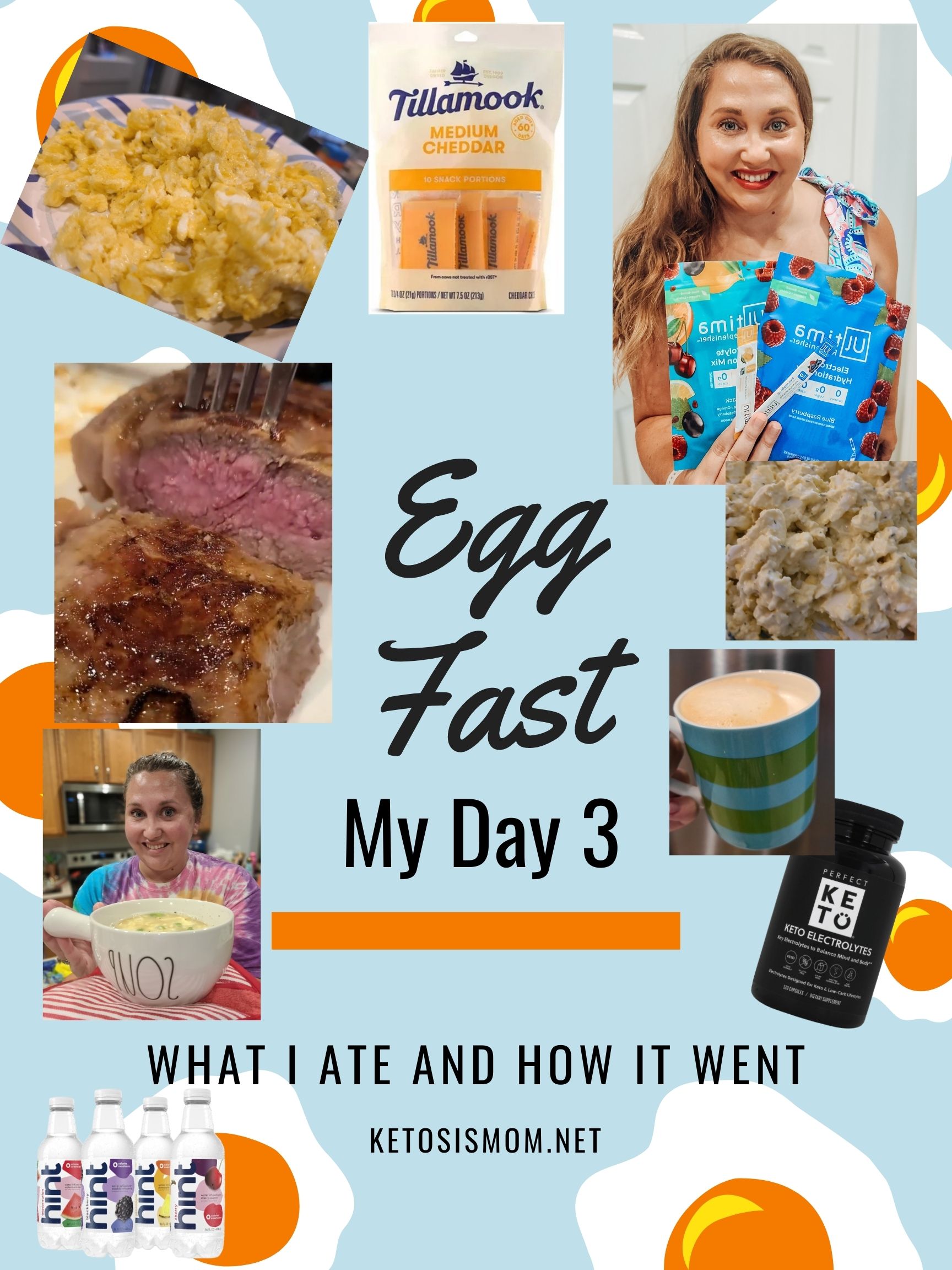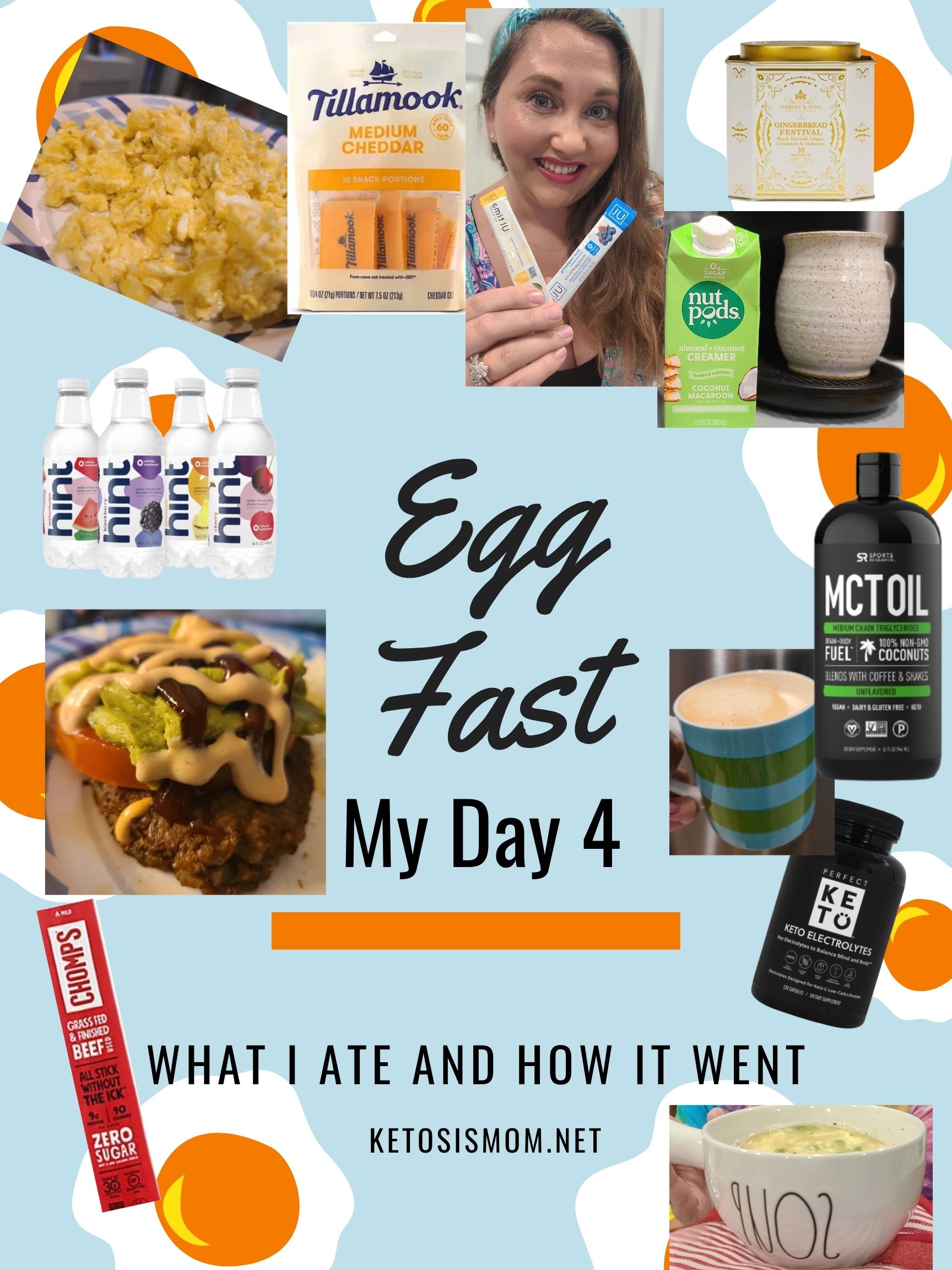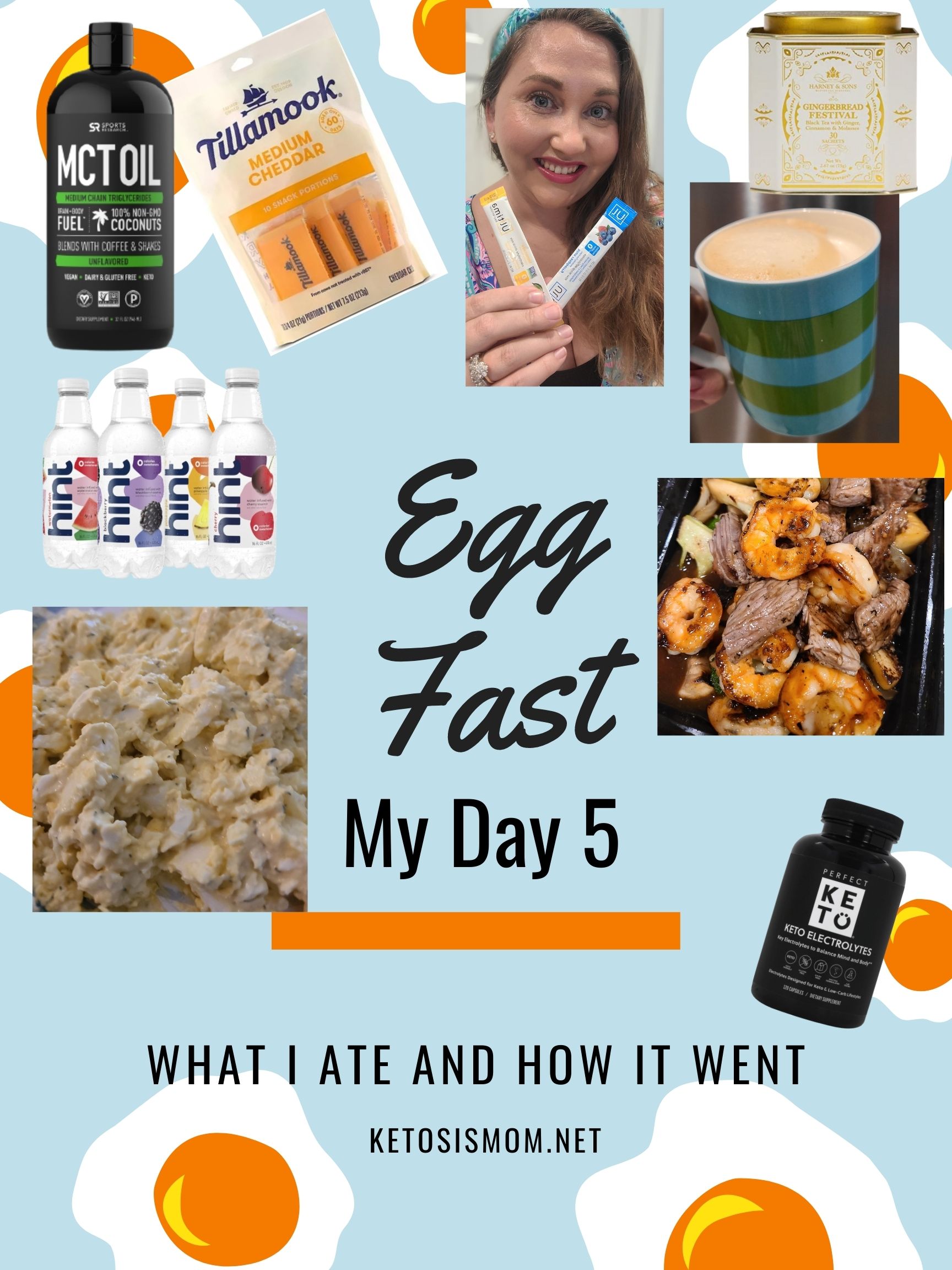 Let me first say, I was shocked that my fasting glucose on day one was at 120 - however I DID have a piece of birthday cake before bed the night before in anticipation of doing this egg fast. Over the past few months I hit a plateau in weight loss and then I actually started gaining some back, yup, it sucks but it happens to us all. I did this egg fast to hit the reset button for myself and get back on my wagon. I lost 7 pounds. Yes - 7 whole pounds in 5 days during THIS egg fast. I am not surprised by this however, because when I logged my food into myfitnesspal, I noticed that the macros were around what I was eating when I was strict keto prior to my falling off the wagon: 80% fat, 15% protein, and 5% carbs. So, from not being in ketosis to trying to get back into ketosis you CAN expect to drop all the way up to 15 pounds in "water weight" as your body flushes.
If you are trying to looks weight quick and you are not currently in ketosis, this fast OR any eating that follows an 80/15/5 macros for fat, protein, carbs is going to have you get into ketosis quickly and also flush the water weight within the first 7 days. The issue with this is that once you are no longer eating the 80/15/5 - even for a day, your body will start retaining water again. So for me, on Saturday I still ate low carb, but I are the veggies that came with the hibachi steak and shrimp on my day 5. The next morning, even drinking enough water, I was +2 lbs again.
Overall, I think that trying to find a balance in your eating to stay in ketosis is probably more important that the "quick loss" that you can get from fasting like this. If you're going for a photoshoot and just want to flush water, ok maybe, but most of us are not models (just saying). I will be trying this for an additional week when my new controls come in from Fora so make sure that my blood meter readings were accurate. If they change or I see a large flux in what is above I will come back and update this blog post!
My ending thoughts: Learn to eat more balanced and in smaller portions, but every 3 hours, not JUST eggs or eggs and a fatty meat. It gets old very quickly. By day 4, I was having to force myself to eat the eggs. You want to do something that is obtainable and sustainable long term not just a quick fix and then get upset when the weight comes back a week later. Make sure you have quality meat & eggs if you are doing this fast!
- The Ketosis Mom
(Jen)
Product Discounts:
Fora Blood Meter - to test cholesterol, ketones, glucose (and even uric acid) use code: KETOSISMOM at checkut
Utlima Electrolytes - If you are going to do this diet you HAVE to have electrolytes to combat the Keto Flu symptoms
Perfect Keto Electrolyte Capsules - Perfect keto has capsules and a drink mix, use code: KETOSISMOM at checkout on anything you purchase for a discount
Hint water - New customers can get 3 cases for less, I went through a case and a half this week alone
Bare Bones Bone Broth - I used this to make the egg drop soup throughout the week but you can also drink it alone to combat keto flu symptoms, use code KETOSISMOM at checkout for a discount
Tru Beef Organic - get $25 off plus 2 free ground beefs AND 10% off any recurring order. All organic grassfed and finished beef. code: KETOSISMOM
FTC Disclaimer Required for all Influencers:
I am a content creator and an Amazon Influencer. I am also a partner or affiliate with multiple brands. I partner with brands to gain discounts and giveaways for my audience. The links posted throughout my website I may earn from by you making purchases or utilizing the codes for a discount for yourself.
Thank you for supporting my business! My Privacy Policy is located at the bottom of the main website page, I do not sell any information or collect information personally. If you would like to be added to my Newsletter register under Berry Blasts on the Home Page.
- Jennifer @KetosisMom