FTC Disclaimer Required for all Influencers:
I am a content creator and an Amazon Influencer. I am also a partner or affiliate with multiple brands. I partner with brands to gain discounts and giveaways for my audience. The links posted throughout my website I may earn from by you making purchases or utilizing the codes for a discount for yourself.
Thank you for supporting my business! My Privacy Policy is located at the bottom of the main website page, I do not sell any information or collect information personally. If you would like to be added to my Newsletter register under Berry Blasts on the Home Page.
- Jennifer @KetosisMom
Keto Shrimp Alfredo
Makes 4 servings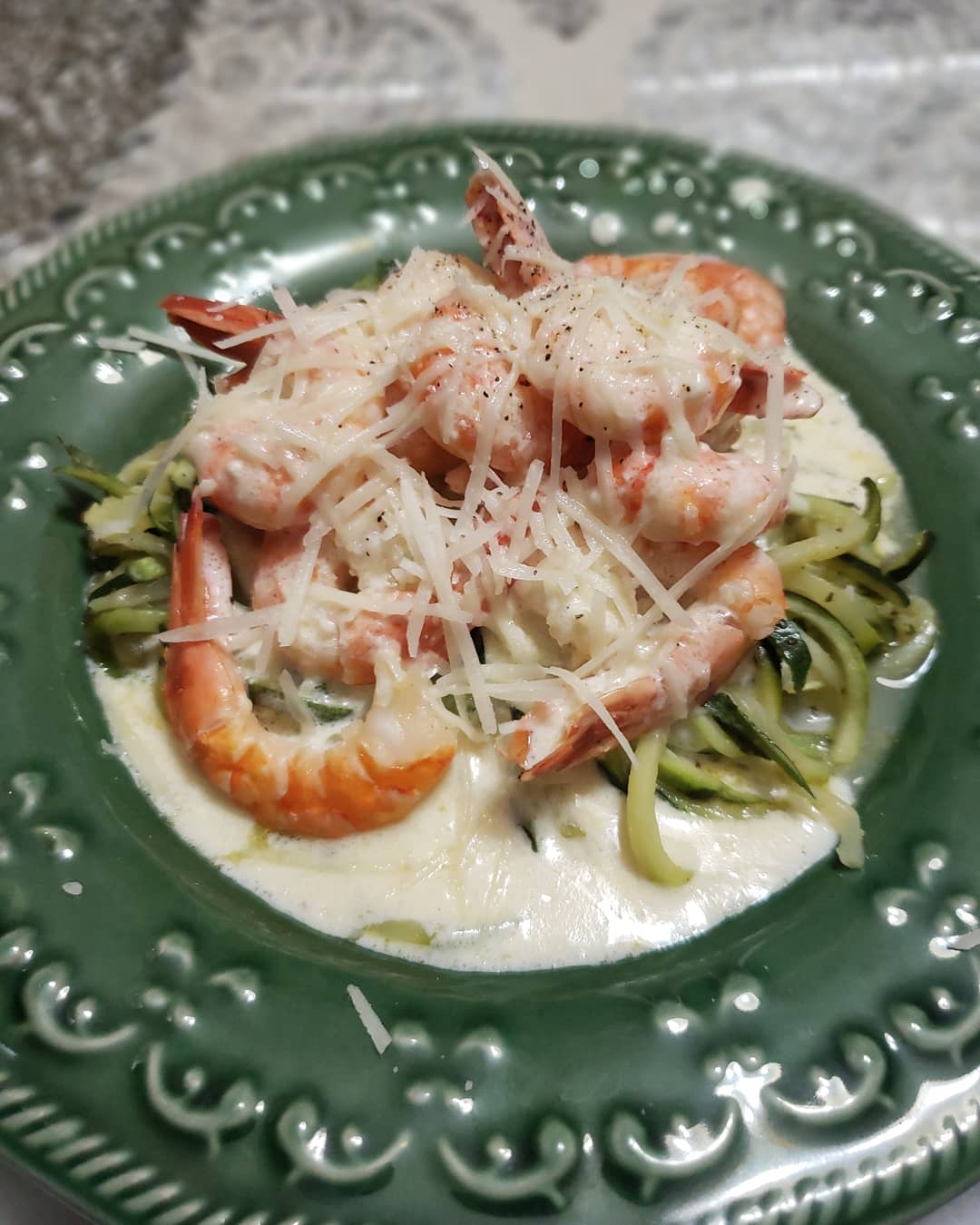 Ingredients
3 - 4 Zucchinis (Use a spiralizer to make zoodles)
1/4 cup yellow onion
1/4 cup purple onion
1 tbsp minced garlic
Italian Seasoning ( I use flavorgod)
Garlic lovers seasoning (I use flavorgod)
2 cups heavy cream
1.5 cups shredded cheese (I used Pecorino Romano PDO) https://uncommoneurope.eu
1 pinch nutmeg
1 pinch salt & pepper
2 lbs shrimp peeled & deveined (try and find tail off if possible!)
8 oz butter (I use Kerrygold)
4 oz cream cheese
Directions
1) Roughly chop your onions and spiralizer your zucchini.
Place olive oil in bottom of pan and place garlic, italian spice, zucchini, and onion in pan on medium heat. Stir occasionally until fully Cooked, approx 6 -8 mins.
2) While zucchini cooks, place shrimp in a pot with 1 tbsp butter and cover pan so shrimp steams inside pan. This will only take a few minutes, dont over cook shrimp.
3) Melt 8 oz of butter with minced garlic on medium heat in a sauce pan, approx 2 mins.
Once melted add in the heavy cream and cream cheese.
4) Shred your block of cheese and add 1 cup of shredded cheese to the saucepan and stir continuously. Add salt & pepper and nutmeg (to taste). Sauce will cook approx 5 mins once all ingredients added to the pan. If you want thicker sauce add 1 tsp of xanthan gum, but you shouldn't need it.
5) Assemble dishes...
- Zucchini mix on bottom
- Shrimp on top
- Pour as much sauce as you like over shrimp and zoodles
- sprinkle top with remaining 1/2 cup of cheese
*** Toddler Friendly & Non Keto husband friendly