Keto Sweet & Sour Pork
Makes 4, 4 oz portions
241 calories, 8 net carbs, 12.4 fat, 24.9 protein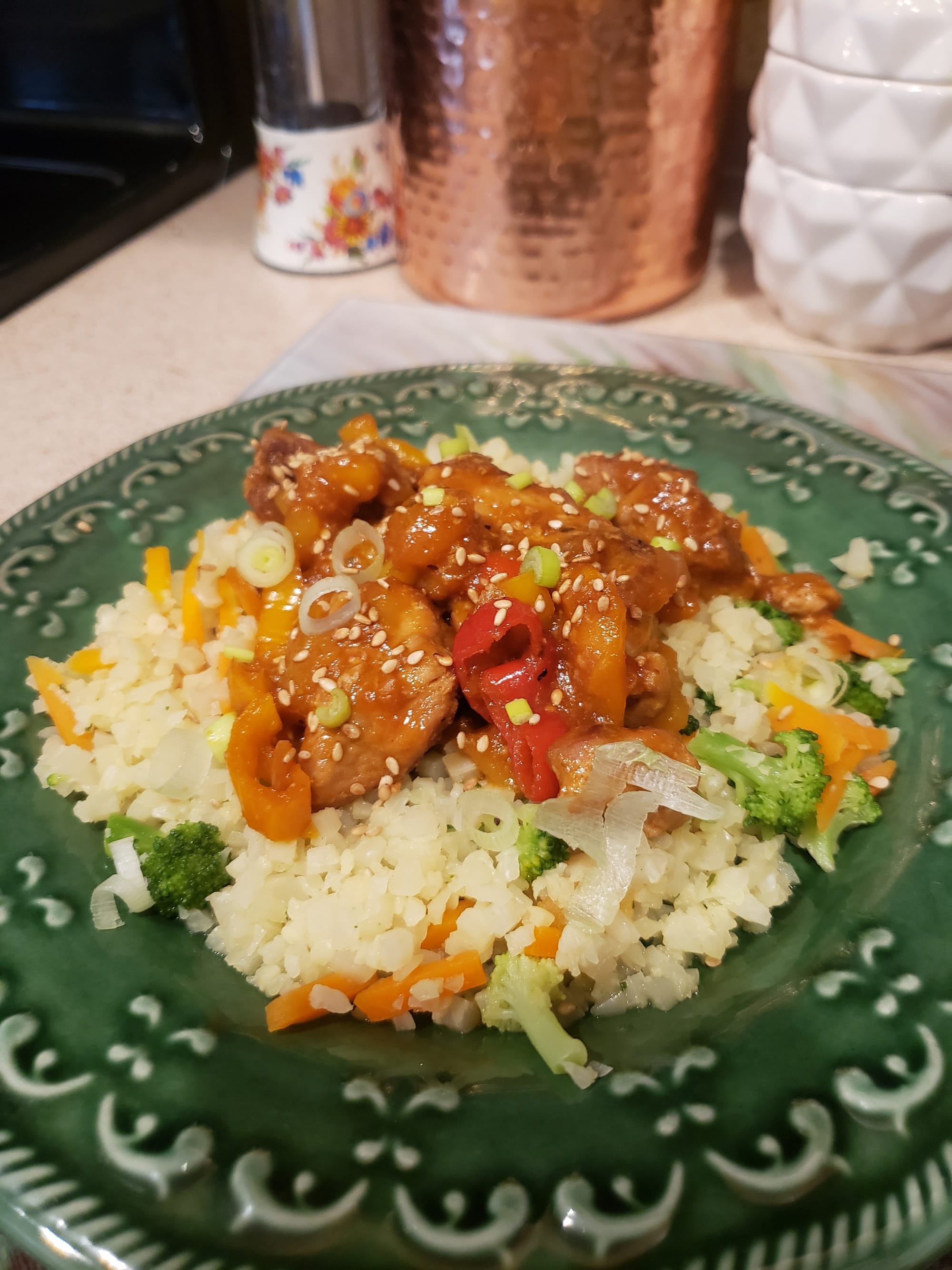 FTC Disclaimer Required for all Influencers:
I am a content creator and an Amazon Influencer. I am also a partner or affiliate with multiple brands. I partner with brands to gain discounts and giveaways for my audience. The links posted throughout my website I may earn from by you making purchases or utilizing the codes for a discount for yourself.
Thank you for supporting my business! My Privacy Policy is located at the bottom of the main website page, I do not sell any information or collect information personally. If you would like to be added to my Newsletter register under Berry Blasts on the Home Page.
- Jennifer @KetosisMom
Ingredients
For Pork:
12 oz pork cubed
1 tbsp baking soda
1 tbsp orange juice
1 tbsp liquid aminos
1 tsp sesame oil
For saute:
1/4 cup tried colored peppers (red yellow orange) chopped
1/4 cup mango + orange slices
white onion (as much as you like)
1 tsp fresh ginger chopped
For Sauce:
4 garlic cloves diced
1 tbsp mango
1 tbsp liquid aminos
1 tbsp Raos tomato sauce
1 tbsp apple cider vinegar
1 tsp orange juice
optional: sukrin gold brown sugar sub
Directions
1) Put sesame oil in pan and heat. Place 12 oz pork cubes in a zipbag.Place all ingredients listed "for pork" above over the pork in the bag to marinate. Set aside.
2) Place all ingredients listed under "for sauce" in a blender and blend until smooth. Set aside.
3) Empty pork bag marinate into the pan of hot oil and brown /cook all the way through evenly. Depending on your heat this can be 10+ minutes while flipping the meat regularly.
4) Prepare all ingredients under "for saute". Once the pork is almost finished cooking, add in all saute ingredients and cook everything together approx 3 mins.
5) Once everything looks cooked, place as much or as little of the sauce over the saute mix and let cook another 3 mins.
*Serve over cauliflower rice or broccoli
**You may want extra sauce to go over the vegetable side dish.