FTC Disclaimer Required for all Influencers:
I am a content creator and an Amazon Influencer. I am also a partner or affiliate with multiple brands. I partner with brands to gain discounts and giveaways for my audience. The links posted throughout my website I may earn from by you making purchases or utilizing the codes for a discount for yourself.
Thank you for supporting my business! My Privacy Policy is located at the bottom of the main website page, I do not sell any information or collect information personally. If you would like to be added to my Newsletter register under Berry Blasts on the Home Page.
- Jennifer @KetosisMom
Keto fruit Tart
Serving Size 4 (generous portions!)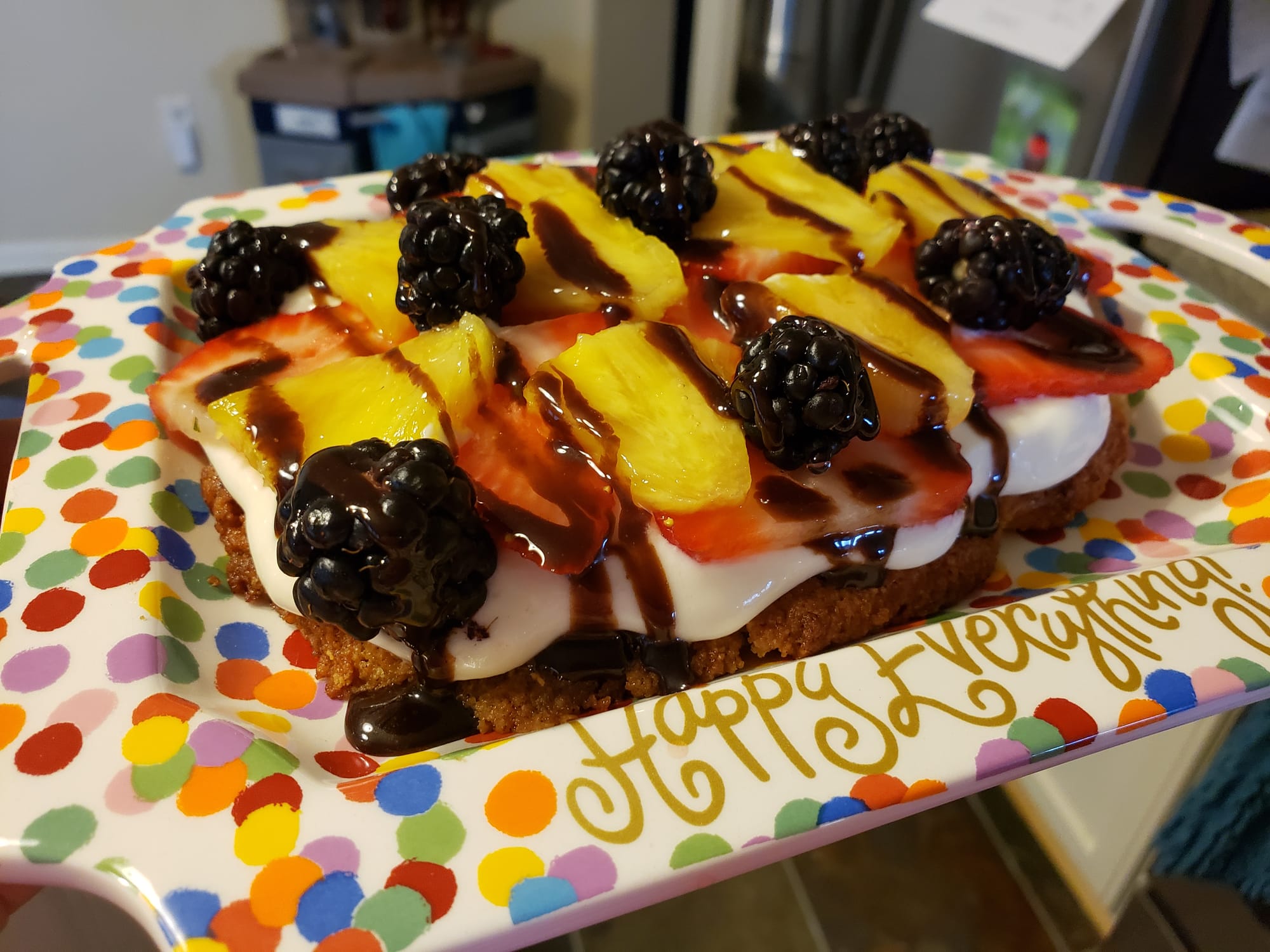 Ingredients
"Icing Layer"
2 oz cream cheese
1 tbsp sour cream
3 tbsp heavy cream
2 tbsp Monk fruit sweetener
1 tsp vanilla extract
1 tsp lemon extract
Crust Layer
1/4 Cup Almond Flour
1/3 tbsp cream cheese
3 oz shredded mozzarella
1/2 egg
1/2 tbsp butter
3 tbsp Monk fruit or Sukrin Gold Sweetner
1/3 tsp Cinnamon
2 shakes Buttery Cinnamon Roll Flavor God seasoning (optional)
1 tsp baking soda
Fruit /Topping
Optional!
Berries are the best.
I used 2 medium strawberries
8 blackberries
1/2 fresh pineapple spear
I also topped the entire tart with choczero chocolate and strawberry syrup drizzle
Directions
(The easiest way to do this tart is to also make my Keto everything bagels and take 1.5 bagel mix out for the "tart" crust)
1) Melt cream cheese, cheese, butter together until melted. You are making a fat head dough.
2) Add in remaining ingredients to make the "dough" and sprinkle sweetner, cinnamon, and spices into the dough
3) roll out flat on parchment paper, and bake at 425 for 15 mins
4) Melt cream cheese, add in heavy cream, sweetner, extracts, & sour cream and beat with hand mixer for approx 2 mins
5) Cut up fruit toppings of choice in thin slices
6) Remove crust from oven and allow to cool min of 30 mins.
7) Spread icing layer and top with fruit (and choczero syrups if you have them)
8) Place entire tart in fridge to cool together for a min of 1 hour before serving
Enjoy!