FTC Disclaimer Required for all Influencers:
I am a content creator and an Amazon Influencer. I am also a partner or affiliate with multiple brands. I partner with brands to gain discounts and giveaways for my audience. The links posted throughout my website I may earn from by you making purchases or utilizing the codes for a discount for yourself.
Thank you for supporting my business! My Privacy Policy is located at the bottom of the main website page, I do not sell any information or collect information personally. If you would like to be added to my Newsletter register under Berry Blasts on the Home Page.
- Jennifer @KetosisMom
Keto Eggplant Parmesan
Makes 6 servings - per ROUND eggplant.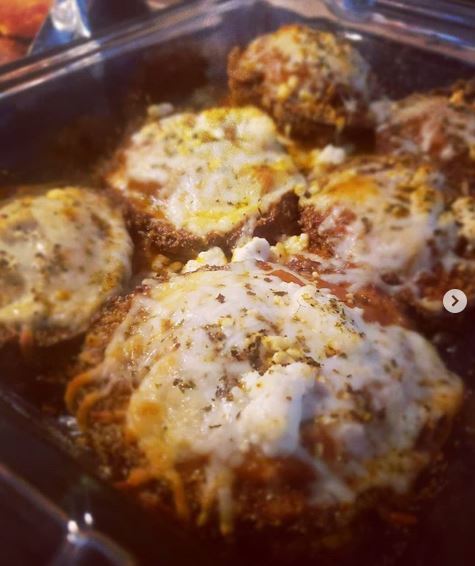 Ingredients
1 round eggplant (or oblong)
1/4 cup Parmesan cheese
1/2 cup mozarella cheese
2 tbsp flax seed
1/4 cup almond meal
1.5 cups pork rinds - crushed
cheese of choice - i.e. goat cheese
1 cup rao's sauce or daves squash sauce (low carb sauce)
1 egg
4 tbsp olive oil/coconut oil
oregano & basil
italian seasoning
Directions:
- Thin slice the eggplant. Lay out slices on paper towel. Salt each piece. Let sit for 30 mins. Go back and blot moisture from each piece. Flip + Repeat.
- Place egg and oil in one bowl. Place flax seed, almond meal, and pork rinds + Italian seasoning in another. Crush/Mix all dry ingredients together. Drench each eggplant slice in egg wash, then into dry mix coating both sides.
- Bake on 425 for 20 mins, flipping each piece halfway through bake time. - Remove from oven. Put a thin layer of sauce in a coconut oil greased casserole dish. Lay each piece of eggplant on top of the sauce. Next, place a dollop of sauce on each piece and top with mozzarella, Parmesan, (cheese of choice) and basil. - Bake an additional 20 mins.
SERVE !