Keto Cream Cheese Strawberey Danish
Makes 6
each: 462 cal, 8.3 NET carbs, 38.8 Fat, 19.8 protein
YouTube video for full instructions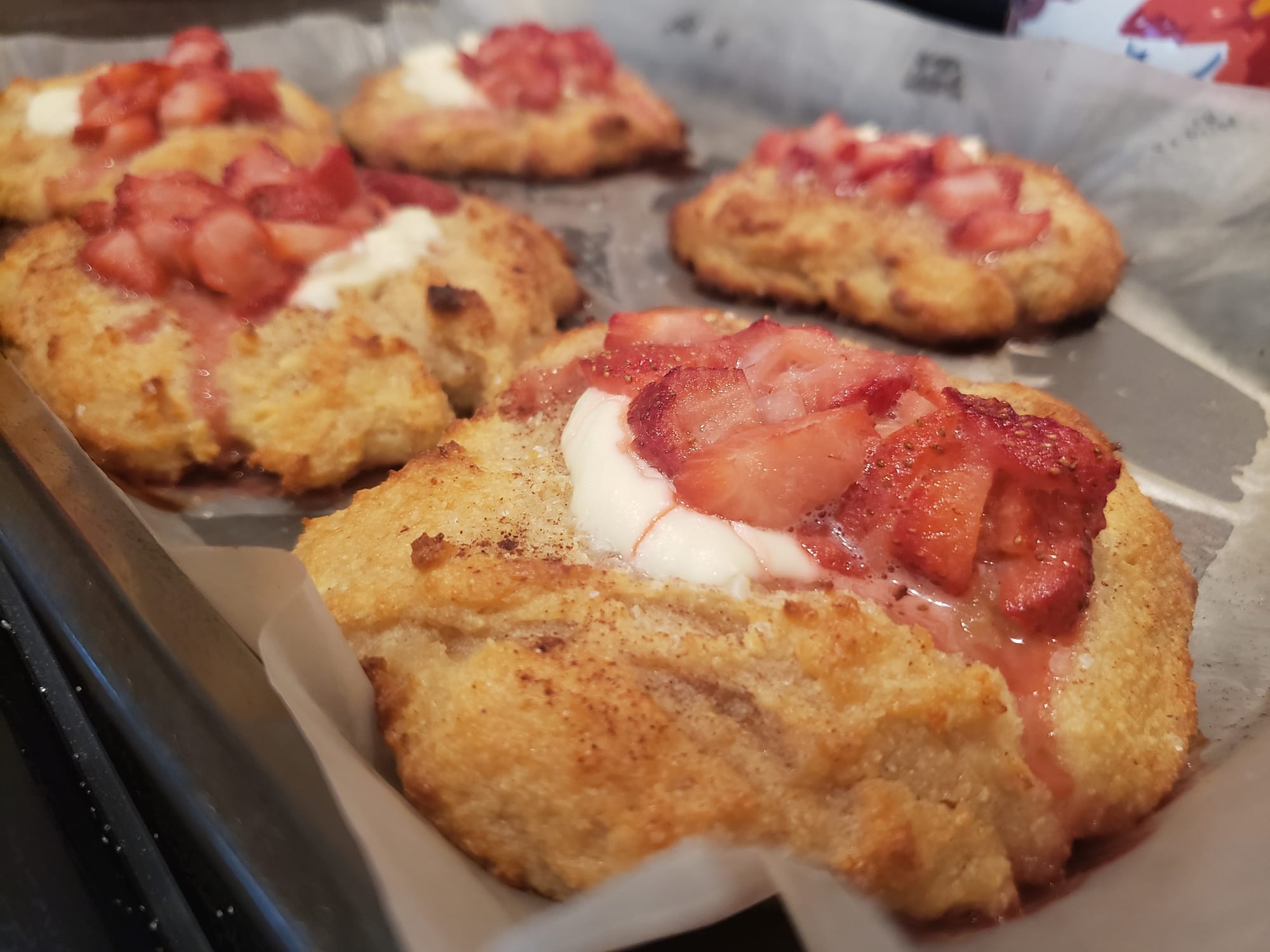 Ingredients
2 cups almond flour
2 cups mozarella cheese
2 eggs
3 tbsp butter melted
4 oz cream cheese
10 strawberries diced
1/4 cup brown sugar sub
2 tbsp confectioner sugar sub
1 tsp cinnamon
1 tsp vanilla extract
1 tbsp baking powder
1 tsp heavy cream
sea salt
optional: choczero syrup in strawberry or chocolate
Directions
1) Melt butter, 2 oz cream cheese,and shredded cheese until it is stringy and mixed well..melt in 30 sec increments
2) Add almond flour and make a "dough" ...you may need to heat an additional 30 secs. Add 2 eggs and mix into a dough.
3) Add vanilla, cinnamon, and brown sugar sub and continue to mix until all blended well.
4) Make 6 "snakes" from the dough. Turn each snake into a circle on a parchment paper lined pan (I spray with coconut oil before placing each down) and sprinkle with sea salt on top.
5) Preheat over to 425 and bake the 6 circles for approx 8 mins
6) While these bake, dice strawberries and toss on 1 tbsp of confectioners sugar and choczero strawberry syrup/1 tsp heavy cream. Note: you can blend all of this together to make a puree also
7) melt 2 oz (or more if you want more cream cheese) and mix 1 tbsp confectioners sugar with this once melted
8) Removed circle doughs from oven and place 1 tsp cream cheese blend + 1 tbsp strawberry blend in the middle of each circle
9) Return to the oven for an additional 8 mins or until browned.
Enjoy!
*Freeze for up to 3 months.
**Refrigerate for approx 3 days. But these will get soggy.