FTC Disclaimer Required for all Influencers:
I am a content creator and an Amazon Influencer. I am also a partner or affiliate with multiple brands. I partner with brands to gain discounts and giveaways for my audience. The links posted throughout my website I may earn from by you making purchases or utilizing the codes for a discount for yourself.
Thank you for supporting my business! My Privacy Policy is located at the bottom of the main website page, I do not sell any information or collect information personally. If you would like to be added to my Newsletter register under Berry Blasts on the Home Page.
- Jennifer @KetosisMom
Keto/Low Carb Cheesecake
Makes 12 slices
Nutrition: 358 calories, 7 net carbs, 28 fat, 8 protein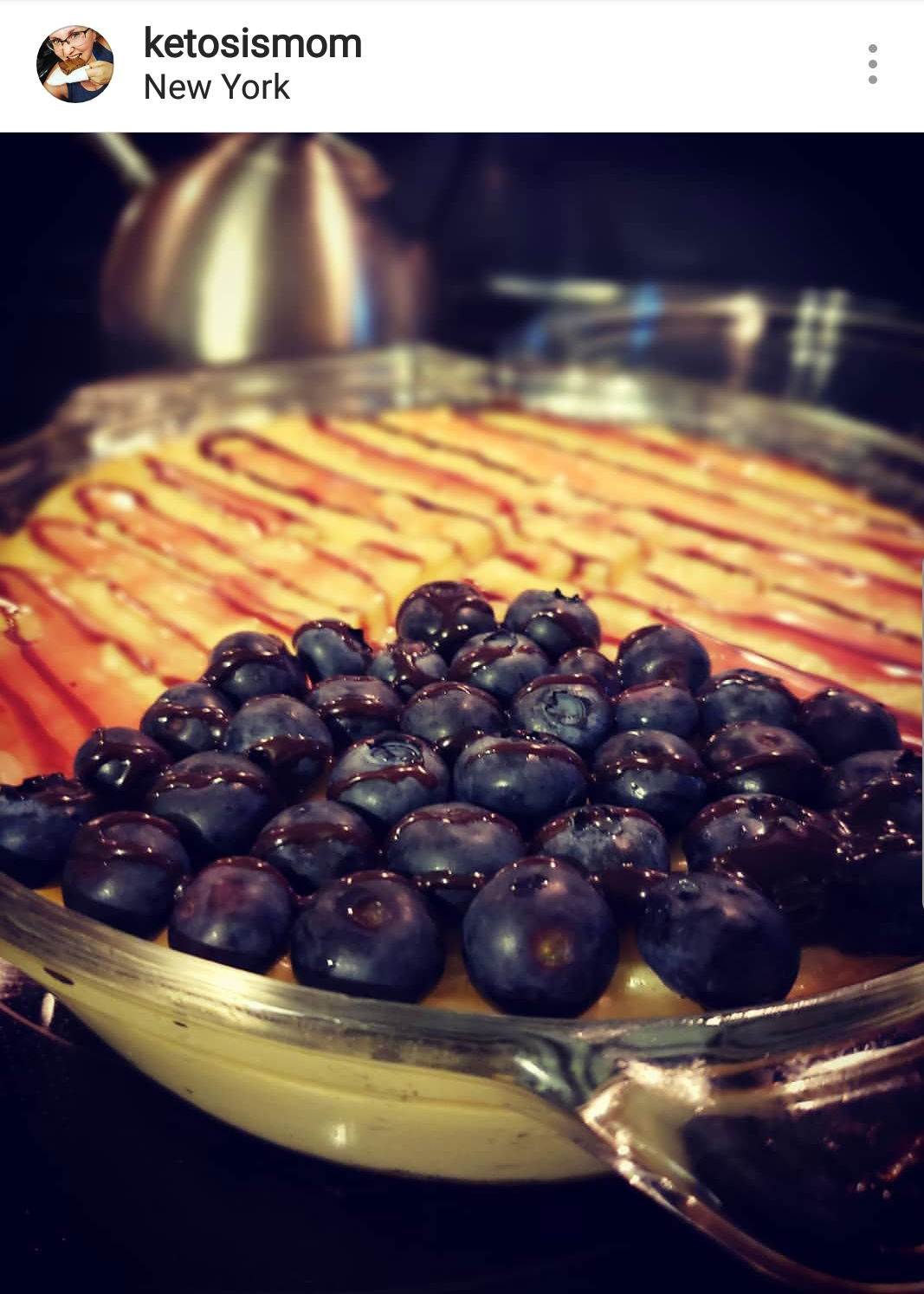 To make:
The Crust
3/4 cup almond flour
1/4 cup coconut flour
1 tbsp Flax seed meal
1/4 cup shredded coconut
4 oz butter (room temp/melted)
Directions
Mix all of this and put into bottom of dish/pan to form the crust
Bake for 10 mins at 300F
Next...
To Make The Pie
3 blocks cream cheese (room temp)
1/2 cup sour cream
2 oz butter
1/4 cup sugar substitute (I used Swerve)
2 tbsp vanilla extract (You can also use a Lemon/Orange etc extract if you want a fruity cheesecake)
1 tbsp lemon extract (you can sub with a citrus zest as well) but use FRESH or it will result in hard pieces
1/4 cup heavy cream

Directions
Blend on low until creamy, then add slowly
3 eggs
*Blend in 1 room temp egg at a time ****
Add the Pie mix to the crust that has been pressed in the pie pan
Bake @300 for 1- 1.5 hours. The middle should just barely jiggle. .
Refrigerate for minimum of 5 hrs. Serve & ENJOY! .
Notes:
I topped with blueberries and @choczero high fiber syrups (Strawberry and Chocolate). I recommend not topping until time to serve. Also I like crushed hazelnuts with choczero chocolate and caramel syrup drizzled. It tastes like a Turtle Cheesecake!
---
Keto Cheesecake - Triple Chocolate Ganache
makes 10 servings
Nutrition: 579 calories, 55 g FAT, 5 g NET carbs, 14 g Protein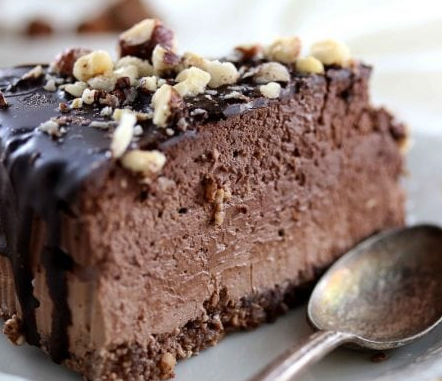 Chocolate Cheesecake
3 eggs
2 blocks cream cheese
1/2 cup sour cream
1 cup unsweetened baking chocolate
1/2 cup erythritol (or Swerve)
1/2 tsp Swerve confectioners
1 cup heavy cream
3/4 tsp Swerve confectioners (for chocolate layers)
Chocolate Crust
1 cup hazelnuts (crushed)
1 tbsp cocoa powder
1/2 tsp swerve confectioners
3 tbsp butter
Chocolate Ganache
1/4 cup unsweetened baking chocolate
1 tbsp coconut oil
1/8 tsp swerve confectioners
1/4 cup hazelnuts
Directions
Preheat oven to 300F
In a food processor, add all of the crust ingredients and pulse for about 30 seconds to 1 minute until the crust is all crumbly. Take it out of the food processor and add the crust to an 9'' springform pan. Press with your hands until the whole bottom has been covered with the crust.

In a large bowl, add the unsweetened baking chocolate. Add the erythritol to the chocolate. Heat the heavy cream either on the stove or in the microwave until hot and bubbly.Pour in the hot cream over the chocolate in batches and mix with a whisk. Mix until all of the chocolate has melted. The batter should be just a little thick. It will also look like the milk and oil are separating, but not to worry! Separate the chocolate into three bowls in a ratio of 3:2:1. For example, the first bowl should have 3 spoons of chocolate, the 2nd bowl should have 2 spoons of chocolate and the 3rd bowl should have 1 spoon of chocolate. Set aside. Add 1/4 tsp of swerve confectioners into each bowl.

In a large bowl, add the cream cheese and sour cream. Whip with a hand mixer until nice and creamy. Add the 1/2 tsp of swerve confectioners and the eggs, one at a time until nicely incorporated.(Use room temperature eggs!)

Now, separate the cream cheese filling into the chocolate bowls in a ratio of 1:2:3. The 1st chocolate bowl had 3 spoons of chocolate, so add 1 spoon of cream cheese into that one. This is the dark chocolate layer.The 2nd bowl had 2 spoons of chocolate so add an equal amount of cream cheese. This is the medium chocolate layer. The 3rd bowl had 1 spoon of chocolate so add 3 spoons of cream cheese. This is the light chocolate layer.

Mix each bowl separately with a hand mixer. The batter will be pretty thick in each bowl.

Pour the light chocolate layer into the cheesecake mold over the chocolate crust. Pour the 2nd medium layer over the light layer and spread around. Pour the 3rd dark chocolate layer over the medium one and spread evenly.

Prepare a tall oven-proof tray and add 1" of water. Carefully place your aluminum-wrapped cheesecake into the water and place into the oven. Bake for 90 minutes.

Take the cheesecake out of the oven and out of the water tray and let cool completely. Once cooled, place it in the fridge to cool down overnight.




The next day: Chocolate Ganache

Add your hazelnuts to a food processor and pulse for a few seconds just to crush them into a few pieces.

In a medium bowl, add the baking chocolate, coconut oil and serve confectioners. Add it to the microwave and microwave for 1-1:30 minute until the chocolate has all melted. Mix with a spoon and make sure there are no lumps. If the chocolate isn't melted yet, put it back in the microwave to melt for a few more seconds.

Take the cheesecake out of the springform pan. Place on the plate or cake stand of your choice.

Pour the chocolate ganache over the whole cheesecake and spread it evenly all the way to the sides so that it can run down the cake and make some delicious looking drips.

Sprinkle the crushed hazelnuts all over the cheesecake. It is now ready to serve!