Holidays are coming.... that means PIE! This is one of our family favorites (as in someone WILL fight you for the last piece). I have included the "non keto" recipe at the bottom - but here is how to make it gluten free, keto, and low carb!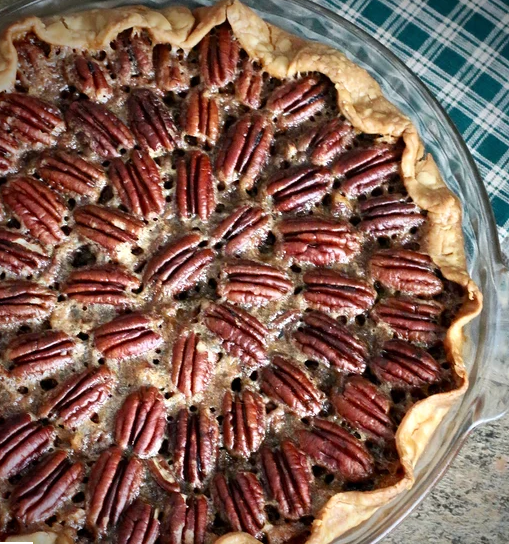 FTC Disclaimer Required for all Influencers:
I am a content creator and an Amazon Influencer. I am also a partner or affiliate with multiple brands. I partner with brands to gain discounts and giveaways for my audience. The links posted throughout my website I may earn from by you making purchases or utilizing the codes for a discount for yourself.
Thank you for supporting my business! My Privacy Policy is located at the bottom of the main website page, I do not sell any information or collect information personally. If you would like to be added to my Newsletter register under Berry Blasts on the Home Page.
- Jennifer @KetosisMom
Ingredients
If making your own keto crust:
- 1 & 1/2 cups almond flour (you can also use pecan flour or a mix of the 2)
- 1/4 cup melted butter
- 1/4 cup sugar substitute (again I recommend mixing white and brown)
- 1/4 teaspoon of salt
* Combine all ingredients until it resembles crumbs. Place it all into a greased pie pan (glass or ceramic works best). Spread out across the pan. Use a fork to poke holes randomly in the bottom of the crust. Bake for 12 minutes, let cool before placing filling mixture inside the crust and bake the remainder of the time required for the whole pie.
* If prebaking the pie crust, refrigeration is not required because there are no eggs in the crust. You may want to bake closer to 15 - 20 minutes if prebaking and then cover the whole pie with foil when baking with the filling later
Directions
Preheat oven to 365 degrees
In saucepan combine sugar substitute, syrup, and butter until combined. Set aside and let cool slightly
In a large bowl, combine beaten eggs, bourbon, vanilla, and salt.
Slowly which in sugar/butter mixture. Whisking constantly.
Mix in Chocolate chips and chopped pecans.
Place all of mixture into the pie crust.
Optional: top with whole pecans
Bake in preheated oven 55 mins or until golden brown.
Serve warm or chilled (best with vanilla ice cream - Rebel Creamery has a keto friendly vanilla)
Non - Keto version