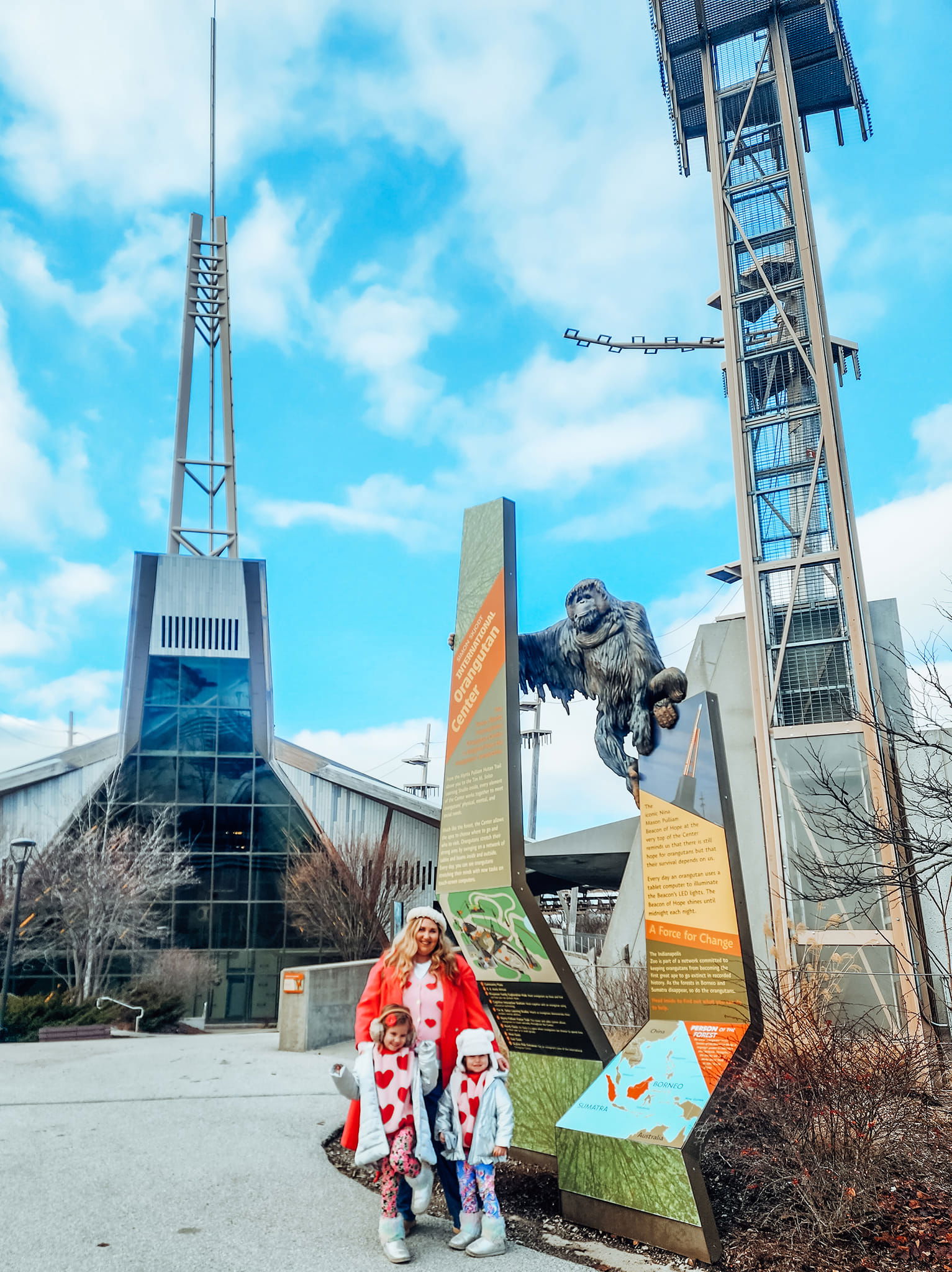 Follow Me on Amazon Follow Me on LTK Follow Me on YouTube
FTC Disclaimer Required for all Influencers:
I am a content creator and an Amazon Influencer. I am also a partner or affiliate with multiple brands. I partner with brands to gain discounts and giveaways for my audience. The links posted throughout my website I may earn from by you making purchases or utilizing the codes for a discount for yourself.
Thank you for supporting my business! My Privacy Policy is located at the bottom of the main website page, I do not sell any information or collect information personally. If you would like to be added to my Newsletter register under Berry Blasts on the Home Page.
- Jennifer @KetosisMom
Hello Indianapolis! We decided to go on an impromptu trip over MLK weekend in 2023. And why not? A mere 2 hours from Louisville KY is Indianapolis. Home of the largest Children's museum in the United States. When we lived in North Carolina for a brief stent we loved the Marbles Museum (more of a play museum), and in Rochester NY is the Strong Museum - which we also 100% recommend! Joe and I have also been to London museums that we plan to take the kids back to, so we figured being this close to such a large museum designed for children, we may as well take them here too.
We have two kids under the age of 6 (6 and 3 to be exact). They are spoiled, yes. We get them out and about as much as possible and both of my kids have been traveling since they were just a few month's old. We have moved 9 times in less than 5 years (when you count temporary living as well). Yikes! Needless to say, we do not "live by family", we live wherever my husband has been recruited to work. So plane rides, car rides, and yes train rides are nothing new for either of my two.
If you are looking for some tips on traveling with kids, check out my blog post on travel tips as well. You can also view my Amazon storefront at any time to see some of my favorite travel items.
So let's dive in. If you want my suggestions for a quick and fun in and out of Indianapolis with littles, we had a blast. We loved our hotel. It was perfect for us and had MORE than enough room. It was honestly one of the largest hotel rooms I think we have ever stayed in. You can watch my quick review video here. We have Hilton rewards so we also did not pay for this hotel as we used points. If you are looking to travel more, and want hotel points to pay your way so you aren't adding the hotel cost to your trip, I do recommend this card.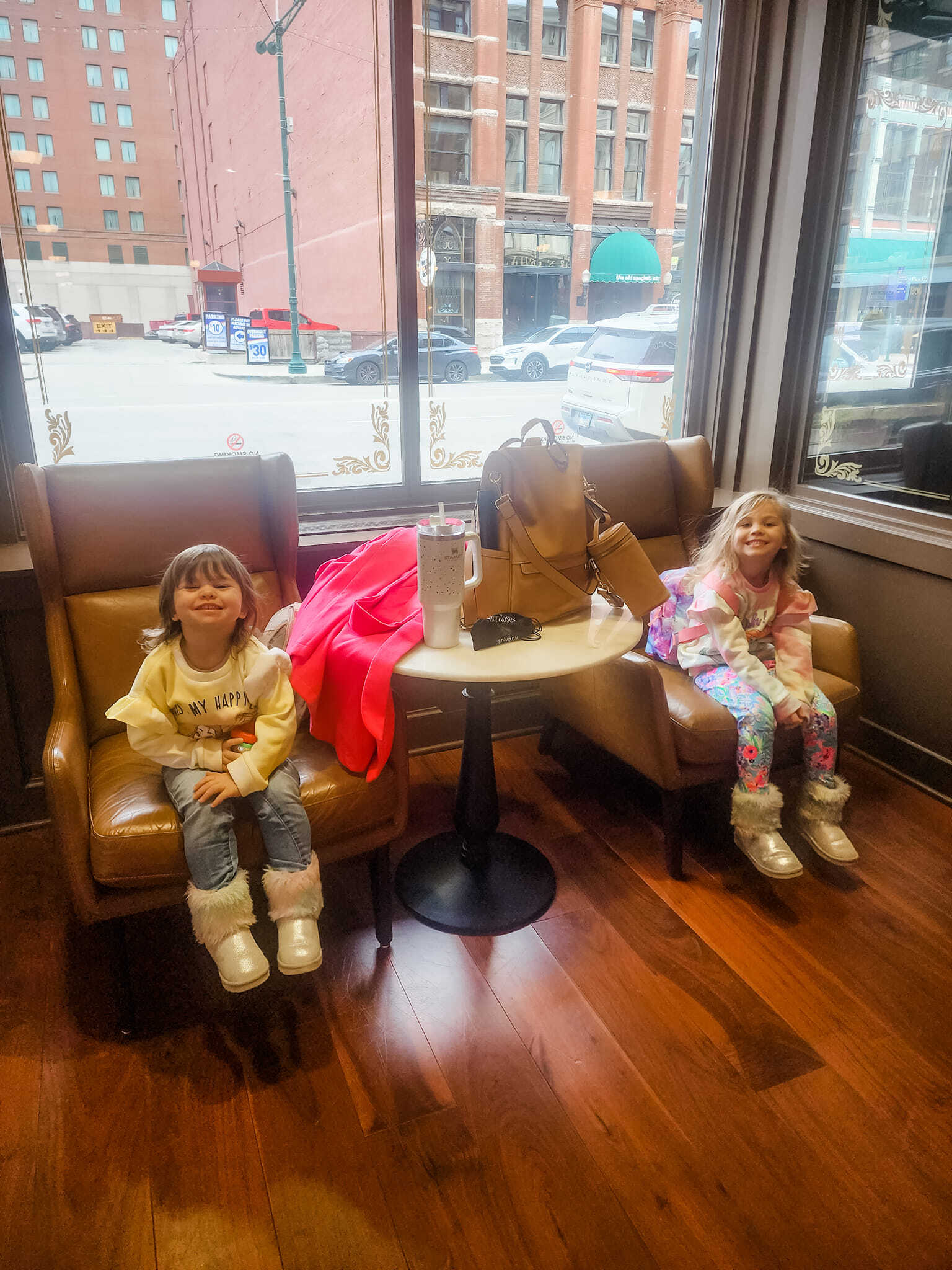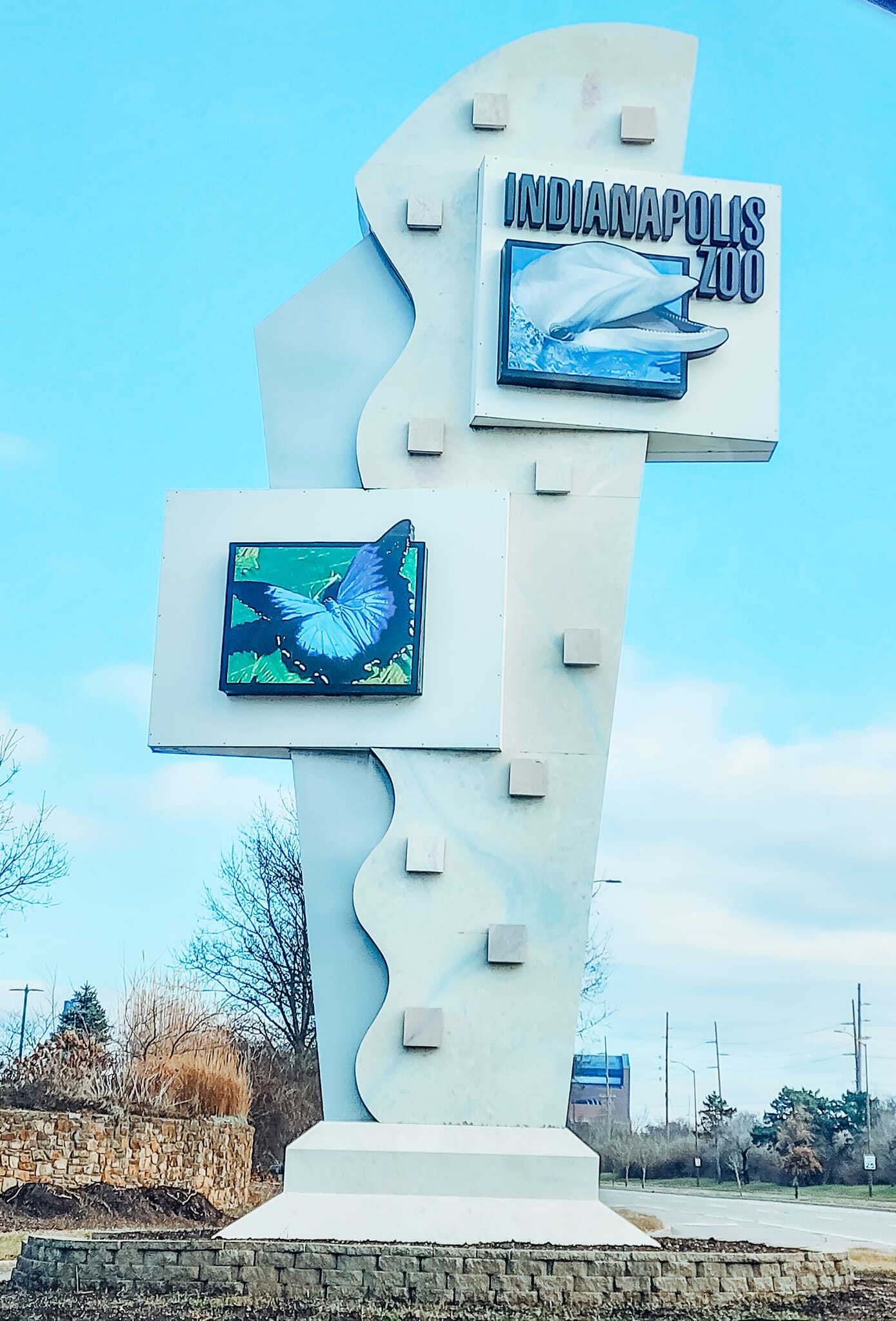 We started at the Indianapolis Zoo. Now, we went in January and a lot of the areas were closed. We also noted that they seem to be building a lot of new things at the zoo entrance. Nonetheless, when was the last time you went to a Zoo and had zero people in your way ? There were multiple times that I would look around and wonder had the zoo already closed and we were not supposed to be there. It was in the high 30's when we went. But a jacket, hat, and gloves later we were all warm and cozy. We also opted to bring 2 single pocket strollers instead of our typical wagon. There was a reason behind this madness. We plan to take the girls to London later this year and there is NO way we would be able to get around the majority of the places that we want to go with a wagon or double stroller. So we opted for the plane friendly pockit strollers to test out how London would go. It was 100% a winner. So if London goes as well as our MLK weekend did, we are set to have a great trip. These strollers are hands down the BEST thing anyone gave us for baby showers. So if you're looking for a baby shower gift or 1st birthday gift that is a winner, it is this!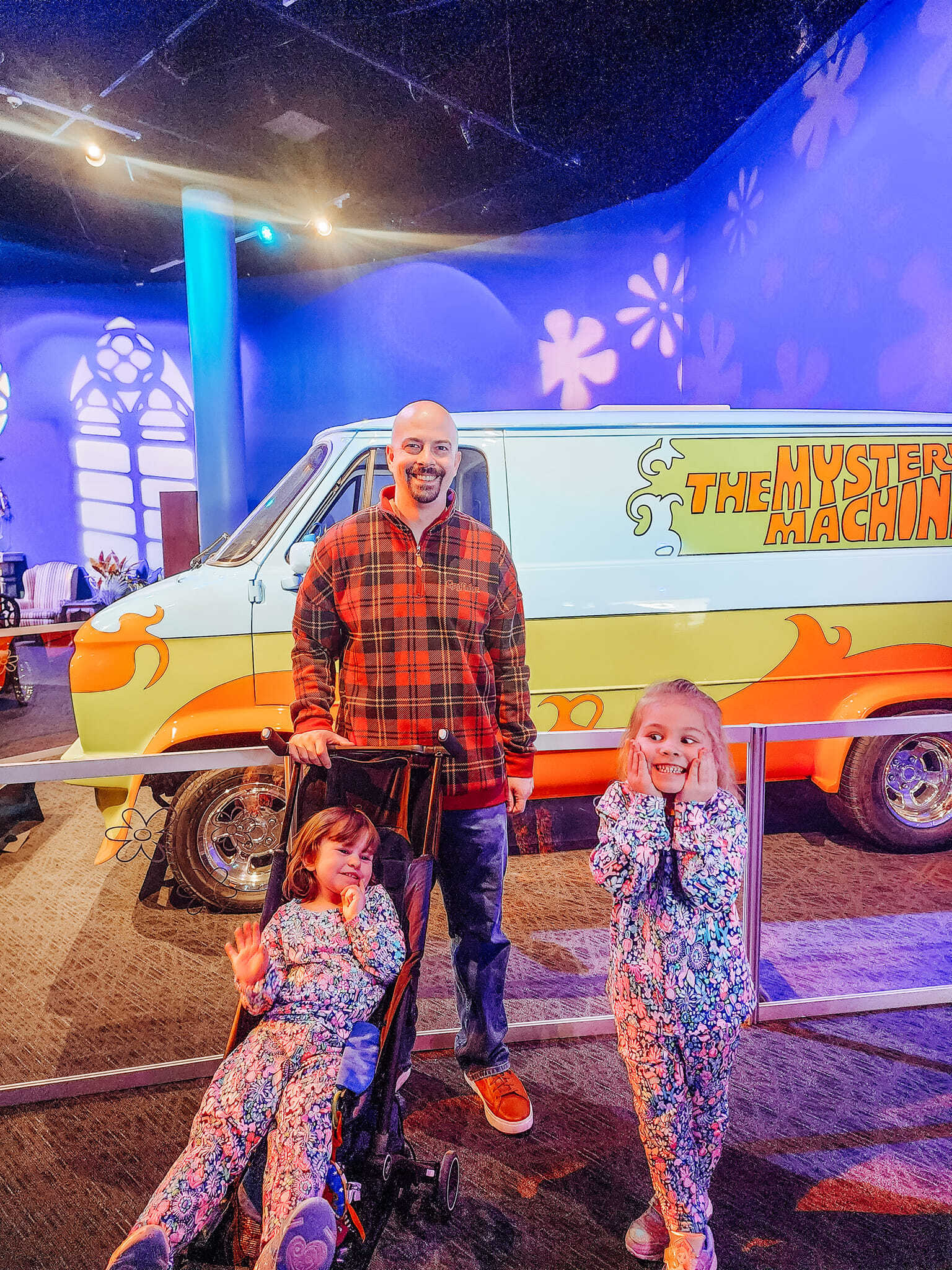 Even with the areas closed at the zoo we got to see a great dolphin show. We have seen shows in Florida and Georgia before at multiple parks. Indianapolis Zoo has a really nice, large dolphin show area. What I also like about their show is that it is educational. Both of my children sat staring in awe the entire show. It was a nice break from the cold weather and it held their attention the entire time. If your kids like to get splashed, you may want to bring a packable poncho and let them sit down in the front. They do take volunteers from that area during the show. And they do not get near as wet as other shows we have been to.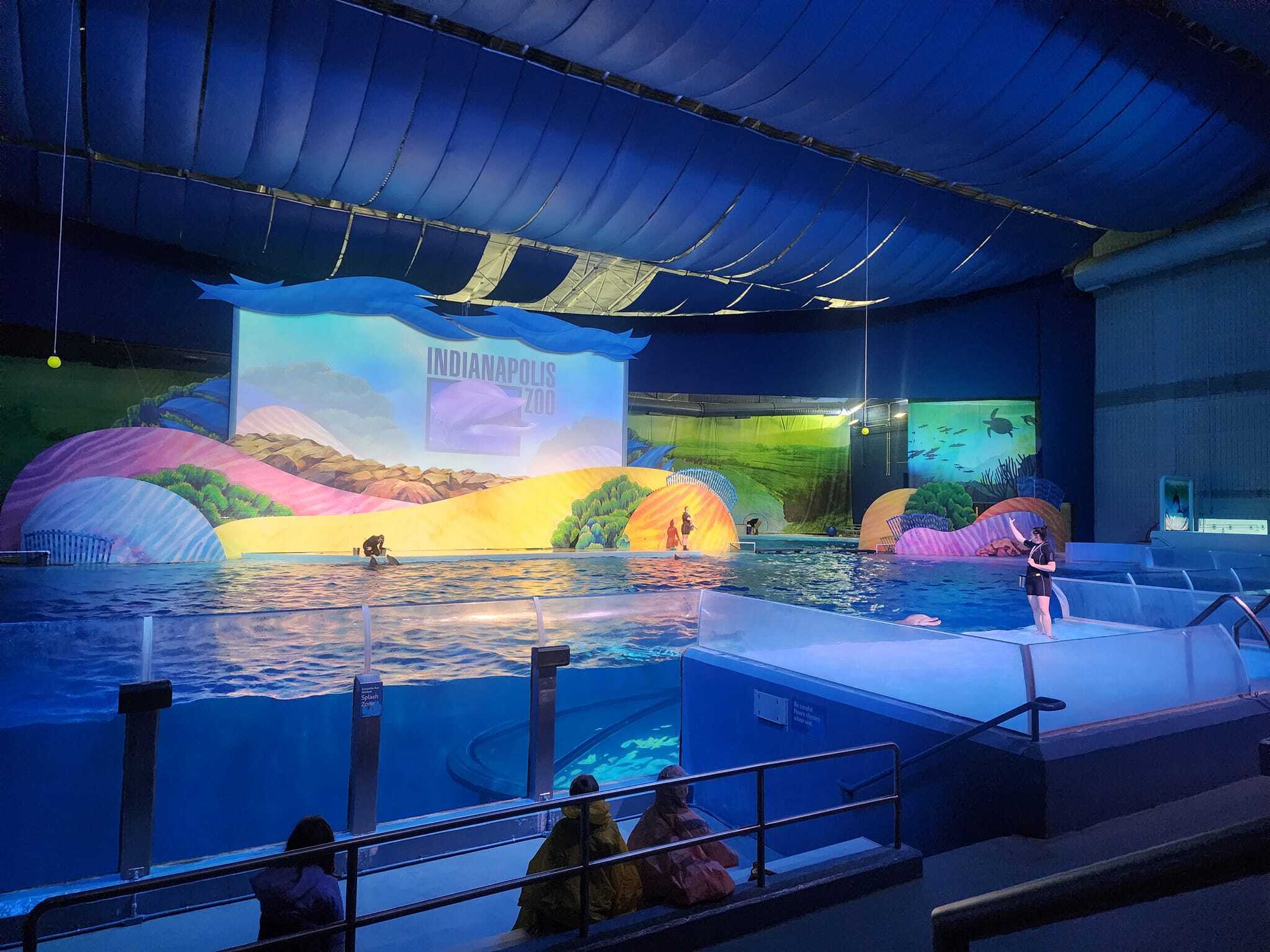 When we left I asked my girls what their favorite thing about he zoo was, they of course first came back with the gift shop (ha). But then after they thought about it they said they both liked the orangutan area. They were very active while we were there and have a rather large enclosure (that is indoors as well). They also had a breastfeeding station in this area that was fantastic if you are worried about having space to sit down with any tiny ones. I know when I was breastfeeding I was always worried about where I was going to go, and some places I would even end up going back out to the car or sitting in a restroom. So I was happy to see this at the zoo.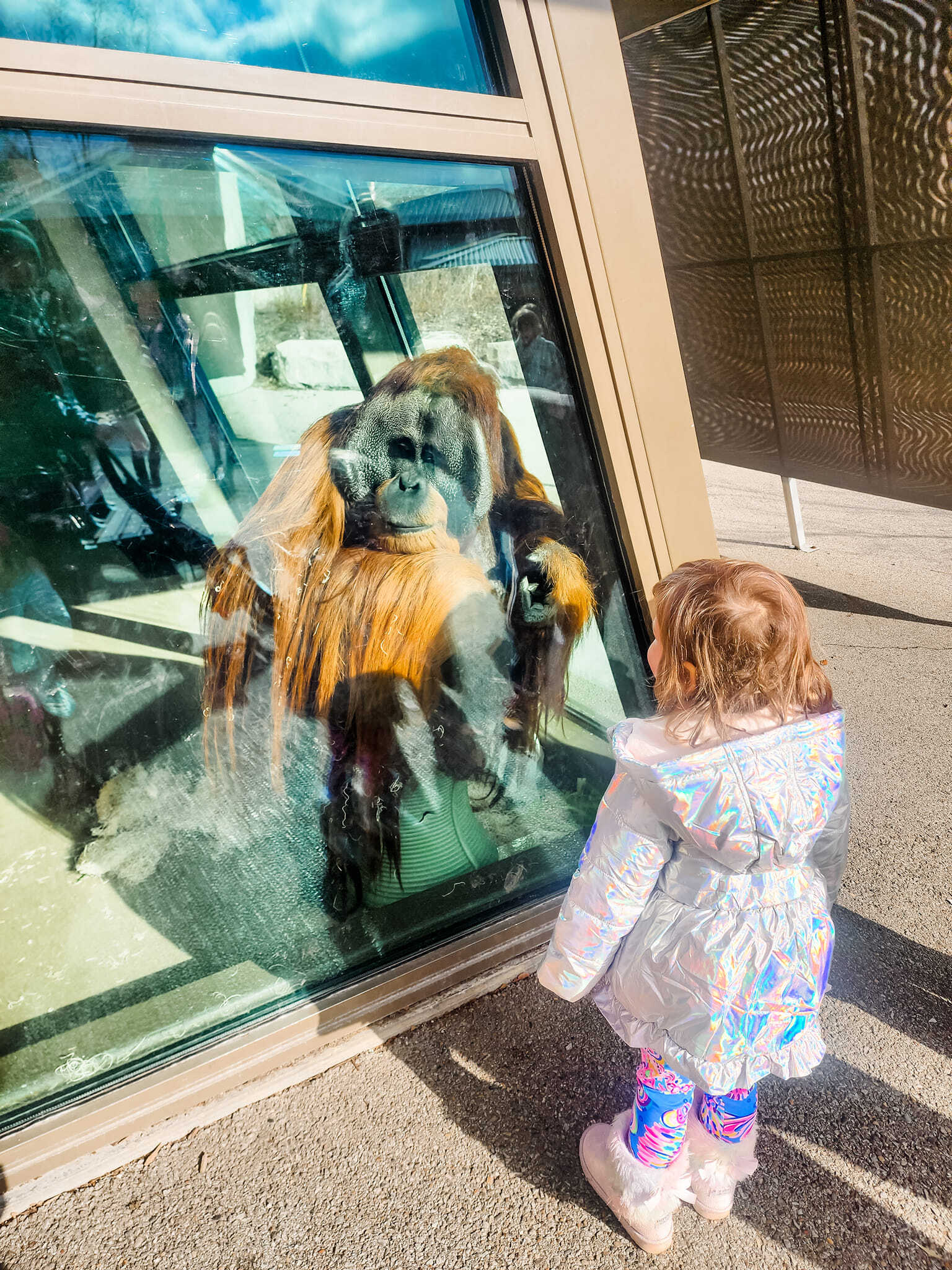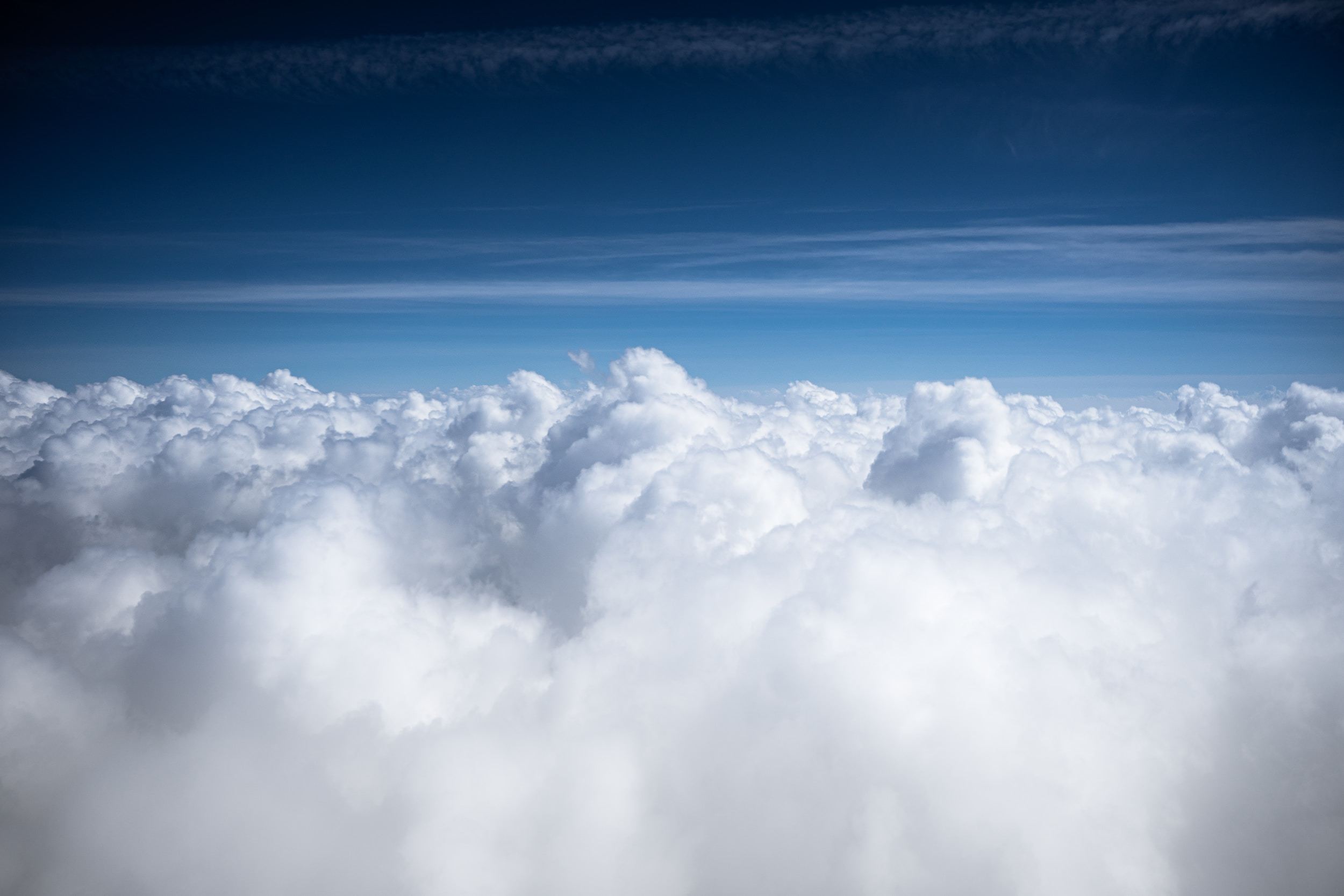 The zoo additionally had a large touch tank with stingrays and sharks. The water was a little deep for my littles to be able to reach all the way down in to touch anything, but they did try. I will note, they do need to install a hand washing station around this area. They only had dryers and hand sanitizer. We ended up stopping at the restroom at the end of the indoor marine exhibit to wash hands really well. The walrus was not out until Spring but they did have active sea lions and seals. This is not a huge zoo, but it is a nice stroll around with small kids. The did have a skyline ride that takes you all around the zoo (and a rollercoaster) but neither was working in the winter. We will go back in the spring to meet with family from up north more than likely so I will have to post more about those features later.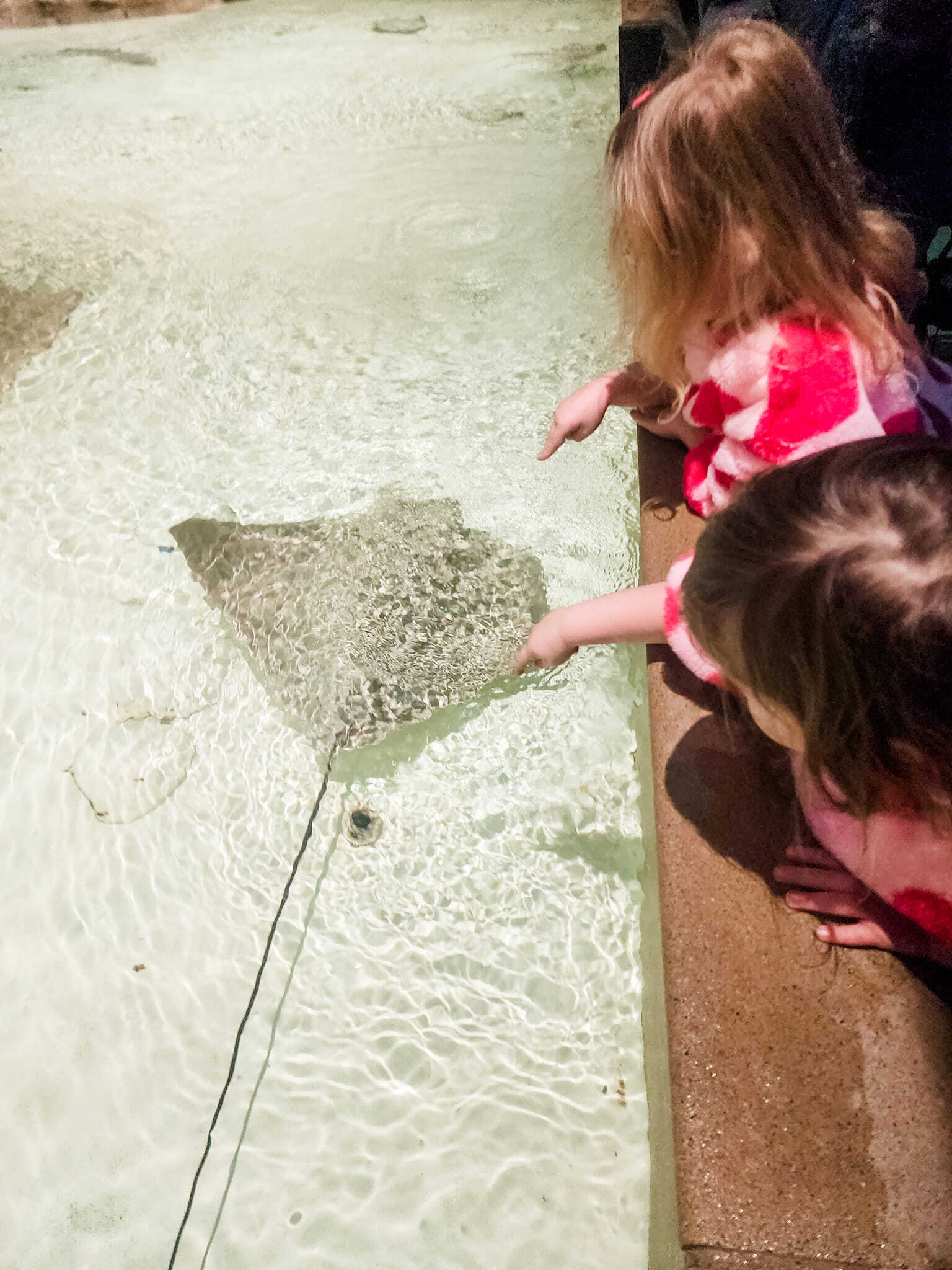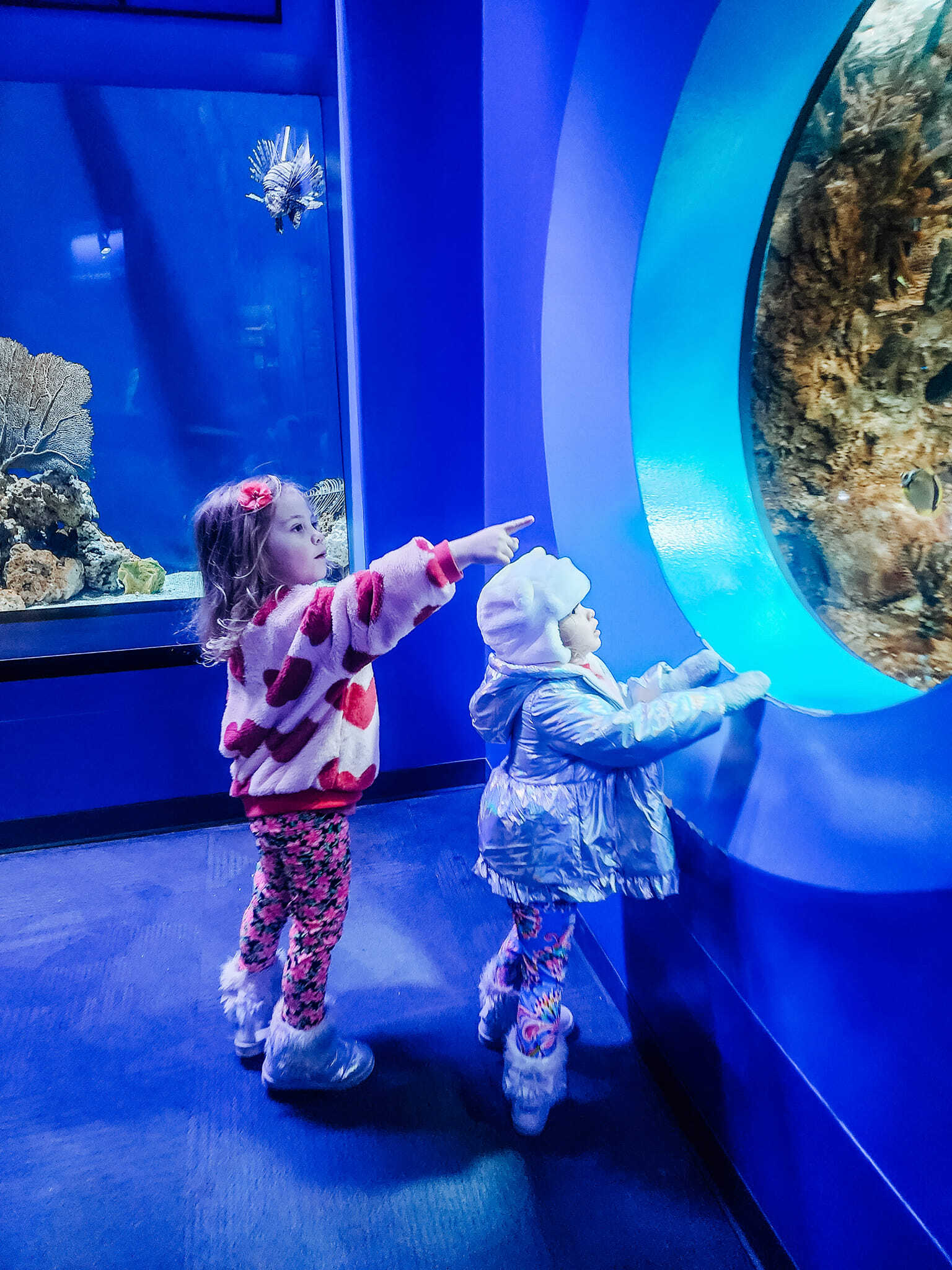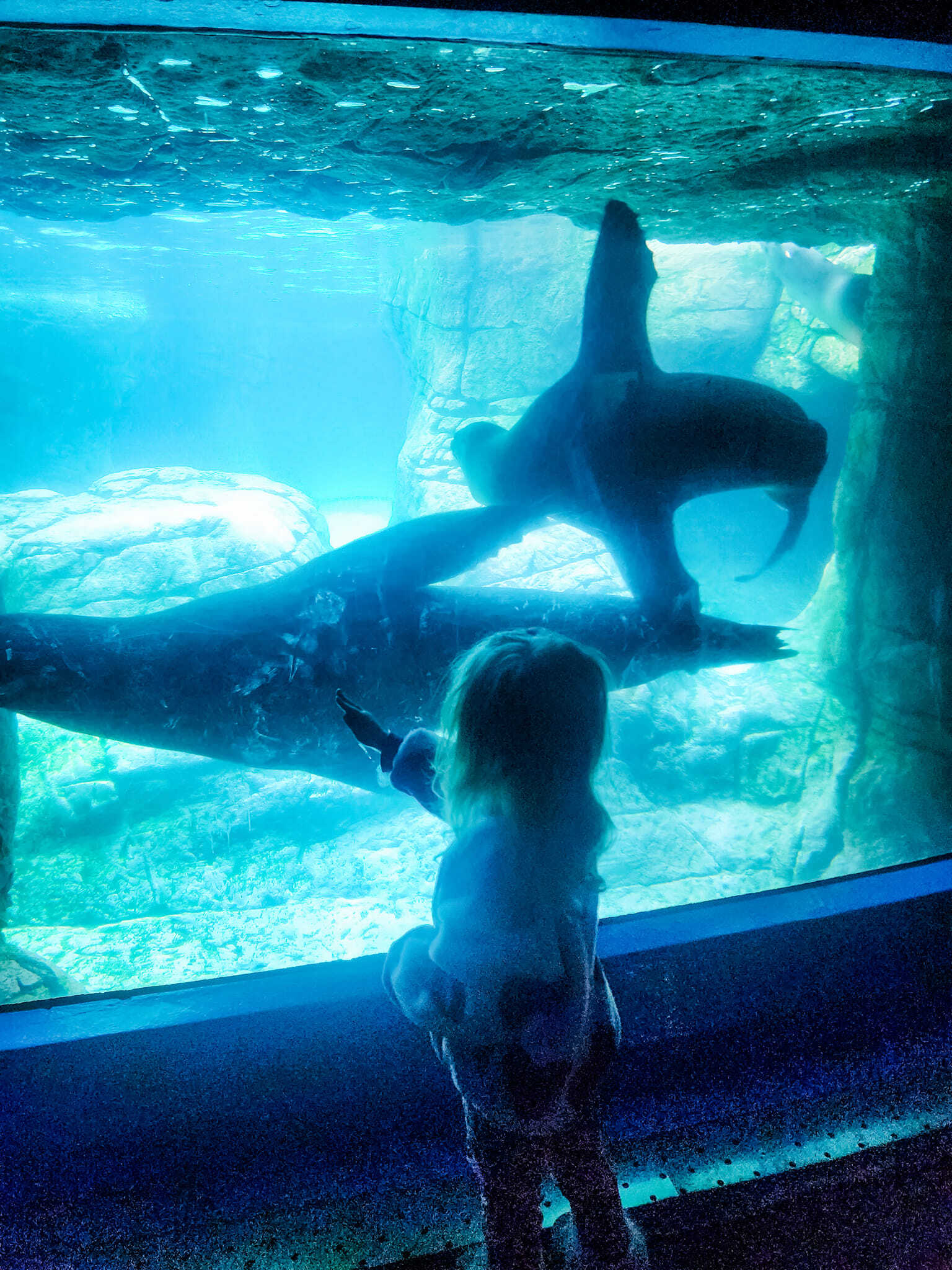 Now lets move on to eating! Right across the street from the Hotel in downtown is the Old Spaghetti Factory (there is also a mall next to that with things like the Yard House, a few steak places etc.) so overall lots of choices that you can just walk to. We opted for the spaghetti though because the kids love pasta, and well, it was right across the street! The staff was really great with the kids, they have a children's menu, and personally I wish I loved anything as much as my daughter loves ravioli.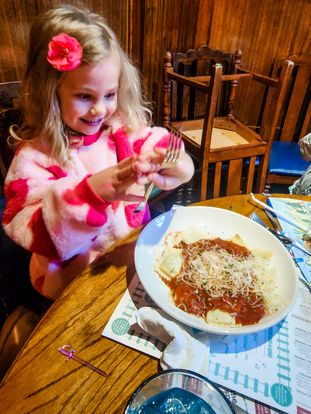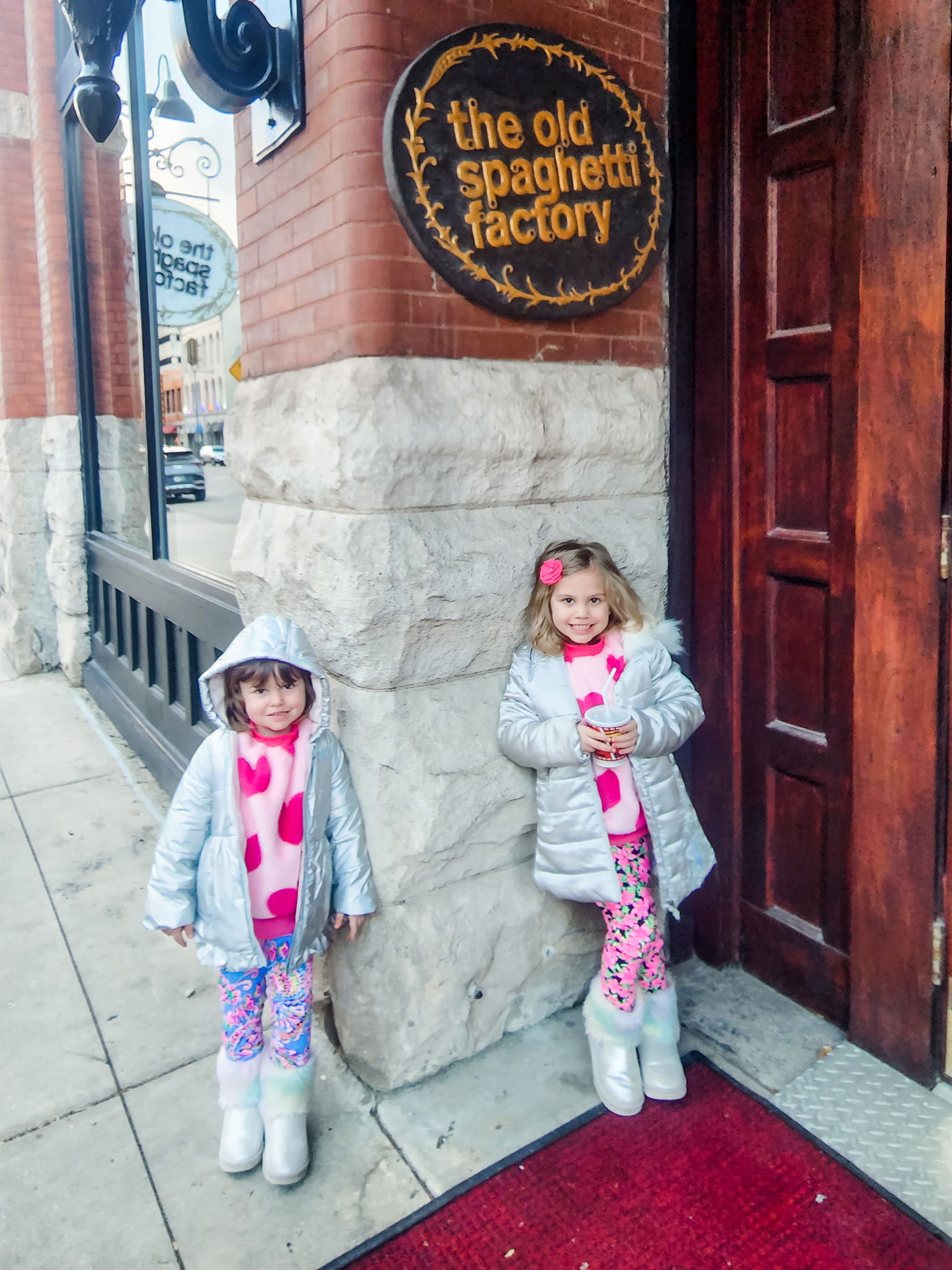 We did swim in the hotel pool at night, it is heated (but not much). We ended up having to drive to a local store to grab swimsuits (because who thinks of going swimming in January unless you live in year round warm weather).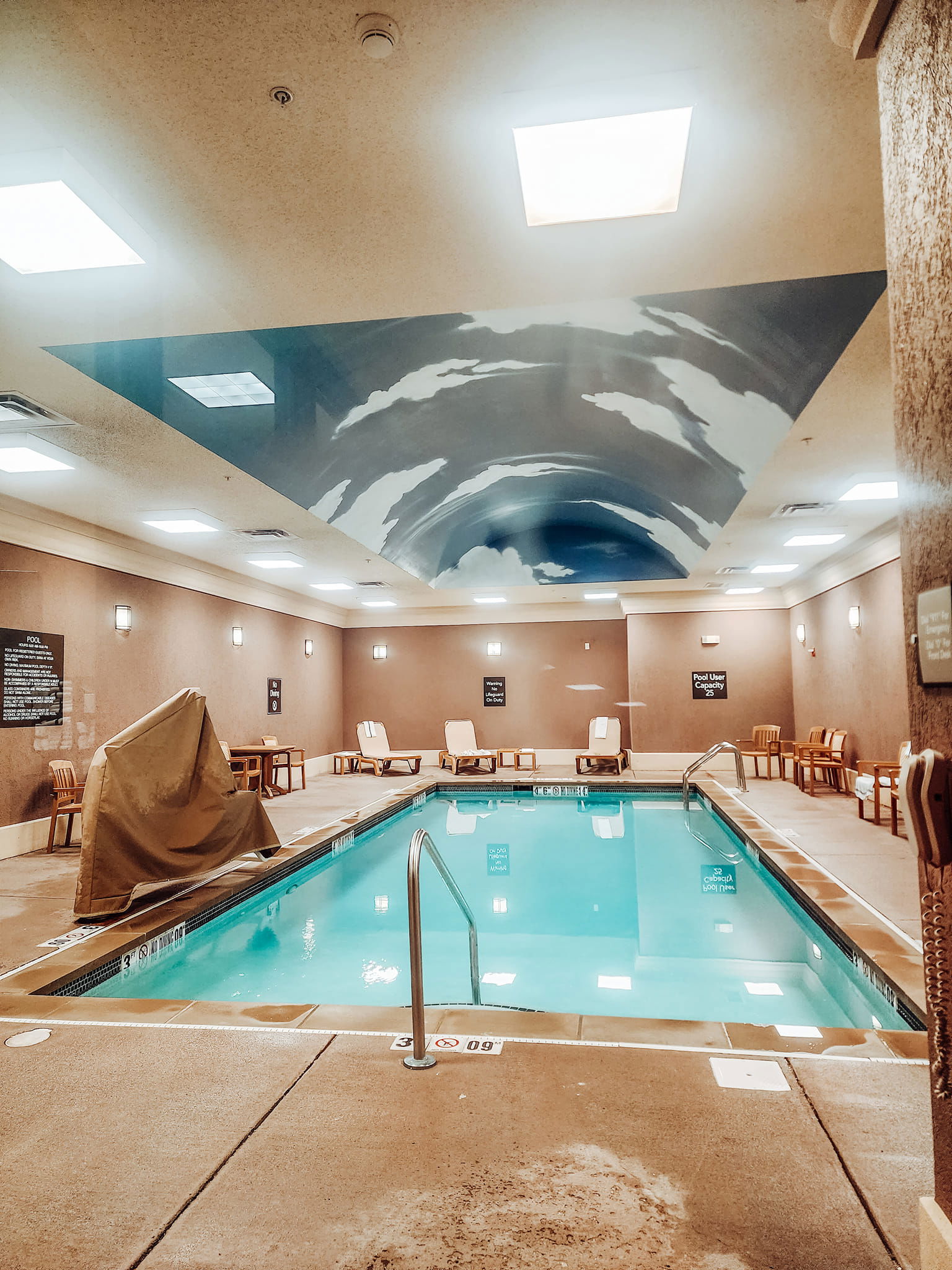 The next day we went to the Children's Museum of Indianapolis. First pointer I have, get there early for good parking. They have a parking garage across the street that you walk over a skybridge from the parking garage into the building. We were there 30 minutes after they opened, and had to park on the tip top deck. The line to turn in was pretty long out into the main highway.
From the moment you walk in your kids are going to be in awe. It is also a little distracting to try and figure out where to go first. We just went with the crowd which was into the dinosaur area first.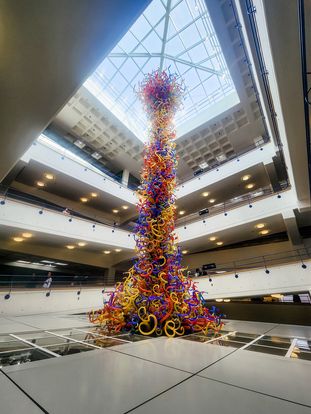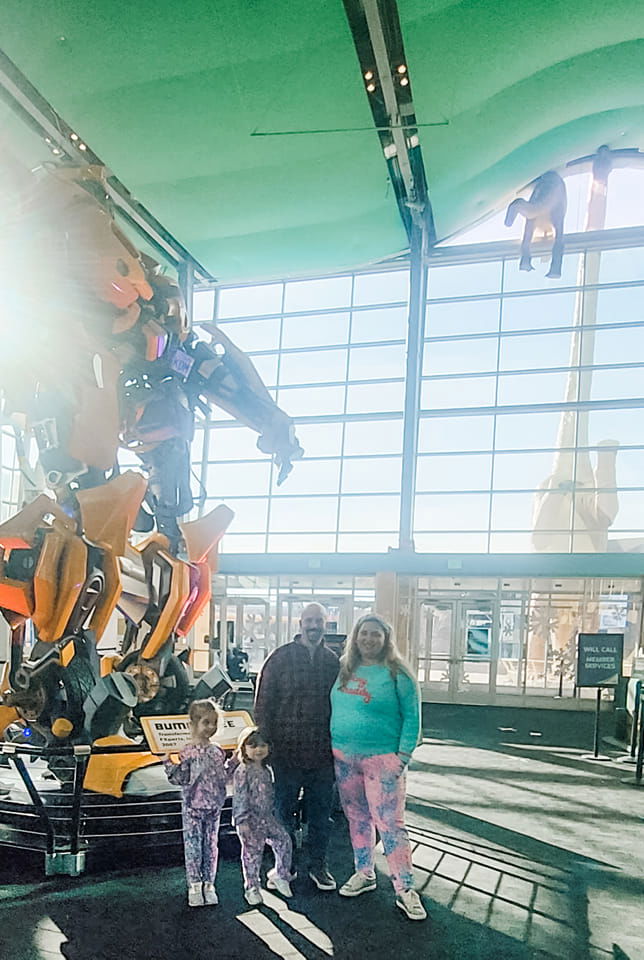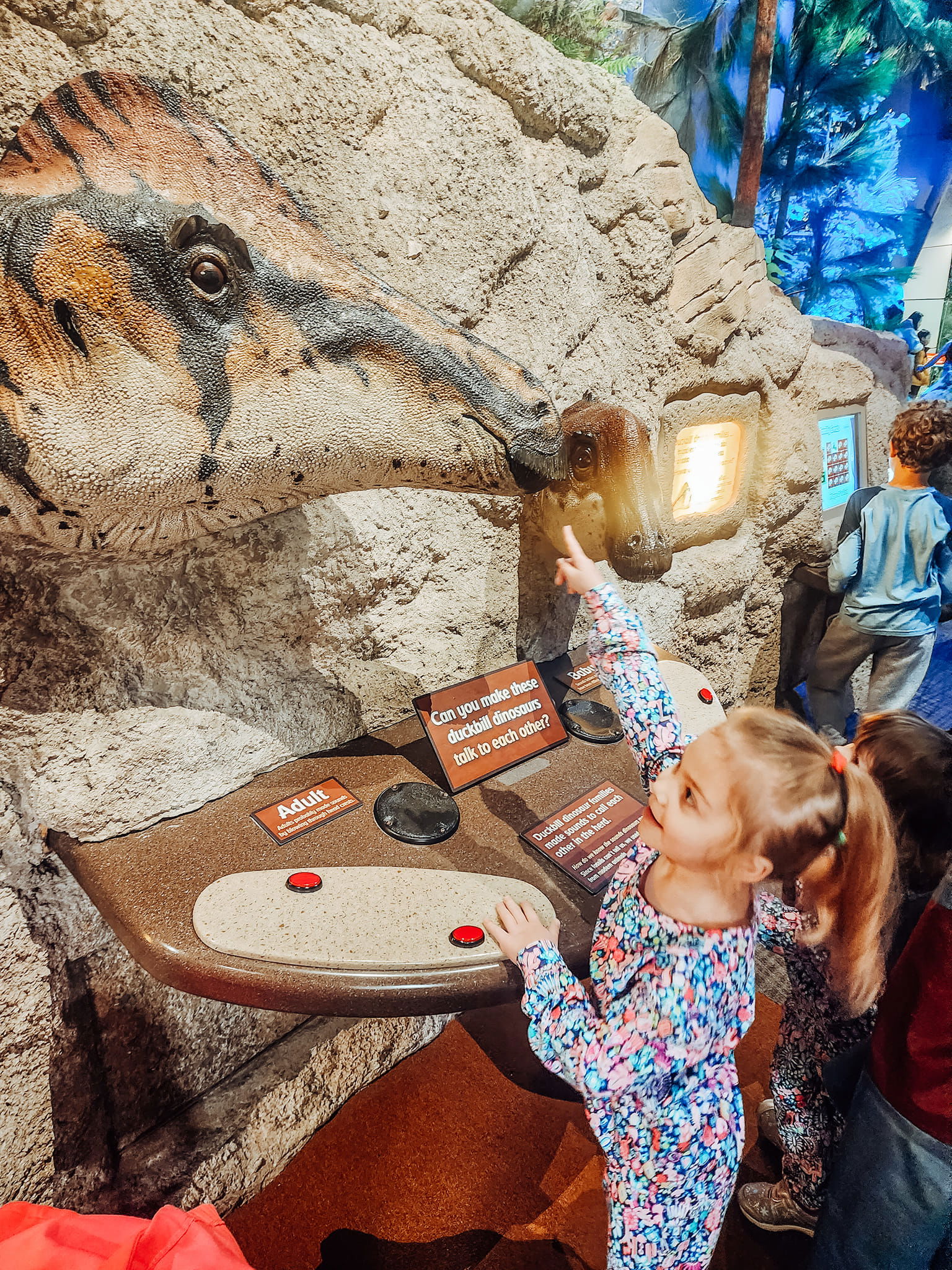 This are is very interactive and my kids love dinosaurs. I will say that the dig area in this location was jam packed. There were so many kids inside that tiny square, they need to open up a whole room that is nothing but a giant dig area. There is another area when you get to the Hidden treasure side that has another dig type spot, and it was less crowded in that area. If you would like to watch a quick video on our Children's museum visit, find it here.
p.s. it is under 1 min because I sped this up to make a reel out of it.
Right now (Jan 2023) there is a Scooby Doo exhibit and there is a Dino Train exhibit coming later this month. My girls want to go back to that for sure. Again, like I said we are BIG dinosaur fans.
There is also an indoor carousel ride that is $1/person right now and you get tokens from a machine before you get in line. While we were there the token machine was broken so they were taking cash only at the entrance. The line is long, but it was not a long wait. They also let you ride for an entire song.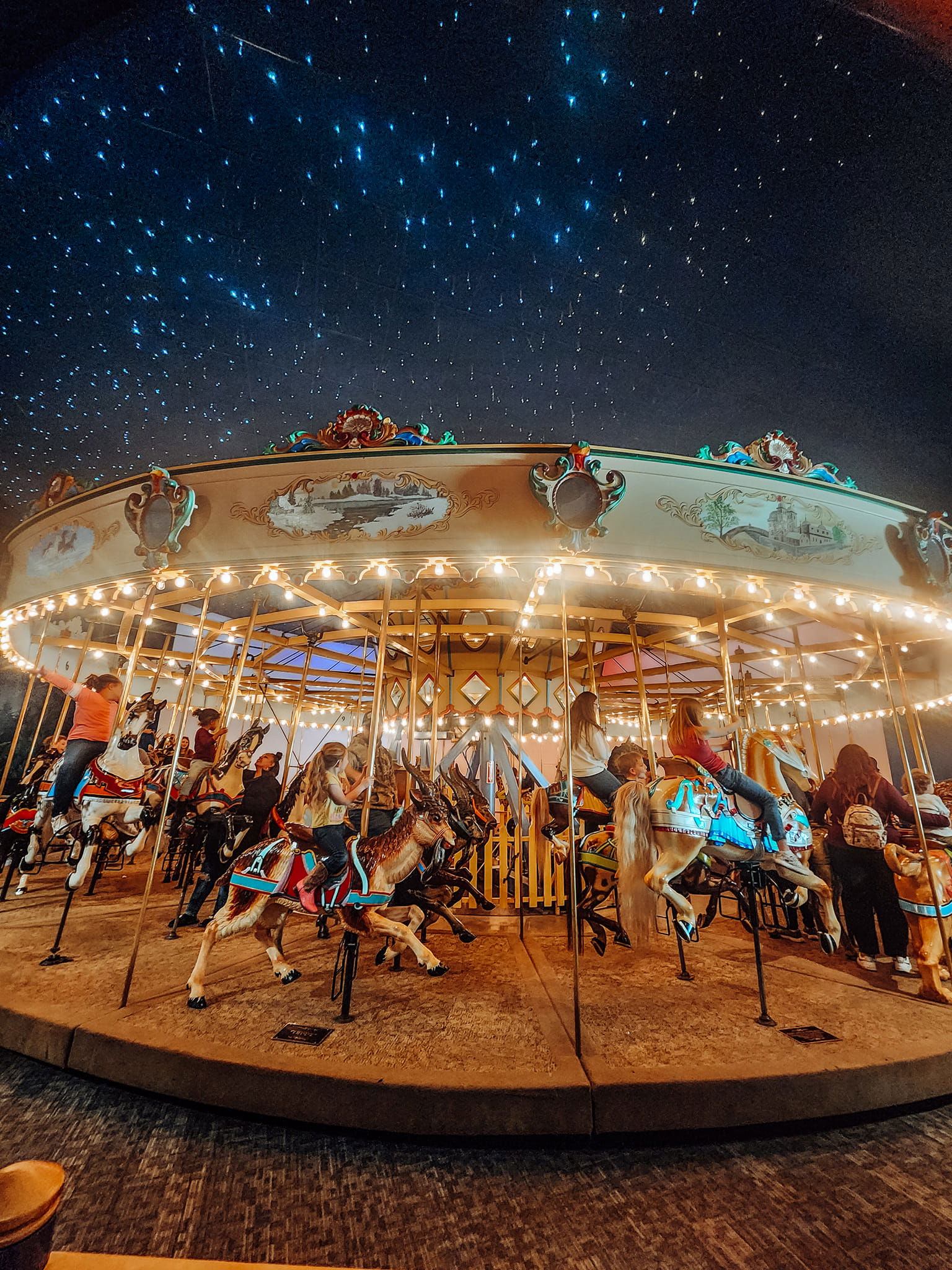 As far as food, they have a large cafeteria with hot and cold options. You can get bottled drinks, box drinks, or fountain drinks however none of the food can leave that area or be taking into any of the rest of the museum (expected). I did see a few tables of people who had brought lunchboxes and their own food. However, I would look up their guidelines before you go if you do want to opt to bring your own food. It would save money, however my kiddos wanted the dino nuggets meal and a juice. And their father caves to every whim these two little girls want when we are on trips like this. That said, if you do not want to spend a lot of money, bypass the giftshop. It is pretty large and your kids are going to ask for everything they see. We ended up with astronaut frozen ice cream in a bag for each child, a porcupine that grows crystals for spines, and a dinosaur encyclopedia book (so not too bad). It could have been much worse.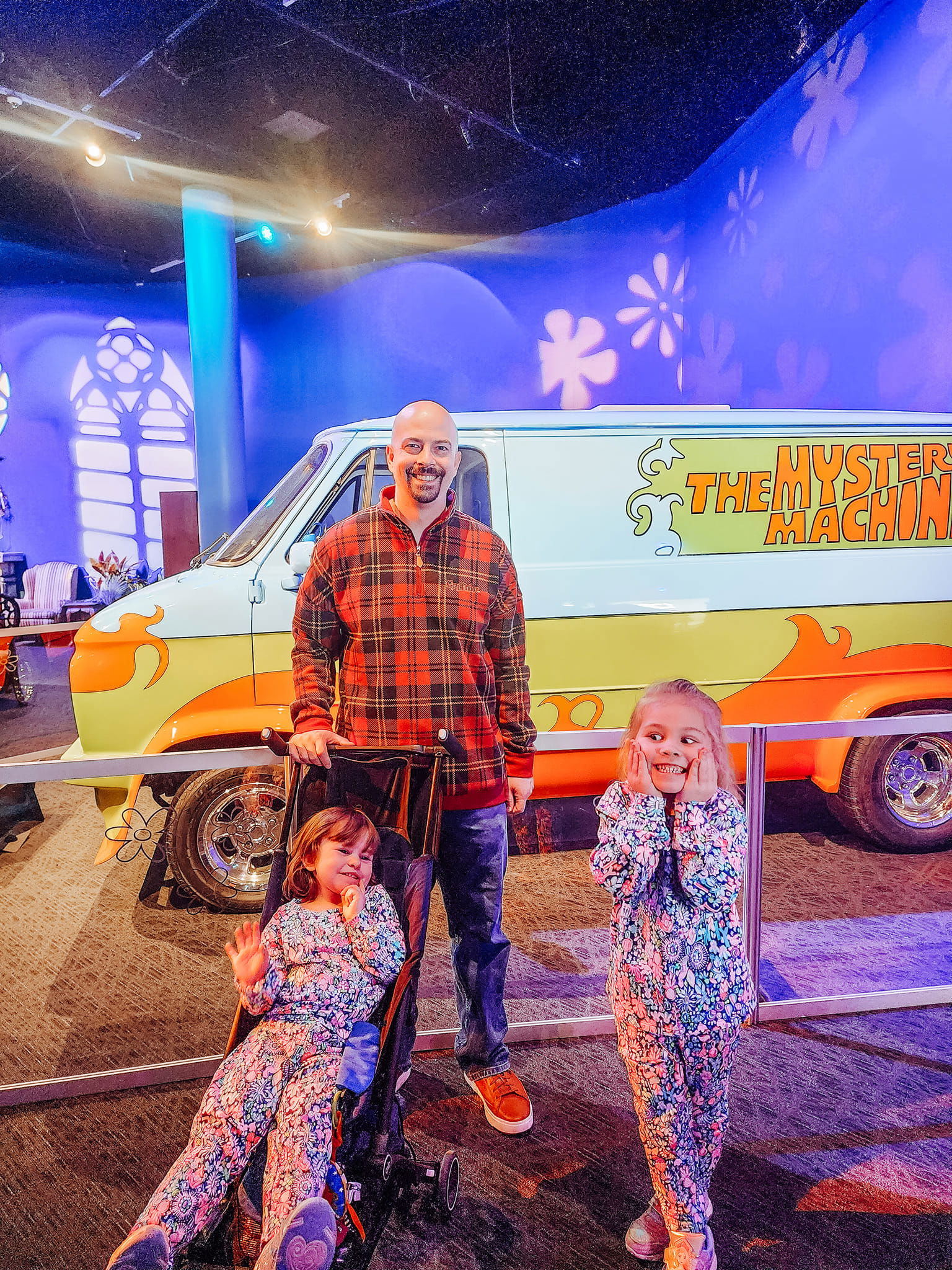 Overall, our 3 day weekend was well spent and we had a great time. My kids keep asking when we get to go back to our hotel in Indianapolis because they loved it and want to do it again.
I hope this post helps you make great plans!
- Jennifer @ketosismom