Ketone Blood Monitors, Do you need one?
Below I will walk through each of the three (yes three) ketone blood testing monitors that I own. I will post links to videos showing how to use each of the monitors as well as what some of my likes and dislikes are with each of them. The goal here is to inform my followers of additional details of these three choices, provide a #discount for you all, and most importantly - help you make an informed and educated decision about where to spend your money.
I would like to note: There are urine and also breath tests on the market, but there is more room for error with those (I have researched) as opposed to the good ole fashioned finger prick (blood). If I am going to be serious about my macros and food tracking, I also want to know that what I am eating and tracking is doing the job... putting my body into ketosis! I personally like the highest level of accuracy for my own personal knowledge.
So let's get into this - I know you all really like the short, sweet, and to the point information (like I do!)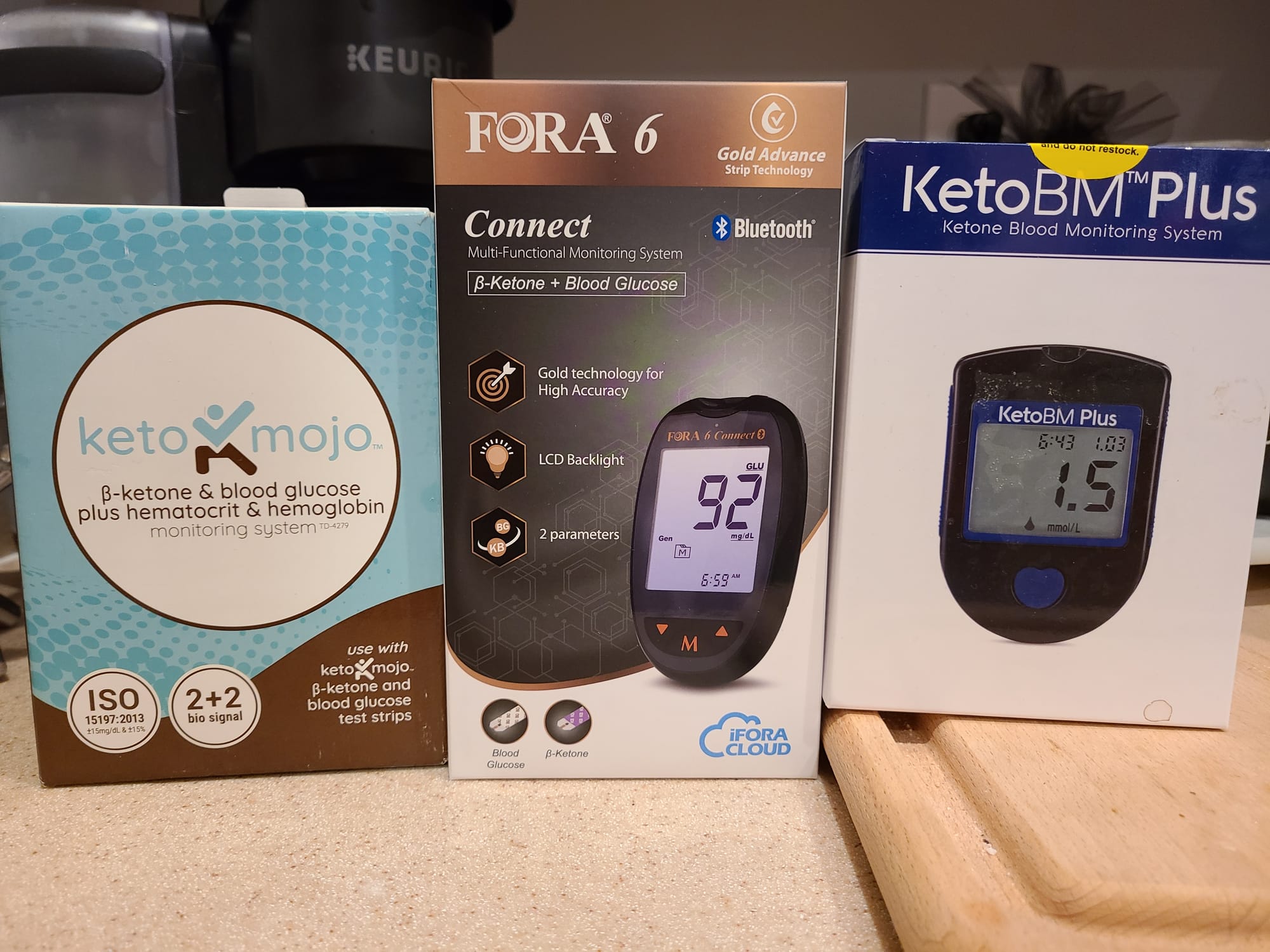 I am going to list each of the monitors below and list some of the pros and cons for each (these are my own opinions!). All of this data (i.e. pricing information) is as of 11/12/2020 and as always subject to change at any time.
---
1) KetoMojo monitor - (Video on how to use) This was the very first ketone monitor that I ever owned Why? To be honest, I saw someone post a discount for it online, and figured well if they use it, I will just use that too. That being said I had 0 knowledge at the time of what my ketone level should even be to be able to monitor it. Hence this whole research of monitors sprung into action, especially while I was pregnant and also wanted to look at my Glucose levels. It cost me ~$60 at the time for the starter kit. Their newest meter starter kit is currently ~$45 (right now) and you get 10 glucose + 10 ketone strips with this kit.
For 15% off their starter kit, use this link and code KETOSISMOM at checkout.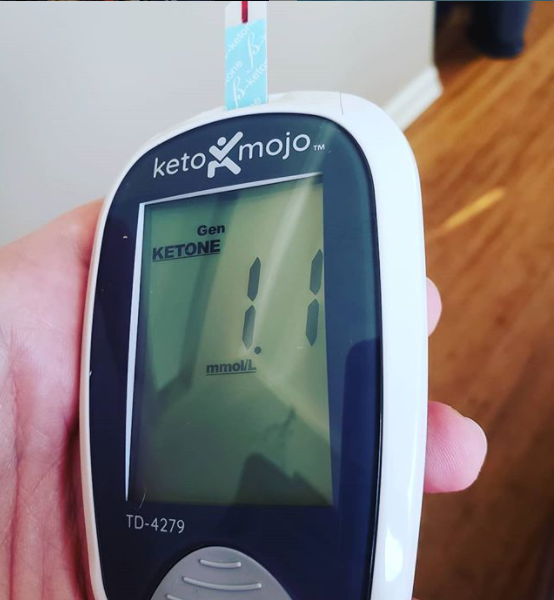 So let me get into the Pros of this monitor. Then you can decide if it is for you. It can test ketone and also test Glucose levels. They have two different test strips to purchase, one for ketone monitoring and one for glucose monitoring. I actually used this monitor my entire pregnancy to monitor both. That said, I did read that the hemoglobin and hematocrit levels output by the original meter were not always 100% accurate but around 90% accurate. I also am not sure how long the original meter supplies will be available seeing as they have an all new meter on the market (Con). The accuracy statements have changed with the NEW GK+ meter through clinical trials (located on their website accuracy tab). I also personally like the additional information on the ketomojo webpage as far as basics for beginners (Pro).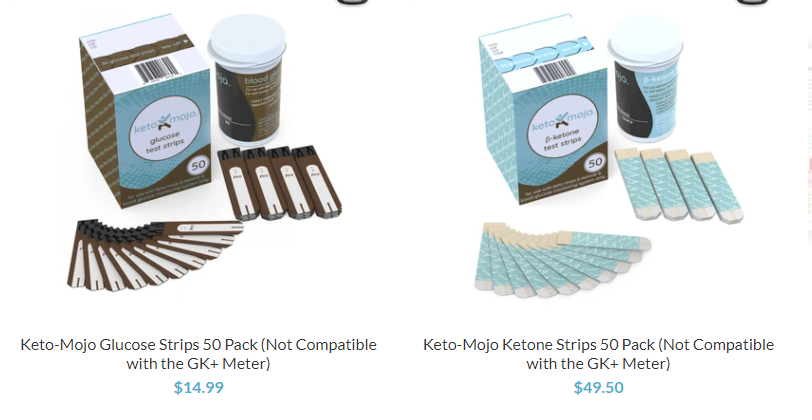 Now, since this first meter was available (years ago), they now have a new updated meter called the GK+ meter. I do not own this meter so I cannot speak for or against it. With the original meter I had to buy an additional bluetooth device to plug into the meter for my readings to flow over to the ketomojo app. I do not know if the new meter still requires this, but for me it was a Con. Sometimes the information would flow over and sometimes it did not. I would always get very frustrated when I was trying to take my readings to my OB visit and I could not get them to cross over. I really hope this was fixed with their new GK+ model. I think they also realized that a lot of people are moving to the GKI model of ketosis tracking as well. GKI is = (Glucose reading/18)/Ketone level. Then this overall output tells you where you are in an overall state of ketosis. See ketomojo page for more explanation here if you are unfamiliar with this type of tracking. I will say that another Con with the original meter is that under .5 mmol/L ketone level would just read: LO on the meter. So You never knew if you were .1 one day and .4 the next (making progress) or not until you entered into the actual lower ranges of ketosis. I do not know if this feature has changed with their new meter, but I sure hope so! My guesses are that if they have remodeled they took all of these things and made them better.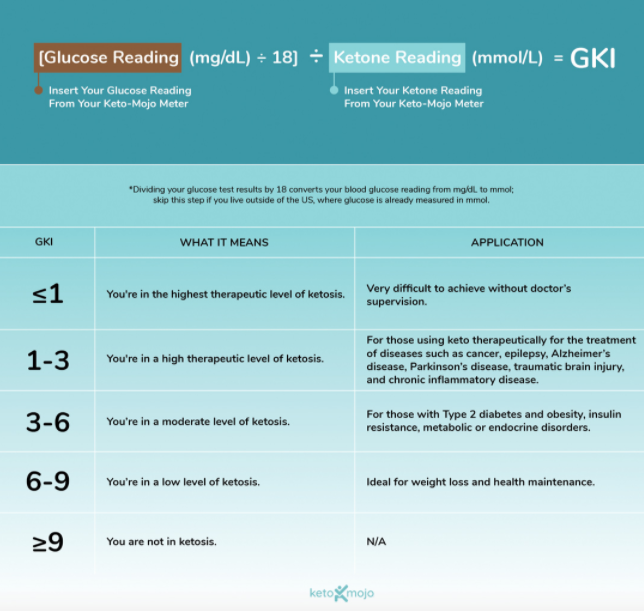 To Recap:
Pros
- tests both glucose and ketone levels
- comes in a start kit with everything you need
- has great online information with full explanations of use
- has an app for information to flow to (whether with an extension or not is unknown with new meter)
- accuracy levels have clinical trials to back them for accuracy levels
- price for a starter kit with all supplies is relatively cheap (especially with 15% off using my link)
- company has upgraded meters to match market and consumer need
Cons
- original meter did not show a value with lower readings; this may have changed with new meter
- original meter supplies may not be available in near future, so the GK+ supplies would be needed and a new meter bought to match
- original meter required an extension (bluetooth plug in) to transfer information to the app, that did not always work. *This may have been fixed and the new meter is bluetooth capable
- meter has changed, will it change again?
- Refill strips are running around $1 per ketone strip for the refill of supplies
---
2) Fora 6 - by Foracare Note that RIGHT NOW I have 20% off the Starter kits for this product for my followers, use code: KETOSISMOM20 this is valid through 11/30/20 only. I also did a full video on use of this meter, here.
Like GIVEAWAYS? Me too look where I posted on my instagram (@KetosisMom) for the picture of the meter starter kit. Giveaway ends on 11/21/20. Ok now, that being said. Note that NONE of the above has to do with my opinion on each of these meters. I formed my opinion BEFORE I ever reached out to any of the companies and asked for a discount for my followers because I was testing their products out for a blog post.
To start with the Fora6, it is both a Ketone and a Glucose monitor. It ALSO gives you actual readings even in the lower levels. So you can test for GKI with this monitor AND their website even has more details around why Doctors are looking more at GKI and not just ketones in general. Right now the meter plus the starter kit supplies (aka everything you need to get started) is ~$109. Because Foracare is a medical device company that also sells things like thermometers, pulse oximeters, blood pressure machines, scales, nebulizers etc. I would look into if you have health savings account or flex spending money that would allow you to purchase this meter using that. You would need to look at your insurance policy or HSA/FSA rules around expenditures. But it is worth looking into. The starter kit here comes with 50 strips - big difference from the other meter starter kits! Test strips are running about $25 for (50) refills right now which is cheaper than most strips at closer to $1/per strip.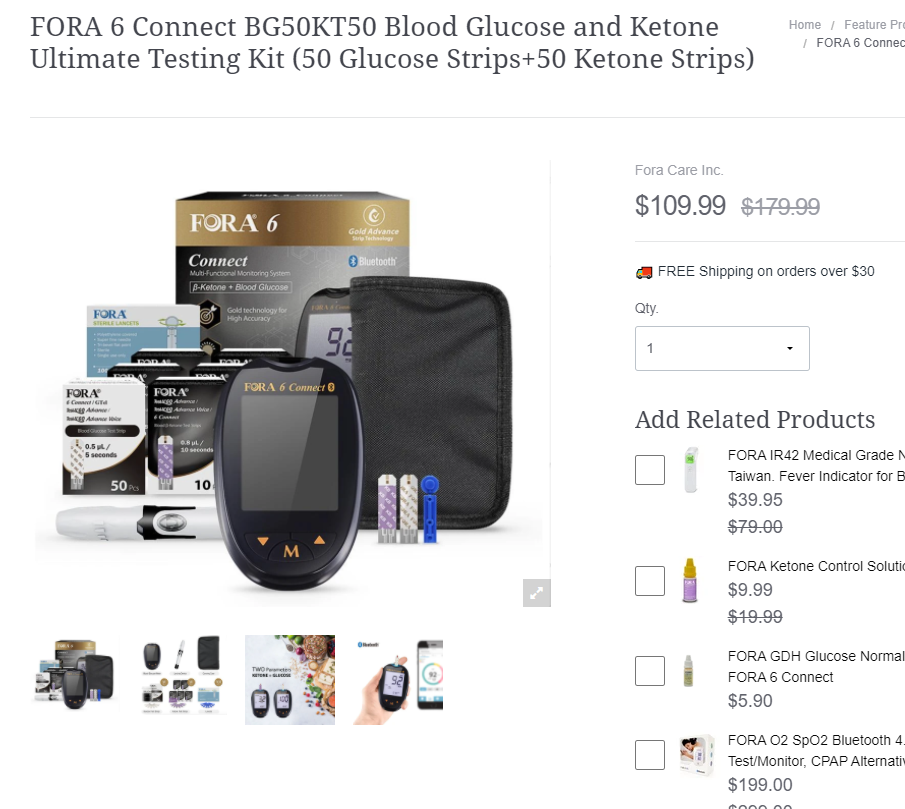 This meter has been, in my opinion, the easiest and most straight forward meter of all 3 (PRO). I like the lancet device provided, I like that the meter flows everything seamlessly over into their APP (Apple or Google store available). It won the 2020 and 2019 best meter award (so obviously this is not just my own opinion about this product!)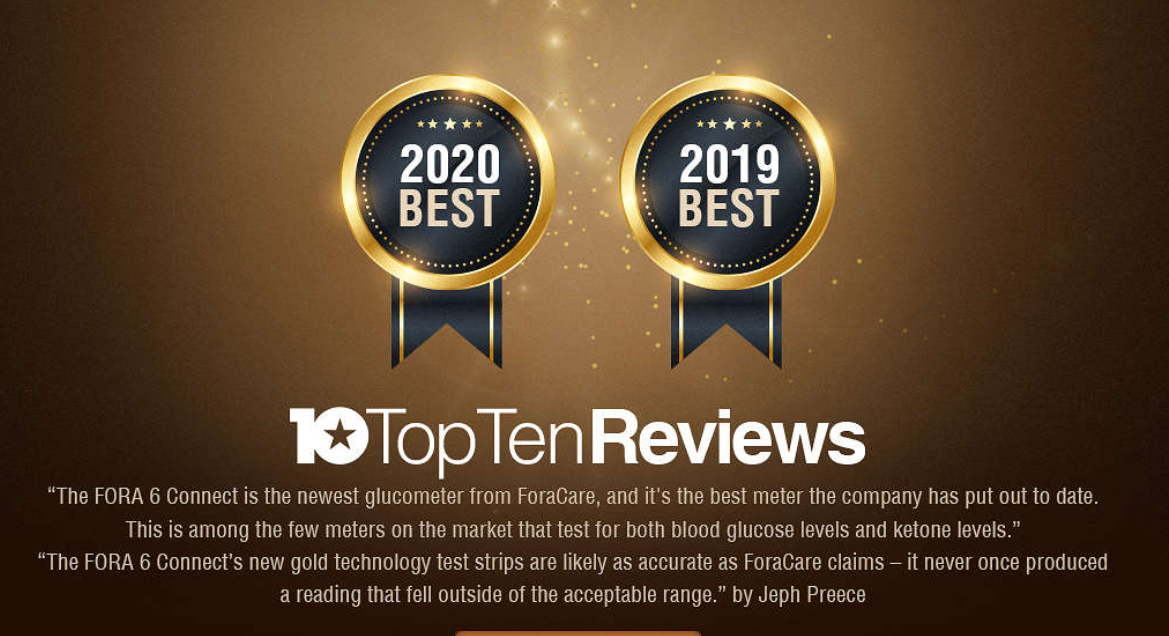 Before using this meter I did not know the importance of tracking Glucose with ketones (outside of pregnancy). There is a "Dr. Boz ratio" listed on their website and I am sure you can look into this more on your own, but here is a short clip on what this is. It basically shows how to check GKI by a different ratio. You look at Glucose/Ketones and track that outcome by a chart for weightloss. A lot of people like this better because it is less math and much easier, however if you forget your level in between tests you cannot calculate without a meter that saves your readings for you. So this meter keeps up with it for you and via bluetooth pushes it over to your app for tracking. To me this is a quality device, medical grade, and a good purchase. I have not had any issues with this meter as far as coming on or readings crossing to my app either.
Pros
- tests both glucose and ketone levels
- gives numerical readings even at the low end
- comes in a start kit with everything you need, get % off with this link and code: KetosisMom.
***This 10% off is for ANY product not just the meters.
- has great online information with full explanations of use
- has an app for information to flow to , bluetooth
- accuracy levels have clinical trials to back them for accuracy levels
- Dr Boz method supported with use of this meter
- Refill supplies are cheaper at around $0.50 per strip for Glucose but still $1 per ketone strip
- Shipping was fairly fast for this meter to arrive
- slightly more expensive meter (unless your HSA/FSA would cover the cost)
Remember through 11/30/20 you can get 20% off the starter kit with code KETOSISMOM20 and 10% off all supplies using code KETOSISMOM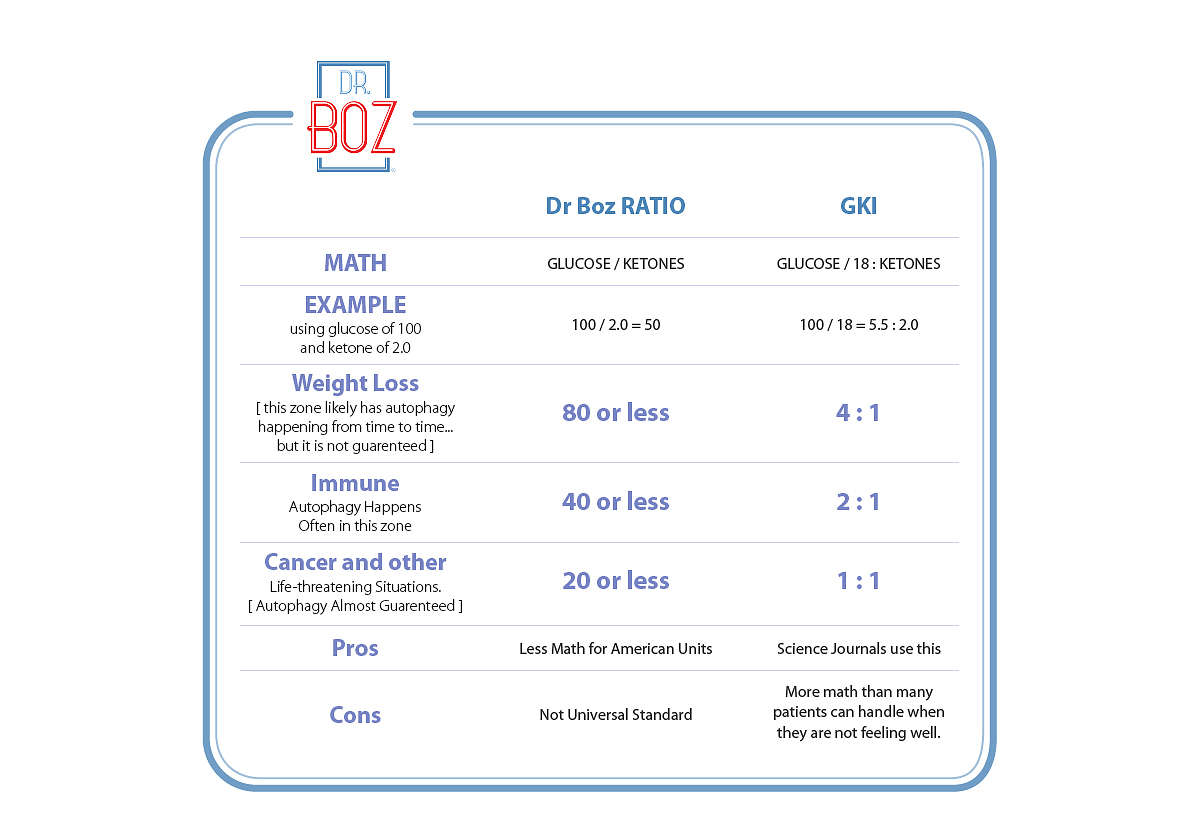 ---
3) KetoBM Plus - This is the last meter I will review. I also have 10% off for my followers on this meter kit. Use code: KETOSISMOM. I also did a video on this meter, here.
This meter is the best for someone first starting out. You are not really positive it you are going to stick with a keto diet or not but you want to "give it a go". This meter comes in around $35 TOTAL for about 5 to 10 weeks worth of supplies. That for most people is a no brainer to try it out. Now, that being said, if you become serious about tracking ketones and glucose this meter ONLY tracks ketones. It does show actual levels on the lower end, unlike the ketomojo (original meter). If you stick with keto, and want to look at glucose too, you would need to then figure out which other meter you would want down the road. Test strips for this meter are currently at $1/per strip as well so the refill supplies are in line with the KetoMojo pricing for their strips.
This meter is very simple but in my opinion not extremely well made. I would take this meter on a trip with me that I would be gone a long time and did not want to risk my better meter being messed up in travel.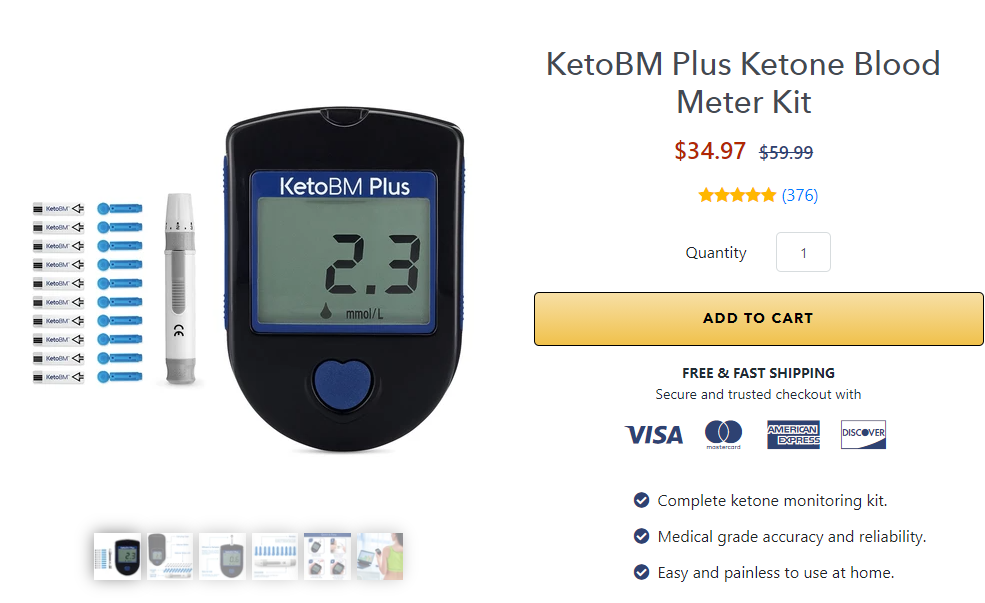 PROS
- fast shipping on the meter when ordered
- comes with 10 strips for testing
- is small and compact
-price is cheaper
- shows levels even on lower end of ketones
CONS
- no bluetooth transfer of information
- strips as just as pricey and you get less strips in starter kit
- the lancet device was not my favorite and harder to use
---
Overall, I would rank these three devices in this order:
1) Fora6
2) KetoMojo
3) KetoBM Plus
I personally just feel that both Glucose + Ketones need to be monitored. Whether you are following the Dr Boz method or GKI method for determining where you are, I think either of these are fine but that the additional knowledge of how your body responds to food is worth the price of these meters, and your overall health. The Fora6 is convenient for me due to the bluetooth, however I believe the ketomojo NEW meter will have this as well. The medical grade quality of that meter as well as available coupon codes for use for supplies is ultimately what made up my mind. I like deals! I like quality!
Foracare offers 10% off all supplies and currently 20% off the meter. Even if you do not use KETOSISMOM or KETOSISMOM20 on these products, always review their homepages for additional promocodes.
(Even if there were no discounts, it would still be my #1 choice).
I hope this post helps someone that is looking into monitoring for the first time, or even changing their method of monitoring over to blood monitoring.
- The Ketosis Mom
FTC Disclaimer Required for all Influencers:
I am a content creator and an Amazon Influencer. I am also a partner or affiliate with multiple brands. I partner with brands to gain discounts and giveaways for my audience. The links posted throughout my website I may earn from by you making purchases or utilizing the codes for a discount for yourself.
Thank you for supporting my business! My Privacy Policy is located at the bottom of the main website page, I do not sell any information or collect information personally. If you would like to be added to my Newsletter register under Berry Blasts on the Home Page.
- Jennifer @KetosisMom