FTC Disclaimer Required for all Influencers: I am a content creator and an Amazon Alist Influencer. I am also a partner or affiliate with multiple brands. I partner with brands to gain discounts and giveaways for my audience. Some of the links posted throughout my sites I may earn commission from by you making purchases or utilizing the codes for a discount for yourself. Thank you for supporting my work!
- Jennifer @KetosisMom
Parents and students know how frantic school mornings can be. They often have to bear with the chaos, stress, and pressure of making it to school or work on time. However, Amazon livestream, a feature allowing viewers to enjoy a virtual shopping experience, could help improve these dreaded mornings. Here are some tips to help you navigate through your mornings smoothly with Amazon Livestream. Click the Image below to watch!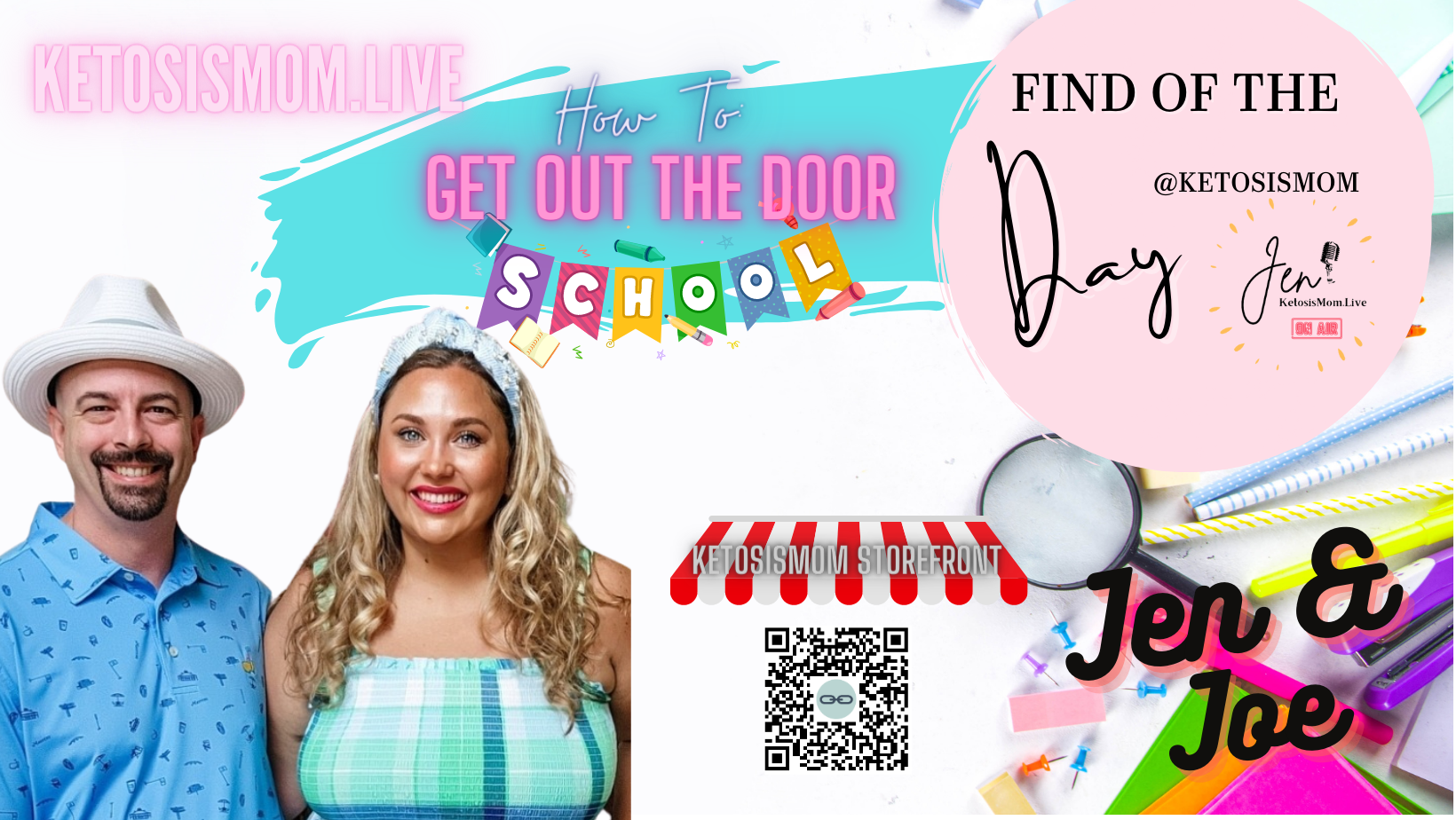 1. Use Amazon Livestream to Shop for School Supplies
All school mornings begin with packing your child's backpack with the right school supplies. With Amazon Livestream, you can watch live demos of school supplies such as pens, lunch container, hair supplies, water bottles, etc. The hosts discuss the product details, which helps parents make an informed purchase decision.
Watch the Amazon Live demonstration, and opt for the best school supplies that suit your child's needs.
It also aids in better organization because you can get everything your child needs in one place.
2. Plan Your Meals with Amazon Livestream
Finding healthy and quick breakfast options can be quite strenuous in the morning. School mornings can become smoother if you follow cooking channels on Amazon Livestream, which demonstrate simple breakfast recipes. Cooking experts can provide tips to make a nutritious breakfast that your kids will love.
Use these ideas to plan your meals, thereby saving you from last-minute breakfast hassles.
Purchase the ingredients online, which saves a trip to the grocery store.
3. Update Your Child's Wardrobe
Like adults, kids also need to have a well-organized wardrobe. Amazon Livestream allows you to keep up with the latest trends in children's fashion. The hosts can guide you to choose clothes that are both chic and comfortable for your child.
Having the right clothes ready for school will help to avoid the morning rush.
Ordering these clothes online can also save time shopping in physical stores.
4. Utilize Amazon Livestream for Tech Hauls
In the era of digital learning, gadgets like laptops, tablets, or earphones have become essential school supplies. Tech experts on Amazon Livestream showcase the latest gadgets and explain their specifications and benefits. It will provide you with insights on which gadget would be ideal for your child's online learning needs.
Choosing the right tech products and setting them up the night before can prevent tech hang-ups.
Purchasing tech gadgets online also offers the advantage of reading customer reviews and comparing prices to get the best deal.
5. Discover Novelty Items to Surprise your Child
Putting a little surprise in your child's backpack can genuinely brighten up their day. The livestream often features fun novelty items that kids love. From creative stationery pieces to unique lunch boxes, these can bring a smile to your child's face and make school mornings easier.
Choose novelty items during live shopping as per your child's taste. It is a simple way to show your love and appreciation.
Ordering these niche items online brings the convenience of door-step delivery, leaving you with more time in the morning.
6. Get Organized with Home Storage Solutions
Children often lose their belongings in the morning struggle, leading to more stress. Amazon Livestream showcases effective storage options that can help organize everything in one place.
Invest in good storage solutions such as shelves, cupboards, or storage bins.
Teach your child to put things back in their place after use. This habit will help save some chaotic moments during school mornings.
7. Explore Educational Content
Amazon Livestream also provides a variety of educational content that can stimulate your child's mind. Streams include educational games, apps, and e-books that can be a part of your child's daily routine.
Instilling these educational habits in your child can make school mornings more productive and interesting.
These digital learning tools can be easily purchased and downloaded avoiding the shipping time.
This Amazon livestream not only provides a modern shopping experience but also offers practical solutions to relieve the stresses of school mornings. It is a hidden treasure for parents striving to make school mornings smoother and more organized.