FTC Disclaimer Required for all Influencers: I am a content creator and an Amazon Alist Influencer. I am also a partner or affiliate with multiple brands. I partner with brands to gain discounts and giveaways for my audience. Some of the links posted throughout my sites I may earn commission from by you making purchases or utilizing the codes for a discount for yourself. Thank you for supporting my work!
- Jennifer @KetosisMom
This weekly round up will be slightly different. This time let's talk about WHY they are my picks!
7 Parent Hacks for a Stress-Free Holiday Season
Plan ahead and prioritize
Delegate tasks
Simplify gift-giving
Create a budget
Take care of yourself
Manage expectations
Focus on quality time
The holiday season can be a magical time for families, but it can also be incredibly stressful for parents. Between shopping for gifts, planning meals, and managing schedules, it's easy to get overwhelmed. However, with some simple strategies and hacks, you can navigate the holiday season with ease and create lasting memories for your family. Here are 7 parent hacks for a stress-free holiday season and some of my top products this week that helps me make sure I accomplish this checklist!
1. Plan ahead and prioritize: Take some time before the holiday season begins to plan out your schedule and prioritize your tasks. Make a to-do list and break it down into manageable chunks. This will help you stay organized and ensure that nothing falls through the cracks. Set specific goals for each week leading up to the holidays, and tackle one task at a time. Remember to build in some buffer time to account for unexpected challenges or delays. This is the season of random sicknesses, don't forget!
2. Delegate tasks: You don't have to do it all on your own. Get your partner and children involved in the holiday preparations. Delegate tasks like decorating the house, wrapping presents, or cooking meals. Not only will this lighten your load, but it will also give your family a sense of ownership and pride in the festivities. Assign age-appropriate tasks to your kids, and make it fun by turning it into a game or challenge. We have a coupon jar that for every task finished they get to draw for a coupon (i.e. pick candy from the jar, ice cream trip with just you and dad, a craft bin selection).
3. Simplify gift-giving: Instead of stressing over finding the perfect gift for everyone on your list, consider simplifying the gift-giving process. Set a budget and stick to it. Consider doing a secret Santa or a gift exchange with friends or extended family. This way, everyone gets one meaningful gift instead of feeling pressured to buy multiple presents. You can also opt for homemade gifts or experiences rather than material items. Focus on the thought and effort behind the gift rather than its monetary value. Be sure to look at the curations section on my Amazon storefront for ideas!
4. Create a budget: Finances can be a major source of stress during the holidays. To avoid overspending and financial strain, create a budget for the holiday season. Decide how much you can afford to spend on gifts, decorations, and entertainment. Factor in any additional expenses, such as travel or hosting guests. Adjust your budget as necessary and track your expenses to ensure you stay within your limits. Remember, the holidays are about spending time with loved ones, not about lavish gifts or extravagant displays.
5. Take care of yourself: It's easy to get caught up in the hustle and bustle of the holiday season and forget about self-care. However, taking care of yourself is crucial for managing stress and enjoying the festivities. Prioritize sleep, exercise, and healthy eating. Take breaks and find time for activities that bring you joy and relaxation. Don't be afraid to say no to extra commitments or obligations if they will stretch you too thin. Remember, you can't pour from an empty cup, so make self-care a priority.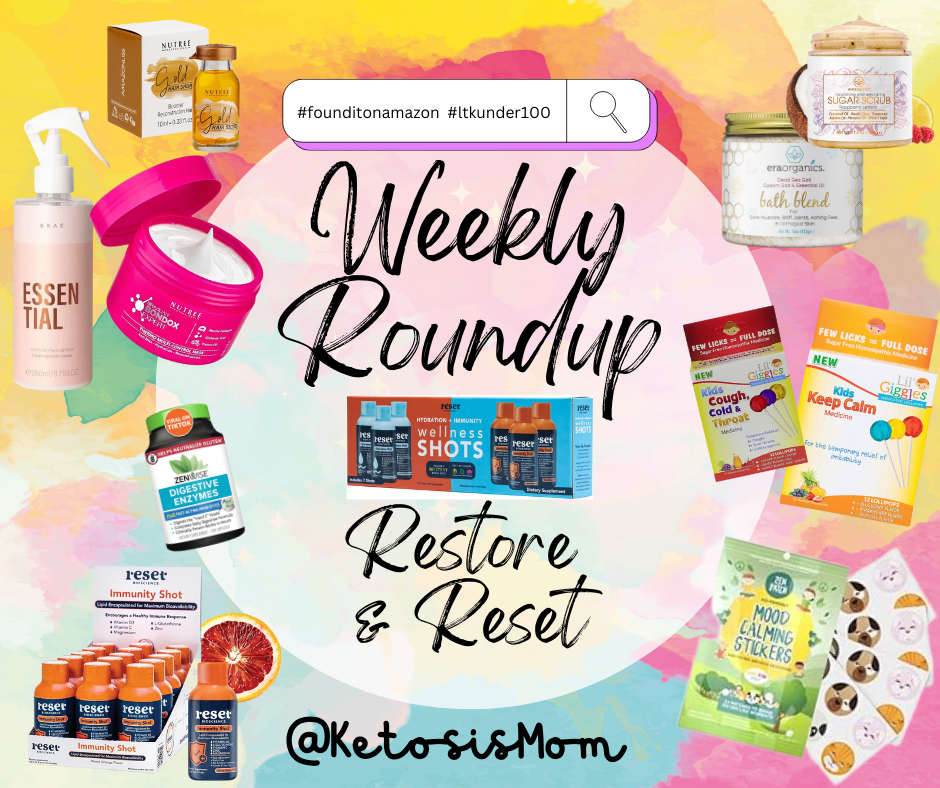 It's that time of year! Make sure you have everything you need to reset and restore yourself and the kids if a hiccup hits you, and by hiccup I mean any of those viruses or colds. Above are some items I make sure to have in stock for these reasons:
- haircare to get ready for cold weather
- digestive enzymes for all the holiday foods about to come
- bath soak and scrub for dead dry skin
- medicated suckers for cough, cold, and anxiety around new crowds/family
- reset wellness shows for hydration and immunity on the go
- mood calming support for kiddos who don't like crowds!
(Click the photo above to shop my favs!)
6. Manage expectations: Unrealistic expectations can lead to disappointment and stress during the holidays. Be realistic about what you can accomplish and let go of perfection. Embrace imperfections and focus on the joy and meaning of the season. It's okay if everything doesn't go exactly as planned or if the house isn't spotless. What matters most is spending quality time with loved ones and creating memorable experiences. Manage your own expectations and communicate openly with your family about what's important to them as well.
7. Focus on quality time: In the midst of the holiday chaos, it's important to remember that quality time with your family is the most precious gift of all. Prioritize spending time together and create traditions that foster connection and joy. Whether it's baking cookies, watching holiday movies, or going for a walk in a winter wonderland, make time for activities that bring your family closer. Put away distractions like phones and screens and be fully present in each moment. These moments will be cherished long after the holiday season is over.
By implementing these parent hacks, you can navigate the holiday season with ease and create a stress-free environment for your family. Remember, the holidays are meant to be a time of joy, love, and togetherness. With a little planning, delegation, and self-care, you can enjoy the magic of the season and create lasting memories for your children.
Happy Holiday Season All!
- Jen @KetosisMom
c8ke.com/ketosismom to get to all my platforms, Thank you for your support!